News & Notes: Williams suspension, slew of BYU camp roster news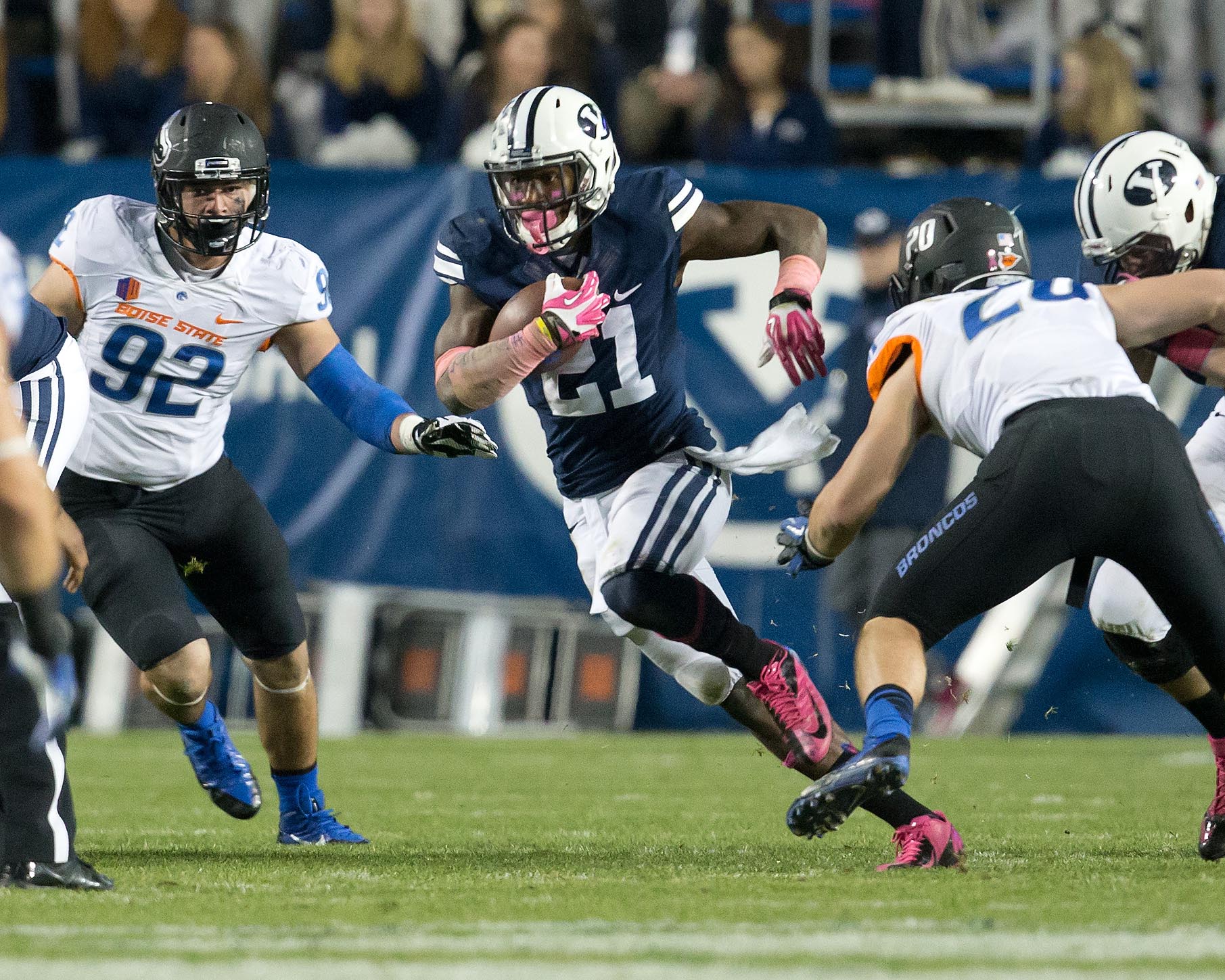 News can come in quite a hurry after the conclusion of fall camp practices, especially after day one. Here's your recap of the most important things reported out of BYU by various beat writers and others at the camp.
The big news, which you have definitely heard by now, is that Jamaal Williams will be suspended for the season opener at UConn for a violation of team rules, and will also practice with the second team for the duration of fall camp.
Williams told the media himself about the suspension, and Bronco Mendenhall was unaware that would happen. Bronco said Williams was not told whether or not to talk about it. Bronco said: "My intention wasn't to announce anything…I'd much prefer these matters, when possible, be handled internally, and we keep it that way."
When asked if it is hard being a non-LDS player, Williams responded he knows the rules.
* * *
Fall camp unfortunately always brings news of guys who retire due to recurring injuries. Three players were announced to be hanging it up:
WR/TE Brett Thompson
DB Drew Reilly
DE Kevan Bills
Best wishes to these players in future endeavors.
* * *
More running back news: Algernon Brown sat out practice injured and could be out for most of fall camp. That stinks.
It also brings about an exciting bit of news, though, something I hoped for/anticipated/have talked about since he signed: Trey Dye, recruited to BYU as a receiver, practiced as a running back today.
Dye played a Reggie Bush sort of role for his high school team, playing mostly tailback but being used in a targeted way as a receiver as well — and it was very effective. Dye ran for a lot of yards. With Williams and possibly Brown out for the opener, it's not unrealistic that Dye gets carries at UConn.
Bronco was "enthused" about Dye. "I like Trey Dye a lot. That was one of the surprises to me; not that I didn't anticipate he'd be a good player…"
Trey Dye looked like he belonged. He had a long thin white towel. Looked like a 90s RB. I think BYU will use him in a variety of ways #BYUSN

— Jarom Jordan (@jaromjordan) August 2, 2014
(He also is reported to have secured #6, his father's number. Good juju there.)
Jarom Jordan also reported that Michael Alisa was asked to return to running back. BYU's depth at inside linebacker isn't a whole lot, so guys like Jherremya Leuta-Douyere, Troy Hinds, and maybe Harvey Langi (more later) could get bumps up the depth chart if Alisa sticks at running back.
* * *
Brandon Gurney reported Ross Apo as saying the goal for the offense is to run 25 more plays this year than last.
Immediate reaction was "for the season, right?" I could see saying "We had the fastest tempo in the country last season; this year, I want two more plays per game. Keep on the gas."
Gurney then clarified "Yes, Ross Apo meant 25 more plays per game…my bad for not clarifying."
Fans, still incredulous, led Gurney to tweet: Here's the quote from Apo, "Bronco says we need to run 25 more plays a game than we did last year"
Okay?
Greg Wrubell quickly quantified the "lunacy" for us: That means 110 plays per game, with the FBS record being 92.4 plays per game.
We'll have to see if this was serious or not. That's an impossible goal for an offense that wants to execute at all.
* * *
Sure, it's one practice, but the bevy of talent and speed of the wide receivers seemed to be pretty apparent. BYU receivers coach Guy Holliday: It's exciting. This offense needs 6-8 wide receivers, they've got 10.
TD passes in team sets were thrown to Mitch Mathews (55 yards), Jordan Leslie (60 yards), and Nick Kurtz (55 yards), so the vertical passing game gets a grade of "very good."
BYU's new WR's looked good today. SPEED yo. Blackmon & Leslie found the end zone many times & in 1on1's. Targets for Taysom. #BYUSN

— Jarom Jordan (@jaromjordan) August 2, 2014
Not sure what that means for the secondary, though.
* * *
Offensive line news:
Deep snapper Kevin O'Mary was confirmed to have been given a year of eligibility back by the NCAA.
Brad Wilcox practiced with no restrictions after missing spring practices.
Offensive line coach Garett Tujague pegged Brock Stringham as the physical leader of the O-line and De'Ondre Wesley as the emotional leader.
* * *
Utah transfer Harvey Langi practiced with the linebackers on Friday. Bronco was asked if he would redshirt the immediately-eligible transfer and said "we all want him to play right now."
* * *
Offensive coordinator Robert Anae was wearing a walking boot on his left foot, but would said he won't talk about it until Tuesday.