Opponent Notebook: UCF, UVa find new QBs in Week 1
Updated: September 2, 2014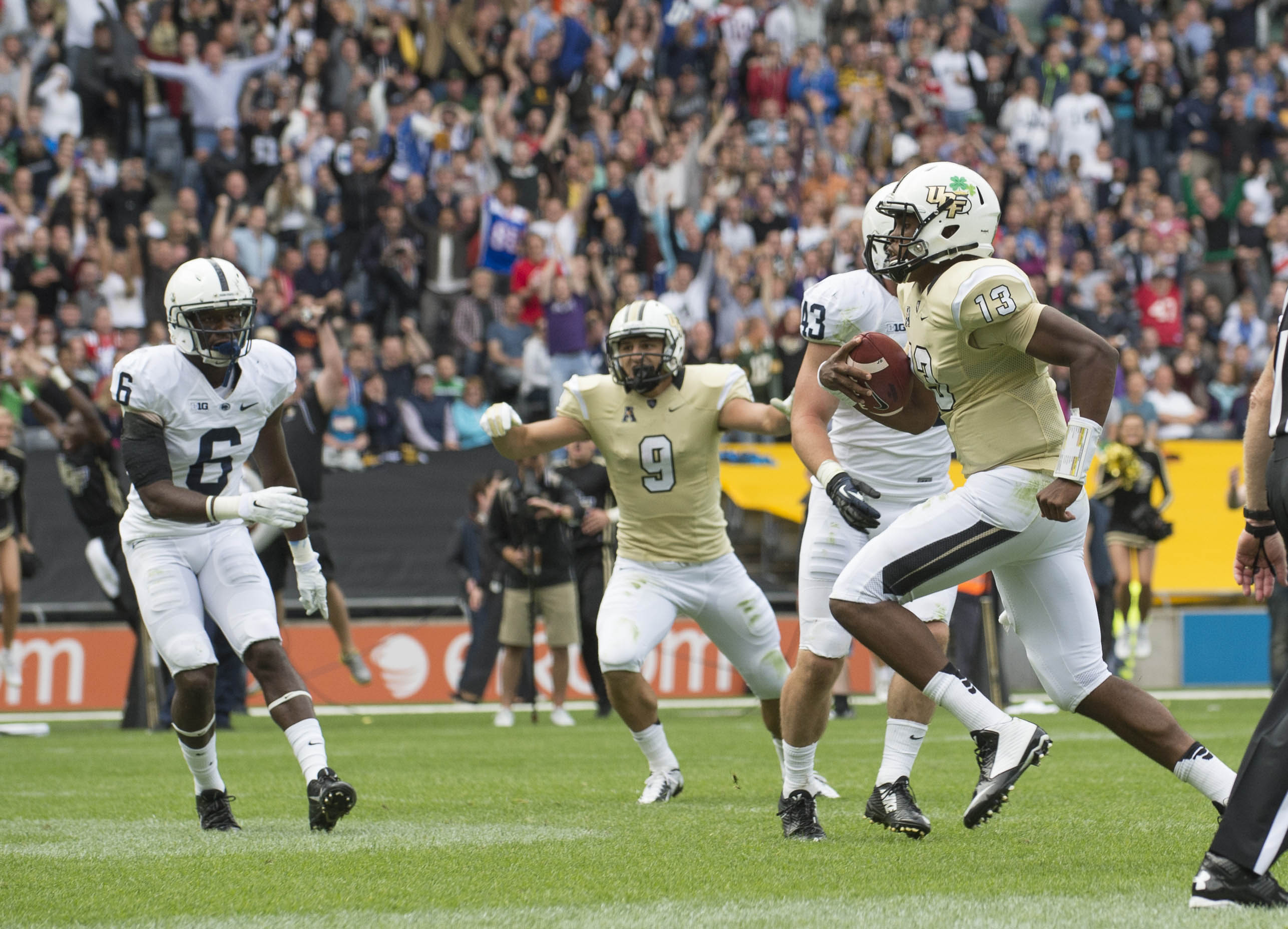 BYU's schedule looks about as hard as it was expected to be after Week 1. Houston and Boise perhaps aren't quite as good as some projections pegged them, but Cal and Virginia could end up being quite respectable. With Utah State getting blown out Sunday Night by Tennessee, it's probably a net loss for BYU as far as strength of schedule expectations.
Here's a quick look at how each team on BYU's schedule fared over the weekend:
UConn (0-1)
Lost to BYU 35-10
Next: Stony Brook, September 6, at home
Connecticut was 3-9 last year and there wasn't much in Friday's game to indicate that this year will be much of an improvement. After an FCS opponent next week, the Huskies host Boise State.
Texas (1-0)
Beat North Texas 38-7
Next: BYU, September 6, at home at on Fox Sports 1 at 7:30 ET
North Texas isn't an intimidating opponent, but Texas looked strong throwing the ball, running the ball and perhaps most of all on defense.
North Texas quarterbacks combined to complete only 3/17 passes for 15 yards. The Mean Green was held to less than 100 offensive yards for the entire game.
Quarterback David Ash returned for the first time from concussions suffered last year against BYU and played well, even after taking a few big hits in the game. Texas suffered a key loss during the game, as Senior center Dom Espinosa suffered a hairline fracture in his ankle. He had started 40 games for Texas' offensive line. Without him, the entire line shares 14 career starts. Also, Monday morning, news broke that Texas quarterback David Ash has been ruled out for Saturday's game after concussion issues resurfaced.
The table is set for a massive game for both teams next week.
Houston (0-1)
Lost to Texas San Antonio, 27-7
Next: Grambling State September 6, at home
After spending more than $120,000,000 on a new stadium, Houston was certainly hoping for a better debut. Larry Coker's Roadrunners obliterated Houston, leading 27-0 until the final minutes of the fourth quarter.
Returning Houston quarterback John O'Korn struggled, completing only 21 of 43 passes.
It remains to be seen how much Houston has regressed this year. Texas San Antonio may just be much better than anyone expected. The Roadrunners have a senior-laden team and will be another team to keep an eye on as the year progresses.
Virginia (0-1)
Lost to UCLA, 28-20
Next: University of Richmond, September 6, at home
Virginia again looked like an incomplete team. The Cavaliers are very good in certain areas, particularly run defense. Virginia's offense, on the other hand, continued to struggle. Were it not for three offensive turnovers the Bruins returned for touchdowns, UCLA might have been in the same situation BYU was in last year and have an unexpected week 1 loss in Charlottesville.
Virginia made a quarterback change with Matt Johns replacing and outplaying Greyson Lambert. UCLA was a preseason top ten team and was held to only 7 offensive points. If Virginia is able to right the offensive ship with Johns at the helm, they will be a much more threatening team in 2014.
Utah State (0-1)
Lost to Tennessee 38-7
Next: Idaho State, September 6, at home
Well, that went poorly for the Aggies. Chuckie Keeton may be back, but unless he gets some more help at offensive line and at wide receiver, it may not matter much. USU still has a lot of games left and plenty of time to bounce back, but getting blown out like that may have a few people resetting their expectations for Utah State this year.
Central Florida (0-1)
Lost to Penn State, 26-24
Next: At Missouri, September 13, on the SEC Network at 12:00 ET
UCF nearly pulled a great comeback, but the Knights left a little more than a minute on the clock after their final touchdown and Penn State was able to get into position for the game-winning field goal as time expired.
The UCF offense struggled greatly until Justin Holman replaced Pete DiNovo. Holman finished the game with a QB rating of 210.3 compared to DiNovo's rating of 56.4. Those numbers left many fans wondering what the outcome would have been if Holman had started the game.
Central Florida gets next week off to travel back from Ireland, but the Knights face another huge test on the road with Missouri on September 13.
Nevada (1-0)
Beat Southern Utah, 28-19
Next: Washington State, Friday, September 5, at home on ESPN at 10:30 ET

Nevada quarterback Cody Fajardo looked solid, albeit against FCS competition. He threw for 303 yards and 1 TD and ran for another touchdown. We'll find out much more about the Wolfpack next week as the Cougars of Washington State roll into Reno.
Former BYU QB Ammon Olsen played in the game for SUU, going 5 for 10 for 27 yards.
Boise State (0-1)
Lost to Ole Miss, 35-13
Next: Colorado State, September 6, at home on ESPN2 at 10:15 ET
Well, Kellen Moore isn't walking through that door, I suppose. Boise was competitive for most of this game, but the Rebels pulled away in the fourth quarter. The game looked like Week 1, with both teams combining for seven interceptions and 23 penalties.
Boise struggled in the Red Zone, not getting into the endzone until the closing minutes of the game. The Broncos' pass defense was a little suspect, giving up 387 yards through the air. Boise struggled to cover 6'3" Laquon Treadwell, who caught seven passes for 105 yards for the Rebels.
No one goes 50-3 forever and Boise will need to bounce back strong at home next week. Colorado State looked pretty good in their dismantling of Colorado in Denver over the weekend. The Rams have a pair of solid running backs in Dee Hart, who rushed for 139 and Treyous Jarrells who rushed for 121.
Middle Tennessee (1-0)
Beat Savannah State, 61-7
Next: At Minnesota, September 6, 3:30 ET on the Big Ten Network
The good news is Middle Tennessee State might be OK. They were an 8-5 team last year and a preseason coaches poll had them second in their CUSA division. The bad news is Savannah State is really, really bad.
Even against a poor defense, quarterback Austin Grammer throwing 15 for 17 for 250 yards is pretty impressive.
We should find out much more about the Blue Raiders next week when they play on the road against a Big Ten team.
UNLV (0-1)
Lost to Arizona, 58-13
Next: Northern Colorado, September 6 at home
BYU fans probably weren't expecting a lot from UNLV and the Rebels pretty much lived up to those expectations. The Wildcats broke a school record and put up 787 yards of total offense in their opener. Not a bad start for their redshirt freshman quarterback, Anu Solomon, a Bishop Gorman High School (Las Vegas, NV) product.
UNLV's offense opened with two solid drives, but there weren't a lot of bright spots for the Rebels. The game inspired a 202-word report from the Las Vegas Review Journal. UNLV QB (and former BYU walk-on) Blake Decker finished 22/41 for 252 yards, 1 TD, and 1 INT, adding 10 carries for 52 rushing yards.
California (1-0)
Beat Northwestern in Evanston, 31-24
Next: Sacramento State, September 6 at home
It shouldn't be a surprise that Sonny Dykes can coach up a quarterback. People were expecting Jared Goff to be improved this year and with 281 yards and three touchdowns, he didn't disappoint. The defensive issues that cropped up last year for Cal nearly bit them again. Cal was up 31-7 and had to hang on after giving up 14 points in 25 seconds. It was Cal's first FBS win in their last 17 games.