Loyal Cougars Staff Predictions: BYU v. UCF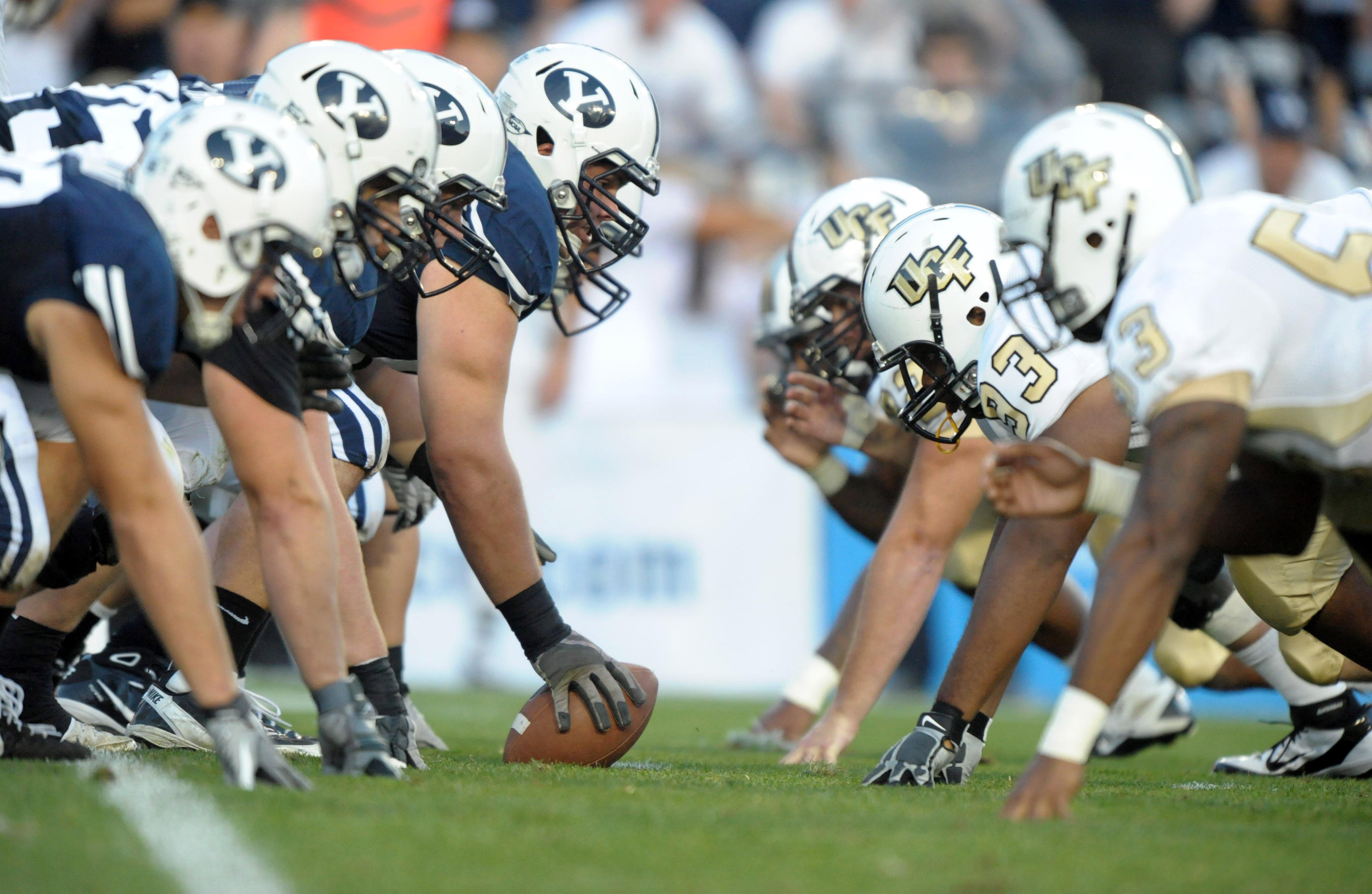 It's game day, and that means it's time to check the predictions of the staff here at Loyal Cougars for today's game against the UCF Knights. Relatively speaking, Geoff was the closest in Week 5, though almost no one predicted what actually played out.
Game Capsule
BYU Cougars (4-1) vs. UCF Knights (2-2)
Bright House Networks Stadium, Orlando, Florida
Kickoff Time: Thursday, October 9, 2014, 7:32pm EDT
TV: ESPN (Rece Davis/Jesse Palmer/David Pollack/Samantha Ponder), BYUtv Countdown to Kickoff (Dave McCann/Blaine Fowler) 6:30pm EDT
Radio: Cougar IMG Sports Network (Greg Wrubell/Marc Lyons): Sirius XM 143, KSL 1160 AM and 102.7 FM, and online at BYUcougars.com
BYU Game Notes, UCF Game Notes
I watched a lot of the UCF-Houston game. It seemed to me then that most of UCF's offense was "chuck it deep and pray," which after last week, seems like the kind of offense that might find some success against BYU. After its last loss to Utah State in 2010, BYU came out with a run-first game plan and beat a pretty good SDSU team, 24-21. History repeats itself tonight. BYU 24, UCF 21.
Necessity is the mother of all invention. The offense will make some tweaks to compliment Stewart as a passer. The BYU Defense will use line stunts and delayed blitzes to get pressure on the QB. It won't be pretty, but I think it will be enough to get a win. BYU 24, UCF 21.
BYU comes up with just enough while still in mourning over losing Taysom last week. BYU 23, UCF 22.
The defense is better, but the offense is a mixed bag and turns the ball over too many times. UCF 20, BYU 17.
Christian Stewart has a good showing but in the end it's not quite enough for the win. UCF 31, BYU 28.
Well, I'm going to look like a homer if I'm wrong and a genius if I'm right, but I think BYU will play its best game of the season defensively. UCF's offense has not had much success in 2014 and I think the BYU defense will correct most of the mistakes we've seen recently. I also think UCF is in the position that BYU has been in for the past three games. They're favored at home over a team with an unproven QB. I think the BYU defense will play lights out and the offense will use its multiple weapons to score enough points to get the W. BYU 27, UCF 17.
So, there you have it. Add your predictions to the discussion on Cougarboard.
Go Cougars!