Cougar Brain Trust: BYU v. UCF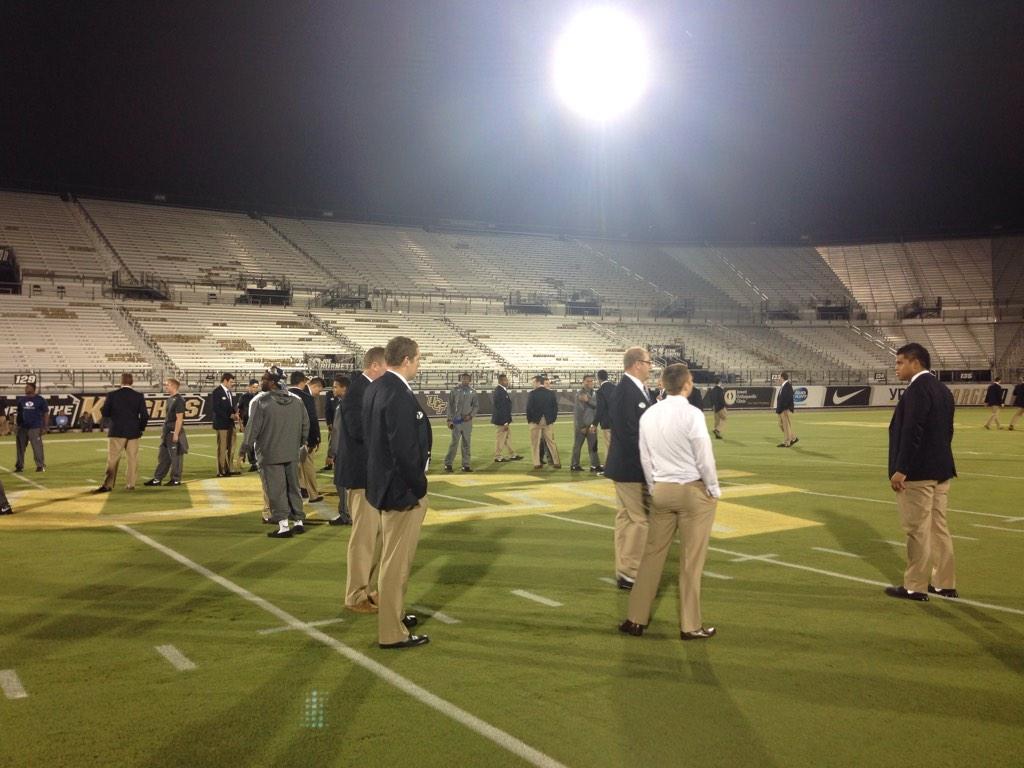 We surveyed 60 dedicated Cougar fans for their predictions on what to expect tonight as the Cougars head into Orlando to face the UCF Knights. Special thanks to @tayshum for selecting the questions and gathering the data.
Week 6 Results: 8-7
Season to Date: 45-40
The following results reflect how our experts would choose based on a number of current point spreads. As always, this is only an exercise in fun and we at Loyal Cougars do not condone gambling in any form. The most popular answer is underlined. Here are the Brain Trust's responses for this week:
Offensive Predictions
Will a BYU player record his first rushing or receiving TD of the season? To date, only Taysom Hill, Jamaal Williams, and Adam Hine have scored on the ground and just Mathews, Leslie, Houk, Juergens, and Hine have scored through the air. Players yet to score include backs Algie Brown and Paul Lasike and receivers Kurt Henderson, Ross Apo, Devon Blackmon, Nick Kurtz, Devin Mahina, and Colby Pearson. 72% said Yes. 28% said No.
What will be the jersey number of the first BYU player to score a touchdown: over/under 19.5? 62% of BYU's 21 touchdowns have been scored by players wearing numbers 1-19. With Taysom out, the numbers shift to the other side of the line. Will increased playing time by #7 Stewart, #3 Pearson, #5 Kurtz, and #19 Blackmon be enough to land one of them the first TD of the game? Or will an increased workload to the running backs lead to one of them scoring first? 70% said 20 or higher. 30% said 19 or lower.
Higher total: Receiving yards by BYU's top receiver or Rushing yards by BYU's top rusher? In the first four games, BYU's leading rusher outgained its leading receiver. All four times, that rusher was Taysom Hill. Last week, BYU's two leading receivers (Leslie and Mathews) each had more yards than its leading rusher (Williams). Will we see more of a run game against UCF? 81% expect the leading rusher to have a higher total. 19% expect the top receiver to have a higher yardage total.
Will Jamaal Williams rush for 100 yards or more? Only against Houston and Utah State did Williams reach the century mark. With Taysom's injury, the voters expect him to surpass that mark yet again this week, despite facing the 16th-best Rush Defense in the country. 89% say Yes. 11% say No.
Will BYU reach 200 passing yards? Christian Stewart passed for 172 yards in one half of action against Utah State. However, most of that time was spent playing from behind and those 172 yards came on 29 attempts. Taysom Hill averaged 30 passes per game in his four complete games running Robert Anae's offense. 77% of the voters predict BYU will pass for at least 200 yards. Only 23% said BYU will not reach the 200-yard mark.
Defensive/Special Teams Predictions
Which team will record the longest punt? To date in 2014, the Cougars average 44.9 yards per punt, with a long of 65. The Knights average just 38.3 yards per punt with a pair of 53-yarders being the longest. 91% said BYU. 9% said UCF.
Will UCF record a season-high passing yardage total? UCF's highest passing yardage total, 222, came in the season opener against Penn State. BYU has allowed its opponents to pass for 284, 176, 315, 327, and 321 yards in each of the first five games. 70% said Yes. 30% said No.
What will be the primary position of BYU's leading tackler? A BYU DB has led the Cougars in tackles in each of the Cougars' first five games (A Linebacker was tied for the most in two games). With Dallin Leavitt and Alani Fua being out or limited tonight, how will the numbers look against the Knights? 70% expect a LB. 28% expect a DB. 2% expect a DL.
Will BYU surrender a first down on a defensive offsides penalty or be whistled for an offsides penalty on a kickoff? It looks like the Brain Trust feels a little burned by past results. Let's see if the Cougars can prove them wrong tonight. 57% said Yes. 43% said No.
Overall Predictions
Which team will throw more interceptions? In their first five games, the Cougars have thrown just 6 interceptions. But, half of that number came from Christian Stewart in the second half of last week's game. 89% expect BYU to throw more INTs. 11% expect UCF to throw more INTs or both teams to throw the same amount.
Which team will pass for a better pass efficiency rating? This season, Taysom Hill passed for a 142.75 rating. Christian Stewart passed for a 63.61 rating against Utah State. BYU's defense is allowing a pass efficiency rating of 125.55 this season. UCF has passed for a rating of 139.07 in its first four games. 74% predict UCF will have a better pass efficiency rating. 26% predict BYU will have the better pass efficiency.
How will BYU record its longest play of the night? 55% said the longest play will be a pass play. 32% said a run play. 13% said the longest BYU play would be a return of some sort.
What will be the final margin of victory? Despite abundant predictions of a close game, only one voter sees the game being decided by 3 points or less. Most predict the game will be decided by a touchdown or more. 72% of the voters say 7 points or more. 26% predict a margin between 4 and 6 points. Only 2% said the game will be decided by 3 points or fewer.
Who will win the game? Rather than vote against the point spread (UCF is favored to win by 3 points), we made it simple: who's going to win tonight? The Brain Trust narrowly picks UCF to win. 51% said UCF will win. 49% said BYU will win.
Will the total number of points scored be over or under 49.5? Looking at this question from a BYU perspective, it's not difficult to see why most voters expect a lower-scoring game: new quarterback running the offense combined with an improved defensive performance from what we've seen the past three games. 72% expect Under. 28% expect Over.
What do you expect to see in tonight's game? Do you think the Cougar Brain Trust missed the mark completely on any of these predictions? Add your thoughts to the discussion on Cougarboard.