Loyal Cougars Staff Predictions: BYU v. Boise St.
Updated: October 24, 2014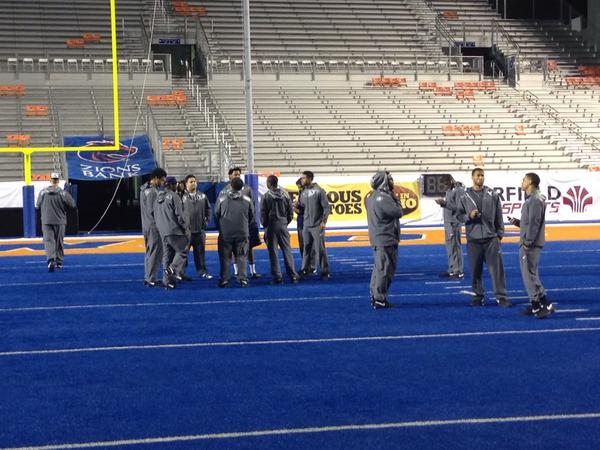 It's game day, and that means it's time to check the predictions of the staff here at Loyal Cougars for today's game against the Boise State Broncos. Geoff was the closest in Week 7.
Game Capsule
BYU Cougars (4-3) vs. Boise State Broncos (5-2)
Albertson's Stadium, Boise, Idaho
Kickoff Time: Friday, October 24, 2014, 7:01pm MDT
TV: ESPN (Dave Flemming/David Diaz-Infante/Allison Williams), BYUtv Countdown to Kickoff (Dave McCann/Blaine Fowler) 6:00pm MDT
Radio: Cougar IMG Sports Network (Greg Wrubell/Marc Lyons): Sirius XM 143, KSL 1160 AM and 102.7 FM, and online at BYUcougars.com
BYU Game Notes, Boise State Game Notes
Boise State throws the ball pretty well, and BYU defends the pass, eh, not so well. Boise State has struggled with turnovers, like in their loss at Air Force where they had 7, but I don't think BYU can count on the Broncos being as generous to them. Boise State 38, BYU 28.
The defense doesn't get much better, but the offense reduces the turnovers and Stewart has another big game. BYU 38, Boise State 35.
The BYU defense improves some, but not quite enough to overcome the voodoo emitting from that awful blue turf. Boise State 24, BYU 23.
Bronco has some decision to make on defense this week and not all are on field moves. Expect an old-fashioned, WAC-style boat race; the first team to get a defensive stop wins. BYU 38, Boise State 35.
BYU's defense will improve on its performance against Nevada, but Boise State is a better team than Nevada. It looks like another game that comes down to the last possession. Boise State 27, BYU 24.
So, there you have it. How do you think BYU's third trip to the smurf turf will go down? Add your predictions to the discussion on Cougarboard.
Go Cougars!