Bronco Mendenhall: The Reluctant, Indispensible Coach
Updated: October 27, 2014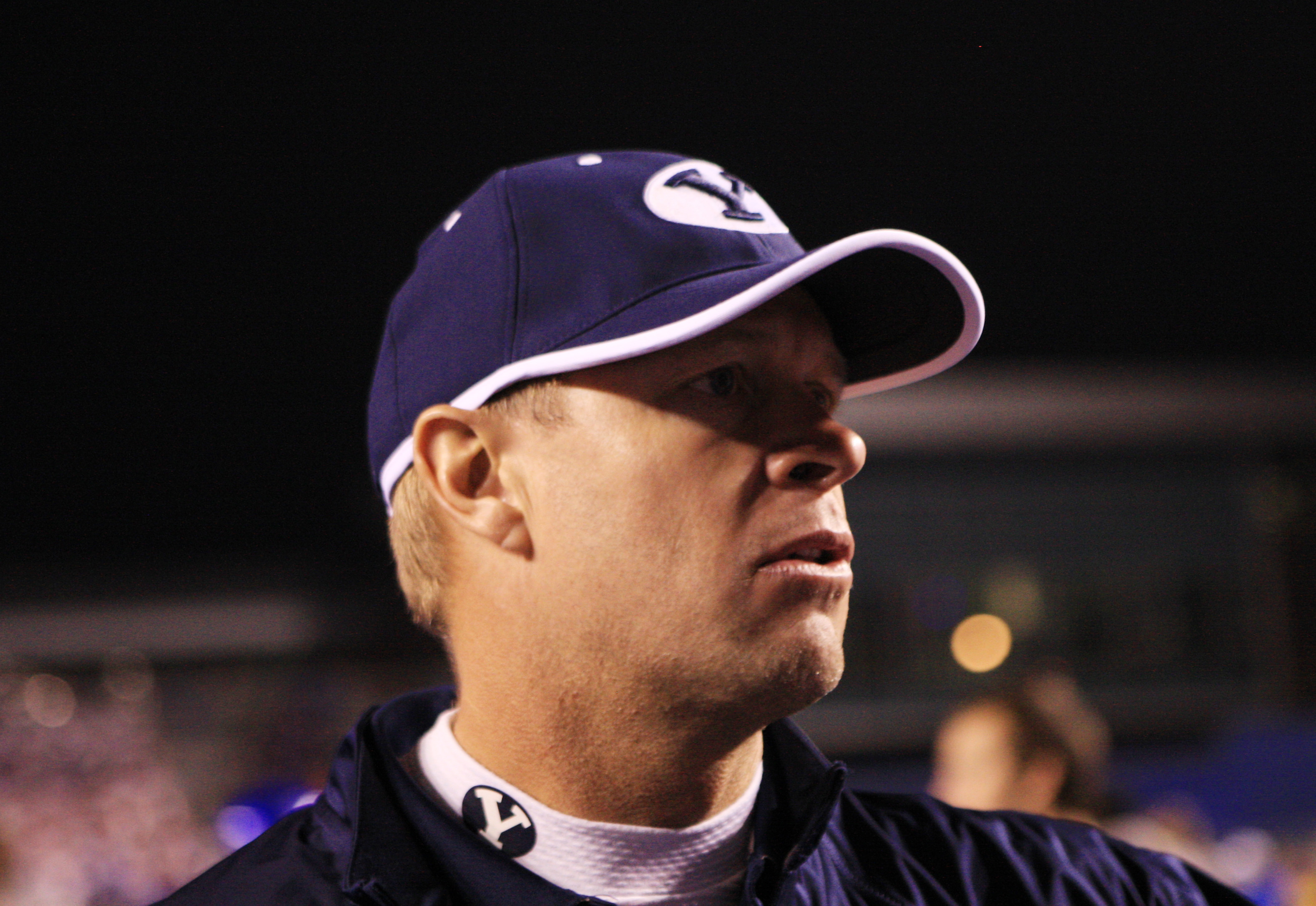 Some day, Bronco Mendenhall will not be the head coach at BYU. Who knows when that day will come, but at some point it will. This is an obvious statement, but over the last decade, Mendenhall has spoken more than once about stepping away from the program and has mentioned his desire to eventually become completely expendable.
Perhaps this comes out of a sense of humility. Who wants to listen to someone talk about how important and unique they think they are? Is this really what he thinks or just one of those things that coaches are supposed to say?
Maybe the root of these statements comes from reading one too many business management books and feeling like it's possible a job can be done so well that eventually it doesn't need to be done anymore.
But looking back at these statements, the dates of the statements seem to correlate with major problems in the BYU football program.
At the kickoff to fall camp for BYU's Quest season, BYU had a lot of strong parts coming back. Jamie Hill had been named as the new defensive coordinator, although Mendenhall would continue to call the plays until the start of the 2010 season. Bronco said:
"At some point there will be someone else to carry this to the next phase, someone who will tag on to that. I don't know how long it will be, but my goal, as it would be for the leader of any company who really cares about that place, is to make myself expendable, where if something happens, everything goes on."
Eighth-ranked BYU is flying through the season, with the offense zipping along fine. Mendenhall repeats:
My ultimate goal is for my job to be expendable, where I could walk away from this program and have it continue on without missing a beat. We're a lot closer to that than we were three years ago.
The 2008 season flamed out at against TCU and then Utah, with the Cougars limping home to a 10-3 year, losing to Arizona in an uninspired Las Vegas Bowl performance.
The morning before BYU kicked off this season at Connecticut, Mendenhall was quoted as saying:
"I have very bright men, I have spiritual men, I have compassionate men and wise men (working with him). They speak to me and provide solutions and counsel and we usually find resolutions of what needs to happen on behalf of these young men who I'm entrusted to be the steward over. However, at a different level, there are four captains on our team. There's also a leadership council member of each position group. This year, we'll meet together every Tuesday at 11 o'clock. The idea being that, as a head coach, my job is make myself as expendable as possible, meaning giving as much of the program as possible, the ownership of our team, to team members so they can learn and grow and take ownership of the direction of the program. Then it becomes sustainable — it's not tied to a leader, it's tied to principle."
Empowering assistants is a good idea. Allowing players to take leadership roles is a good idea. Encouraging recruits to sell BYU that they want to come and play is a good idea, but teams need a head coach.
Great head coaches, great CEOs and great leaders are not expendable. Head coaches in college football are generally making more than double what anyone else on the staff gets paid. Major college coaches are not getting paid millions per year to do work that the assistants and players could do on their own.
As fans simmer about what should be done next, BYU's situation is complicated by the fact that Bronco is still the best coach on the staff. When he has taken over the defense, they have thrived. His defenses have been ranked in the top 20 by S&P in 2006, 2007, 2012 and 2013. He salvaged the 2010 defense by swooping in and somehow getting them to play twice as well as they had previous to that point of the season.
Whether it's out of exhaustion or just a philosophical choice, Mendenhall has tried time and again to get someone else on the coaching to staff to have that kind of national success. Jamie Hill couldn't do it. Brandon Doman couldn't do it, and now, halfway through 2014, Mendenhall has taken over play calling duties from Nick Howell for at least one game and perhaps more.
Robert Anae at least coached top 30 offenses in 2006 through 2009 and after sputtering a bit in 2013, the offense has certainly improved in 2014, despite a the majority of BYU's many injuries coming on the offensive side of the ball.
Perhaps Mendenhall feels a bit like he's balancing spinning plates. The moment he steps away from any part of the team, it seems not just to collapse, but to crater in spectacular fashion.
Balancing between empowering recruits, players, and assistants and micro-managing every decision must be difficult. Relying on the head coach to do everything himself is foolish as well. Having a successful program requires ownership, buy-in, and effort from every person at every level. I do not envy having that job, but I am also not getting paid million of dollars a year.
At the same time, who can argue that there is a better coach on BYU's staff than Bronco Mendenhall? If he were to leave BYU, I could see him getting another shot as a head coach, maybe at a program like Army, or back in New Mexico. I could see him easily getting picked up as a defensive coordinator for a program like Oregon State, his alma mater.
Who else on BYU's staff is getting a job in college football on that level? Based on the staff that has moved on from BYU in recent years, I wouldn't count on very many.
College football is ridiculously competitive. BYU has some institutional advantages, but looking back at these statements—and not only the statements themselves, but when the statements were made—it would appear that striving to make the a program's CEO expendable is not a winning formula.
Kids must be recruited.
Players must be coached.
Fans must be rallied.
Assistants must be mentored.
Mendenhall has spoken about stepping away from the program since at least 2008, saying that his goal was to have everyone doing their jobs so well, he could step away and everything would move on.
Mendenhall needs to be the head coach as long as he is in that position. If and when the time comes that he is no longer with the program, the program will not simply move on and everything be fine in perpetuity. Someone else will need to be the head coach. Someone will sit in the chair and it will be his job to recruit the kids, coach the players, rally the fans, and mentor the assistants.