Loyal Cougars Staff Predictions: BYU v. Middle Tenn.
Updated: November 1, 2014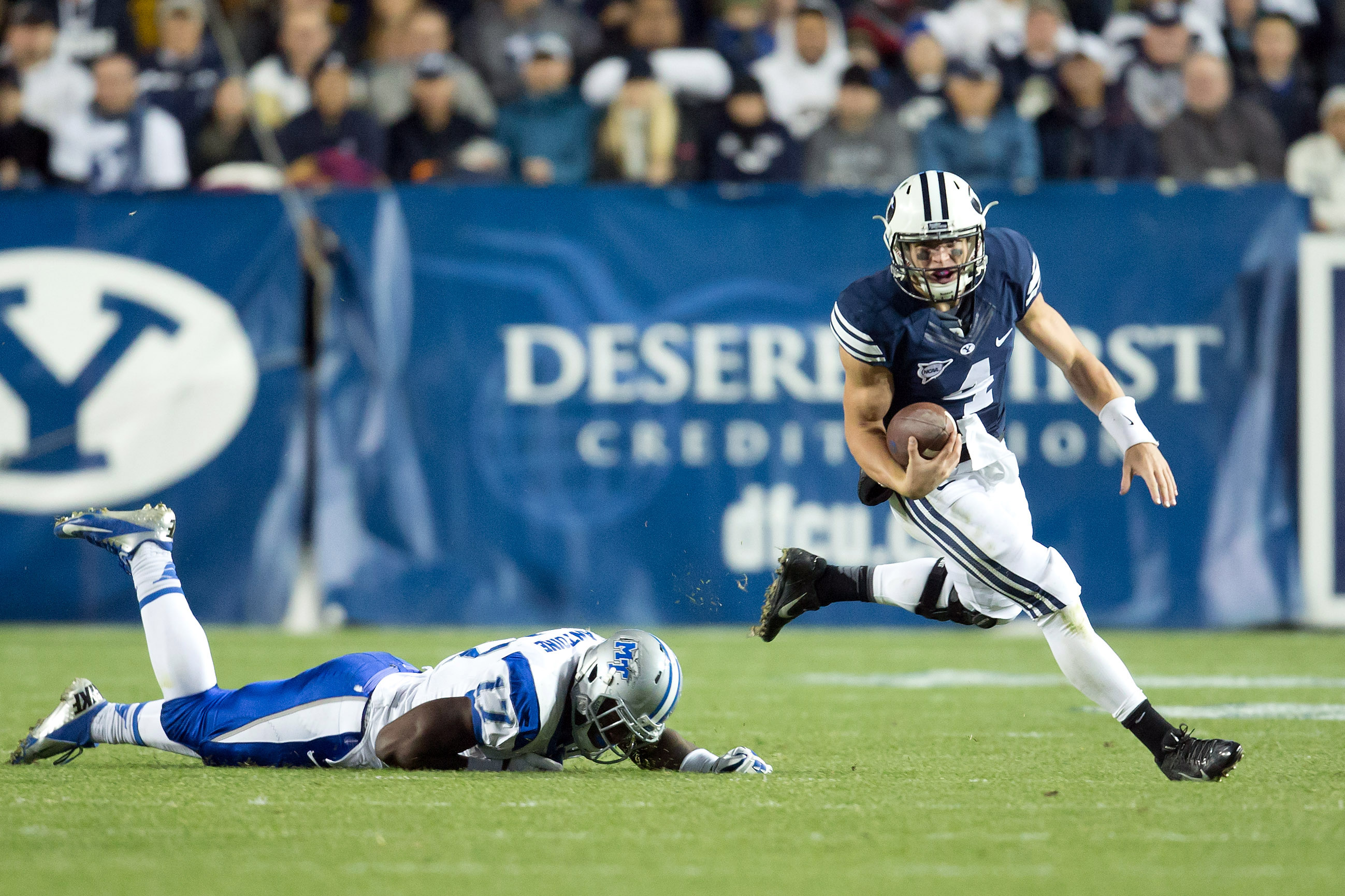 It's game day, and that means it's time to check the predictions of the staff here at Loyal Cougars for today's game against the Middle Tennessee Blue Raiders. Greg was the closest last week.
Game Capsule
BYU Cougars (4-4) vs. Middle Tennessee Blue Raiders (5-3)
Floyd Stadium, Murfreesboro, Tennessee
Kickoff Time: Saturday, November 1, 2014, 2:34pm CDT
TV: CBS Sports Network (Rich Waltz/Jay Feely/Cassie Gallo), BYUtv Countdown to Kickoff (Dave McCann/Blaine Fowler) 1:30pm CDT
Radio: Cougar IMG Sports Network (Greg Wrubell/Marc Lyons): Sirius XM 143, KSL 1160 AM and 102.7 FM, and online at BYUcougars.com
BYU Game Notes, Middle Tennessee Game Notes
I expect a lot of points. According to S&P, the closest BYU opponent to Middle Tennessee is Nevada. Except that the Blue Raiders have a better offense—Nevada ranks 79 in offense and MT ranks 58. So, it's like playing Nevada, except on the road and against a better offense that's also coming off a bye week. It would be exciting to see BYU's defense turn things around, but the trend lines do not look good. Middle Tennessee 38, BYU 35.
The BYU offense rolls against a below-average defense, and the BYU defense plays just well enough. BYU 35, Middle Tennessee 28.
I figure I'll just keep predicting some variation of this score until BYU finally wins again… BYU 24, Middle Tennessee 23.
I'm embarrassed to make this prediction. The turnover margin makes the difference. BYU 28, Middle Tennessee 27.
Middle Tennessee is not a great team, but they're certainly not worse than all four teams that have beaten BYU in the last month. The Cougars definitely have a chance to win and I expect to see a decent sized group of middle American BYU fans, but I think there are too many problems to fix and not enough time in which to fix them has passed since the Boise State game. I can't tell you how badly I want this to be wrong. Middle Tennessee 34, BYU 31.
So, there you have it. How do you think BYU's third trip to the state of Tennessee will go down? Add your predictions to the discussion on Cougarboard.
Go Cougars!