How BYU can round out its 2015 recruiting class
Updated: November 5, 2014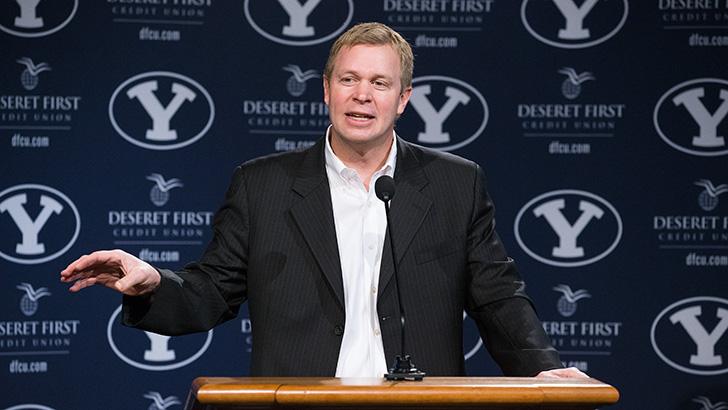 With three months until National Signing day, we take a look at the remaining recruiting targets on BYU's radar and whose services the Cougars should secure to round out the 2015 class.
Another football bye week is upon us and as such, I thought it would be a good time to take a look at the current recruiting picture for 2015. First, a quick note on available 2015 scholarships: by my count, nine former walk-ons have been awarded scholarships this season (Scott Arellano, Kurt Henderson, Kyle Johnson, Kevin O'Mary, Skye PoVey, Trevor Samson, Christian Stewart, Zac Stout, and Logan Taele). Three of these players are Juniors whose scholarship awards will carry over into 2015 (Henderson, Samson, and Taele). Kyle Johnson is just a sophomore and therefore, his scholarship will carry over into both 2015 and 2016. So, what does this all mean? Based on my projections, I show 4 scholarships currently available for the Fall semester of next season.
It appears that BYU has outstanding offers out to approximately 23 members of the Class of 2015. By my count, eight of those players plan to serve an LDS mission before beginning their college careers and as such, their scholarships wouldn't be on the books until the 2017 season at the earliest. Of those who can come in and play immediately, the coaches seem to be targeting 3 main position groups.
Running Back
With news of a season-ending injury to Jamaal Williams and the uncertainty surrounding his ability to recover in time for BYU's murderer's row of a schedule in September 2015, the need for additional running backs has only been further magnified. I believe the coaches had planned on signing at least one additional running back (beyond the commitment of Elias Miller). With the injury, I now believe that coaches are targeting 2 additional running backs, using half of the remaining four open spots for 2015.
On Monday, Recruiting Coordinator Geoff Martzen tweeted the following:
When asked to elaborate, he clarified that he was speaking specifically about running backs. I believe that Miller is one and BYU is trying for at least one more, and probably two. RB clearly remains a position of need for the 2015 class. As such, let's take a look at the top remaining backs BYU is targeting to come in and make in immediate impact in 2015:
1. Cameron Scarlett, Central Catholic High School (Oregon)
This 6'1″, 210-lb, 4-star back is rated the #8 all-purpose RB in the country by Rivals. Coach Poppinga and BYU made an early push for his services, but Scarlett now holds offers from almost the entire Pac-12 Conference and Notre Dame. He has a superb combination of skills (acceleration, top-end speed, size, hands, and strength) and should be a star player for whichever school manages to sign him. You can see his 2013 highlights here.
2. Patrick Carr, The Woodlands High School (Texas)
Carr is rated the #16 all-purpose Running Back in the country by Rivals. He also holds offers from the following D1 programs: Arkansas, TCU, Arizona State, Colorado, Mississippi, Oregon State, Texas Tech, Wake Forest, Kentucky, Illinois, Houston, and California. Patrick is only 5'9″/187, but his explosive speed speaks for itself in this highlight video:
3. Charles West, Coppell High School (Texas)
Charles West (5'10″/187) is rated the 17th-best all-purpose RB by Rivals. His offer list is not filled with as many Division 1 powerhouses as Carr: Arkansas, Colorado State, Kansas State, Purdue, San Diego State, Texas Tech, and Tulsa are the best programs to offer thus far. A small but speedy back with a track star for a mother? BYU fans have heard this story before. And the interest appears to be mutual, as West used one of his five allotted official visits to spend time in Provo over the weekend following BYU's loss to UCF. He looks every bit as explosive as Carr in his highlights:
4. Le'Vonte Owens, Robinson High School (Texas)
A tall back with speed and power, Owens (6'3″/190) has two stars from both Scout and Rivals, which usually simply means he hasn't been evaluated. BYU appears to be the first school that offered him. His BYU offer came during Coach Holliday's offseason Texas blitz near the end of May. If his Hudl highlights are any indication, an offer certainly was warranted. Owens has since received offers from New Mexico, New Mexico State, Minnesota, and Navy.
Prediction
It seems unlikely that BYU will be able to sign Scarlett or Carr. To wit, Scarlett's announced top five does not include BYU and Carr appears to be choosing between TCU and Arkansas. But, I believe BYU has a great chance with both West and Owens. And if either of them announce a decision in a different direction, I would expect BYU to extend an offer to the next RB on the board, possibly someone like Marcel Brown from California's Rio Linda High School. Mitch Harper at Lawless Republic also mentioned Roland Genesy from Glendale Community College as a potential target.