Football's Senior Day and Maui Tipoff Up Next for BYU
Updated: November 21, 2014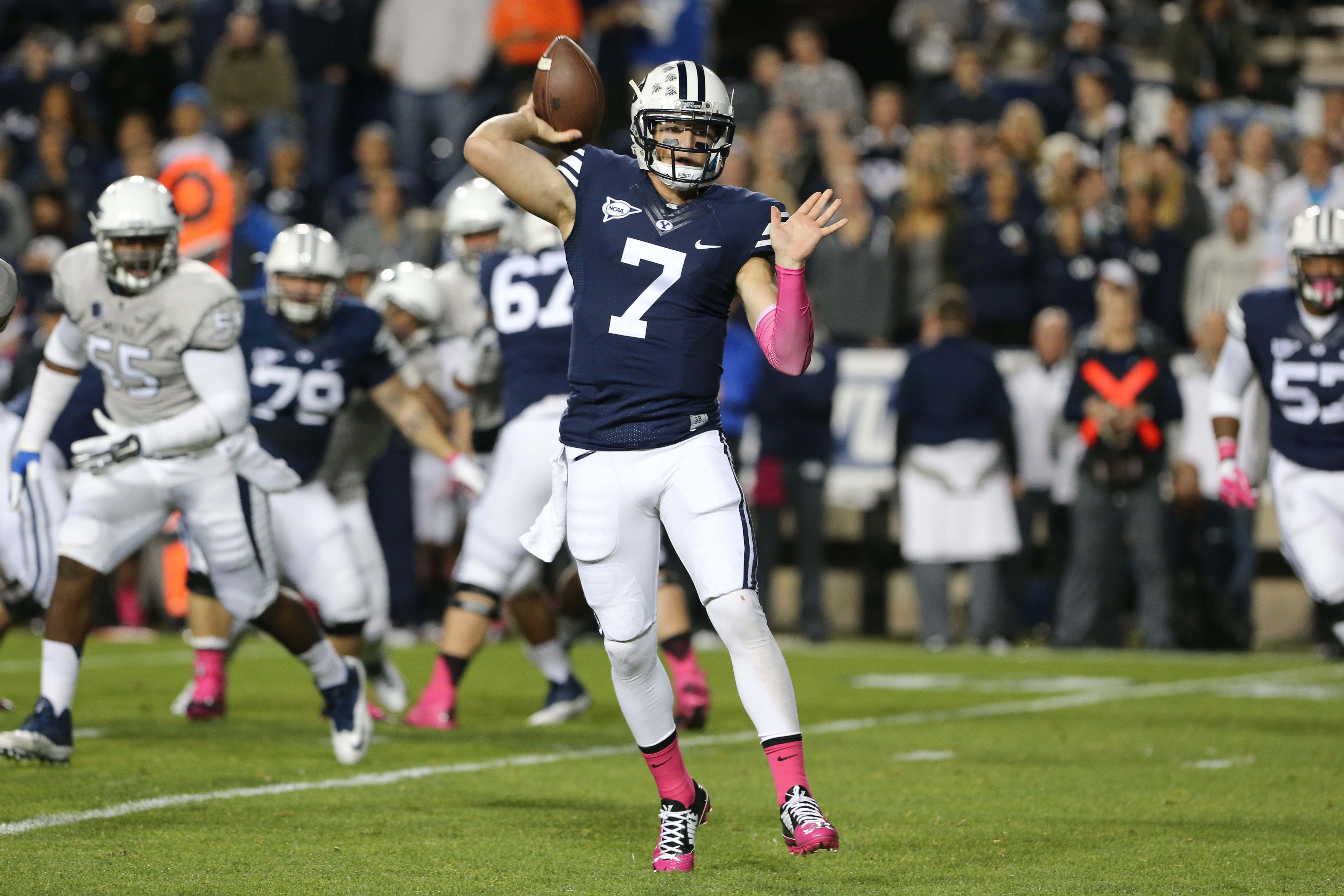 BYU's football independence has some things going for it, such as the recent announcement of a two-game series against the Missouri Tigers. BYU head coach Bronco Mendenhall has explained a few times recently that this Saturday's senior day game against historically black college Savannah State came only as a last resort.
Mendenahall recently said, "We had had a really intriguing—and this year it would have been an amazing—game scheduled with a Mountain West team." Some have speculated that this is a reference to Hawaii, who had previously scheduled games with BYU, like the one played during championship week in 2011. Once the Mountain West expanded to 12 teams, the first week in December was no longer available for Hawaii to schedule, Norm Chow took over as coach, and BYU was off their schedule for a few years.
Bronco's emphasis on how this year would have been particularly amazing leads others to wonder if it was perhaps Colorado State, a surprise team at 9-1 this year that still has a chance at making a New Year's Six bowl, if only Boise State would lose a game and let them back their way into the division championship first. Either way, the game is what it is.
One of the biggest deterrents to other teams going independent is how hard it is to schedule 13 games a year when so many football schedules are set years in advance. It would be nice to have BYU's FCS game in September like most programs, although other schools have been known to mix in a money game late in the year as well.
With Idaho State likely being dropped from the 2015 schedule, BYU is working to replace them. If BYU gets lucky, next year could be the first independent schedule without an FCS team. If not, I'm sure the A.D. will keep making scheduling calls to find the right teams for 2016 and beyond.
Here are the Loyal Cougars thoughts on the upcoming Savannah State and SDSU games:
Greg Welch
Bronco hasn't been the kind of coach to run up the score, but I don't think he'll be able to help it against the Tigers. Everyone plays, the clock runs fast and BYU's seniors get a hearty "thank you" from everyone for their hard work. BYU 70, Savannah State 7 and let's get ready for a big game with Cal.
For basketball, the game looks really intriguing. BYU goes fast and scores in bunches. San Diego State plays suffocating defense and can't shoot (36.5 FG% and 22.6% 3pt on the year so far). It should be a great match up to watch. BYU 61, SDSU 59.
Geoff Johnson
Kind of weird for BYU football to have an exhibition game so late in the season. I hear they even plan to keep score. So here is my score prediction:  BYU – A boatload, Savannah State – No snow angels for you!
As for the big SDSU-BYU basketball game
on Monday
, I am going to don my blue goggles and predict that BYU's ability to hit jumpers and free throws will be enough to get the job done. BYU 75, SDSU 71.
Adam Mangum
77-7 BYU over whoever they're playing this weekend. In honor of the 25th anniversary of the famous Cal-Stanford 'band on the field game' and BYU's upcoming game against Cal, BYU will be required to score all touchdowns with the BYU band clogging up the Red Zone.
SDSU is too much for a BYU team still trying to figure out its rotation. Haws scores 30, but it's not enough. SDSU 79, BYU 72
Brandon Jones
Savannah State is quite possibly the worst opponent BYU has ever faced. This one will be over in the first quarter. BYU 59, Savannah State 0.
As for the basketball matchup with San Diego State, I'd give BYU a chance at an upset over the 16th-ranked Aztecs, but nothing I've seen from the Cougars to date would lead me to choose that as the most likely outcome. I see a close, low-scoring loss. SDSU 66, BYU 63.