Early 2015 Spring Football Preview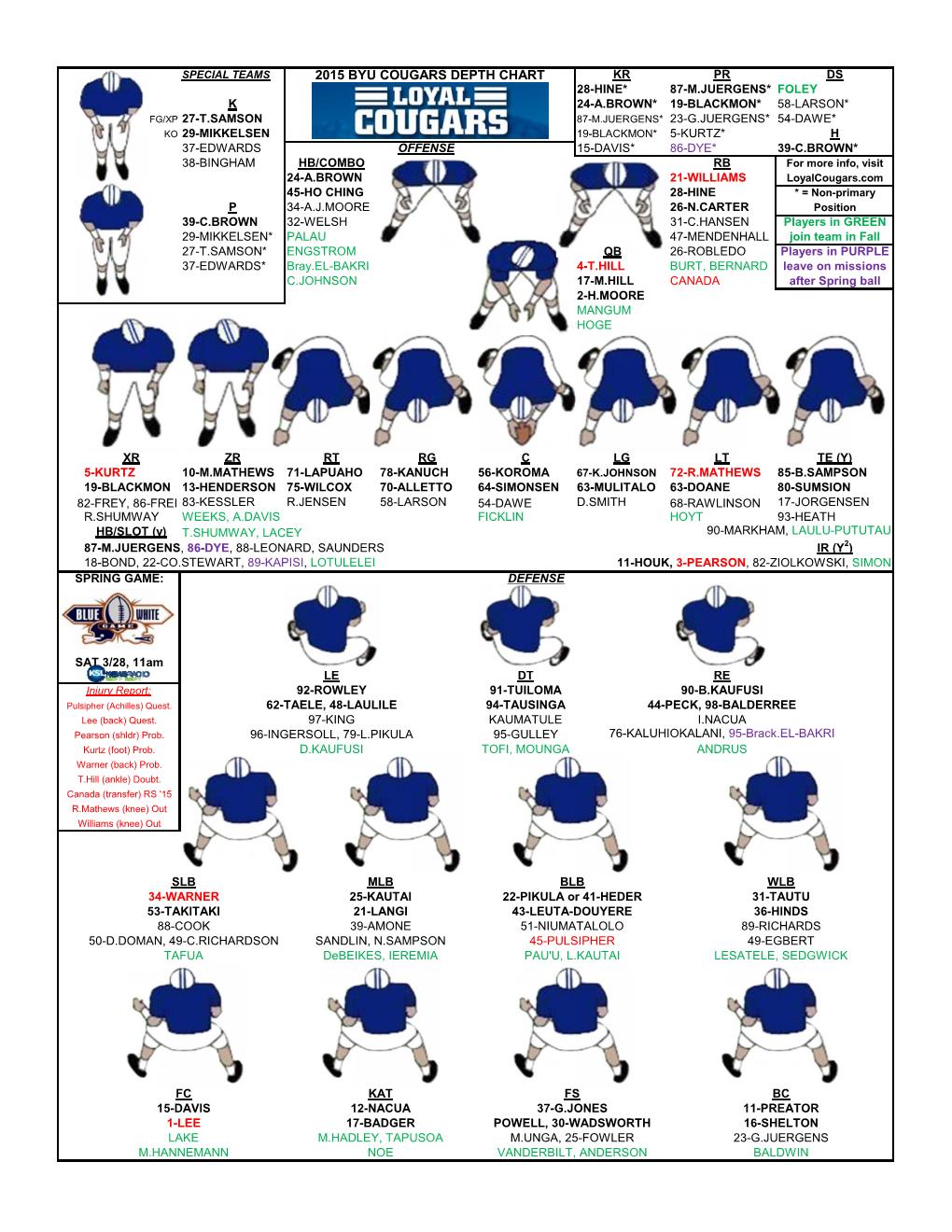 Behold, the offseason is upon us. And as such, it's time for one of my favorite annual rituals: the cleansing of the Loyal Cougars Roster and Depth Chart! Everything has now been updated in preparation for the 2015 season and we can now take our first look at what Spring football practice has in store for the Cougars. If you haven't already done so, take the opportunity now to look at our Spring Depth Chart (you may want to keep it open as I break down each position group).
Next week, the recruiting dead period ends and coaches will again be able to contact prospective athletes beginning on Thursday the 15th. National Letter of Intent Signing Day is four weeks from today. And BYU's Spring football camp opens just 26 days after that. And the administration still needs to finalize the hiring of a new Strength & Conditioning Coach, a new Director of Football Operations, and a new office manager for the Football office. So, before we all switch into full recruiting mode, let's take a look at how each position group stacks up heading into Spring practice.
Wide Receiver
The Wide Receiver position is the group that returns most intact from 2014. Yes, Jordan Leslie and his 55 receptions are gone. But, returning for spring are Mathews, Blackmon, Houk, Juergens, Henderson, Pearson, and Dye. And, if Nick Kurtz comes anywhere close to the hype he was getting during Fall camp last year, he should be able to replace Leslie's production and make the receivers the eye-catching group of spring practice. Ross Apo and Keanu Nelson are also gone, but the two combined for just 57 total yards and 1 touchdown on 6 catches in 2014. Trey Dye is expected to leave on a mission prior to the season, but five additional scholarship players join the receiving corps in the fall: three back from missions (Inoke Lotulelei, Josh Weeks, and Talon Shumway) and at least two new recruits (Micah Simon and Akile Davis). If the quarterbacks and offensive line can get everything figured out, 2015 could be a big year for BYU's wide receivers.
Inside Linebacker
Coach Tidwell's Inside Linebacker group is the next most prepared group for spring ball. Zac Stout played in 12 games in 2014 (10 starts) and is the only departing player. At the end of the year, there was a lot of rotation among the ILB's and the other six players who saw playing time in 2014 (Leuta-Douyere, Pikula, Kautai, Langi, Heder, and Niumatalolo) all return this spring. Adam Pulsipher should be back from last spring's Achilles injury and Phillip Amone is another scholarship player in the mix. Returned missionaries Rhett Sandlin and Nate Sampson are also enrolled in school and will provide 10 solid players from which Coach Tidwell can choose to field his three ILB units this spring. Position changes may be in order for some of these guys or for fall arrivals including RMs Nathan DeBeikes and Butch Pauu and Class of 2014 commit Jeremiah Ieremia.
Defensive Line
The D-Line is next on the list, mostly due to the embarassment of riches at Defensive End. All of the ends who saw playing time in 2014 are back this spring. And, rumors have Bronson Kaufusi returning to his natural position at Defensive End to further boost the line. Moses Kaumatule is back from a mission and Isaiah Nacua announced in December that he will also be enrolled this semester. Both personnel losses to the defensive line were Nose Tackles: Marques Johnson and Josh Carter. Jaterrius Gulley may get some quality practice time this spring (behind Tuiloma and Tausinga) before tackle reinforcements arrive this fall in the form of RM Taumata Tofi and true freshman Tevita Mounga.
Running Back
If the loss of Paul Lasike were the only obstacle to deal with, the RB corps may be a couple notches higher on this list. However, the unknown recovery time of lead back Jamaal Williams opens up the position a little bit more. Sure, Adam Hine, Algie Brown, Nate Carter, Tolo Ho Ching, and A.J. Morre will all be back for the spring. But, it remains to be seen who can carry the rushing load if Jamaal is unable to make a full recovery before the start of the 2015 season. BYU's running game production dropped off drastically against quality opponents following the losses of Taysom and Jamaal in 2014 (2.4 ypc at Boise, 2.7 ypc at Cal, 1.8 ypc vs. Memphis). Returned missionaries Patrick Palau and Francis Bernard will join the mix in the fall along with incoming recruit Riley Burt. Squally Canada, though the latter will be forced to sit out 2015 due to transfer rules.
Tight End
Only two tight ends saw the field in 2014 and only one, Devin Mahina, caught a pass. Mahina had 20 catches for 244 yards and 3 TD's in his final season with the Cougars. The five other players that practiced as true tight ends in 2014 will all return this spring; they're hoping that 2015 will finally bring the return of the tight end to the Robert Anae offense. Bryan Sampson made some noise before his mission, catching the winning touchdown in the 2012 spring game and is the odds-on favorite to take over Mahina's reps in 2015. But, scholarship players Matt Sumsion and Colby Jorgensen will certainly have something to say about that through spring and fall camps. Moroni Laulu-Pututau returns from a mission to join the group in the fall.
Outside Linebacker
Next on the list is the OLB group. Coach Poppinga's outside backers are high on talent but low on experience with the departure of Alani Fua, Michael Alisa, and with Bronson Kaufusi likely switching back to defensive end. Four players return from the 2014 unit (Warner, Tautu, Takitaki, and Hinds), though only Tautu's experience extends beyond last season. Tyler Cook and Steven Richards will also be competing for a place in the rotation this spring. Those six players will share the reps this spring before reinforcements arrive in the fall in the form of newcomers Mika Tafua and Will Sedgwick as well as returning missionary Lene Lesatele, who played in 3 games in 2012.
Offensive Line
While the offensive line loses five players from the 2014 group, only one was a starter (De'Ondre Wesley). Also, Ryker Mathews' absence following offseason knee surgery will mean that both of 2014's starting tackles will be gone this spring. And while the spring OL unit will look great at the top: Lapuaho, K.Johnson, Koroma, Kanuch, and Wilcox; only sixth man Terrance Alletto brings any substantial experience beyond that. The remaining 8 rostered offensive linemen combine for 8 career game appearances at BYU, mostly in garbage-time situations against FCS opponents. Returned missionary Austin Hoyt will join in the fall along with any other players the Cougars may pick up in the final month of this recruiting cycle, but even in the fall, game experience will be limited to the same top seven.
Cornerbacks
The departures of Rob Daniel, Trent Trammell, Jordan Johnson, and potentially Michael Shelton will force the cornerbacks to be very short-staffed this spring. Only four bodies return to the CB corps from 2014 and one of them, Sam Lee, has battled back problems for months and his status is questionable. Additional depth will be needed via position changes and/or walk-on tryouts to take the remaining spring reps. New recruit Dayan Lake and returning missionaries Micah Hannemann and Sam Baldwin (walk-on) are expected to join the CB's in the fall.
Specialists
One of the groups with the most work to do this spring is the special teams. Both kickers return, as well as primary kick returner Adam Hine, but all of the other specialists are gone. The Cougars will need to find a punter, holder, deep snapper, punt returner, and second kick returner some time between now and September 5. Chasen Brown, the backup punter in 2014, may have the edge to earn Arellano's job, but one of the kickers may give punting a try and give Brown a run for his money. Arellano was also the holder in 2014 and someone else will need to take on that responsibility this spring. Deep snapper Kevin O'Mary has graduated and his christened replacement Matt Foley will not arrive until the fall, leaving Parker Dawe and Chase Larson to handle the long snaps this spring. Just when the coaches had found a dependable punt returner in Keanu Nelson, his graduation places that position up for grabs yet again. And Paul Lasike's graduation means that Coach Poppinga will need to find someone to return kicks alongside Adam Hine as well. Yes, there's a lot to do, but there's plenty of time to get it figured out.
Safeties
While the cornerbacks have a serious depth problem heading into spring ball, the safeties have problems not only with depth, but with starting experience as well. Only Kai Nacua and his 6 starts return from the 2014 unit and his availability is in question due to his role in the postgame brawl in Miami. Here's the list of who's gone: Harvey Jackson, Craig Bills, Skye PoVey, Dallin Leavitt, and Kavika Fonua. Yikes. Now, the list of returning players who saw game reps at Free Safety in 2014: None. Yikes again. The only scholarship safeties in spring camp will be Nacua and returned missionary Sawyer Powell. Walk-ons Grant Jones, Michael Wadsworth, and Chris Badger saw time on special teams in 2014 and will compete for one of the starting jobs. Walk-ons Gavin Fowler and RM Morgan Unga will round out the safety group this spring. The position will be buoyed in the fall as new recruits Khari Vanderbilt and Zayne Anderson come in as well as returned missionaries Matt Hadley, Ku-J Tapusoa, and Connor Noe. But, until then, and potentially without its best returning player in Nacua, the safety group will have its work cut out for it this spring.
Quarterbacks
Yes, Taysom Hill is coming back for his senior season. So, why are the quarterbacks at the top of my list as the position in the worst shape for spring? It's simple. Much like the safeties, the QB's will have problems with depth and experience. With Stewart gone, Taysom unavailable with his recovering ankle injury, and walk-on Hayden Griffitts leaving in February to serve his mission to Japan, only McCoy Hill and Hunter Moore return from the 2014 roster. Both saw playing time against Savannah State. And that's it. The coaches will likely bring in a couple more warm bodies via position change or tryout. Thankfully, the situation will not be as dire in the fall with the expected return of Taysom and the arrival of Beau Hoge and Tanner Mangum to compete with Hill and Moore for the backup spot. But, until then, things will be scary at QB this spring.