Just how hard is BYU's 2015 schedule?
Updated: January 13, 2015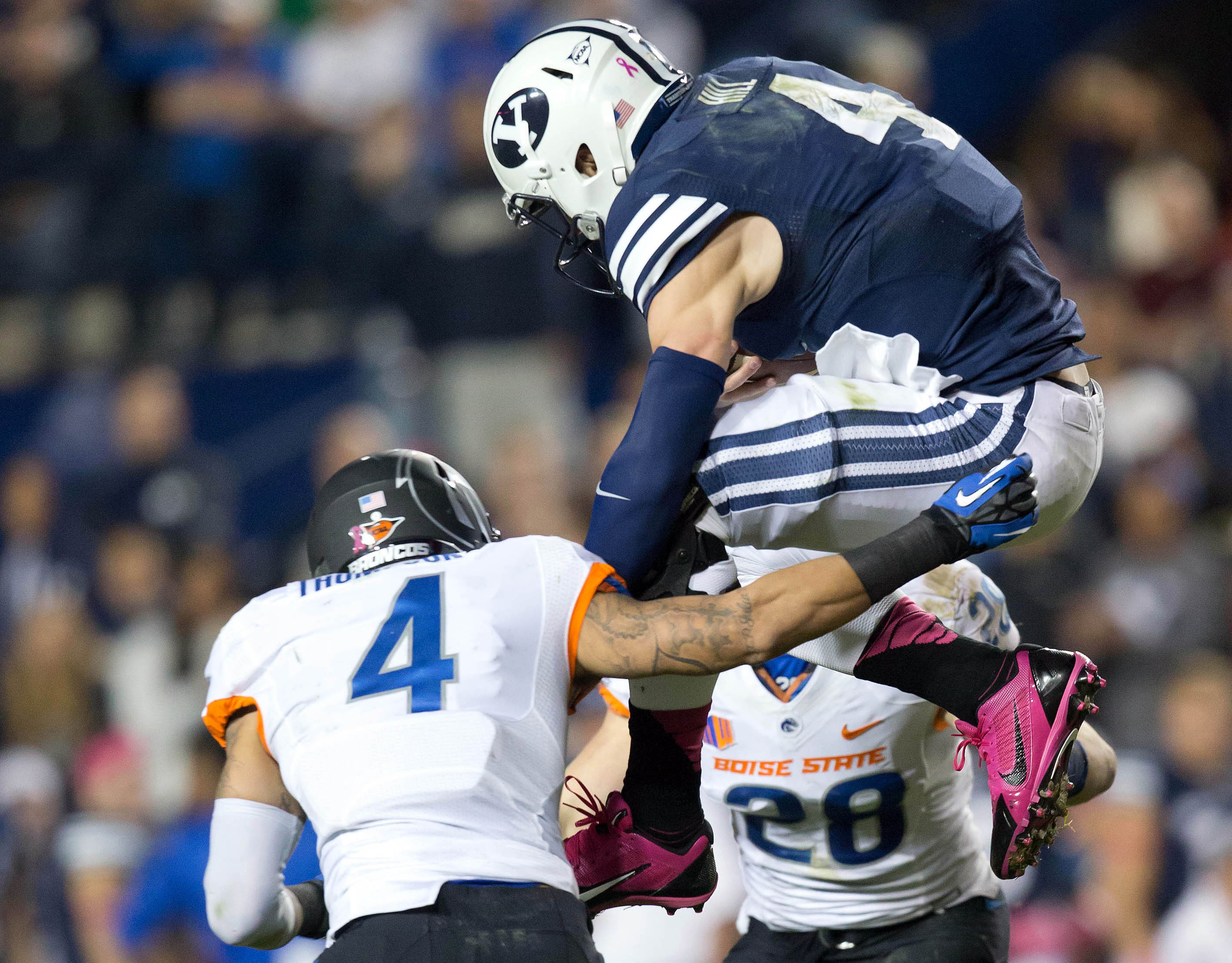 The 2014 college football season ended last night with the poorly-named College Football Playoff National Championship game. BYU has been back in class for a week now, and from the sound of things, the coaches and players are already doing foundational work for 2015:
https://twitter.com/derikstevenson/status/554692919173451776
Today, Bronco Mendenhall told BYU Sports Nation that when the final 2015 schedule is announced it will be "the most dynamic and most difficult schedule that BYU has ever taken on, from beginning to end. That's the intent, while we are independent; it's not to lose ground, it's to gain ground."
The next eight months will give us a new class of recruits and spring football, but with 2014 officially in the books, here's a quick review and look ahead to next season using USA Today's final 2014 rankings.
BYU ended the season ranked 47th by USA Today. Based on rankings alone, BYU went 0-4 in the games they were expected to lose and 8-1 in games they were expected to win. That aligns with the performances of Bronco's teams in the past.
Obviously, there's more to a 2015 preview than how the teams finished at the end of the year, but for a first look, it's not a bad place to start. Not counting FCS teams, here's the end of year ranking for each BYU 2014 opponent and then we'll take a look at the rankings for the teams BYU has on next year's slate.
2014 in Review
124. Connecticut — They were expected to be a bad team and they were. There was some paranoia going into this game based on the disaster that happened when BYU opened at Virginia, but Virginia has a great defense. UConn doesn't.
54. Texas — The Longhorns finished the year 6-7 and were playing a bit better football later in the year. BYU's scheduling of Texas has been one of the great wins of independence and it's too bad there aren't future games left to play.
62. Houston — The Red Cougars were a bit of a disappointment this year. They opened a new stadium and were expected to compete for an American championship. Instead, they'll now be welcoming Ohio State offensive coordinator Tom Herman as a new coach starting next year.
81. Virginia — The Cavaliers were improved from the team that beat BYU in 2013, but BYU's offense was also much improved.
36. Utah State — Going into this game, Utah State was coming off a loss at Arkansas State. When BYU beat Texas, the Longhorns were favored by 1, but lost by 34. This loss was as surprising, from a gambling perspective as that win. BYU was favored by 15 and lost by 21.
43. UCF — UCF finished just slightly ahead of BYU and the game came down to the wire, with the Cougars losing in overtime on a sketchy no-call.
69. Nevada — This one is the killer. BYU really had no business losing a 14-point lead in a game at home to Nevada.  The Wolfpack was scheduled to play again in Provo in 2019, but that game has been canceled.
8. Boise State — Boise had a tough year in 2013, but bounced back in a big way. The Broncos' 2014 season reminds me a lot of BYU's big years from 2006-09. They lost early and looked a little shaky, but improved through the season and closed out with a big bowl win. Boise played in the Fiesta Bowl thanks to the new rules, but with 62 other Group of 5 teams, I'm not sure how often a two-loss team will get to do that.
86. Middle Tennessee — The Blue Raiders gave BYU what they needed, a pair of wins. I liked this series more when both games were played in November, but Middle Tennessee's move to CUSA bumped last year's game up. We'll see if they're ever scheduled again.
121. UNLV — BYU was expected to roll over the Rebels and they did. They're a nice regional matchup, but fans in Las Vegas will have to wait until 2016 or 2017 for the return game as it got bumped to make room for Missouri.
74. Cal — Cal ended with a 5-7 record. The Bears' offense was solid, but wasn't world-beaters. Still, winning on the road in the Pac-12 is no easy task, and it was a good win to end the year.
23. Memphis — A bowl win got Memphis a nice bump in the end of year rankings. Failing to convert either fourth down or a 55-yard field goal and things would have been different.
The last two games show where BYU is right now. Games against the 23rd and 74th best team came down to the final plays. Sometimes, there's just not a lot of separation between teams in college football.
Looking ahead to 2015
Yesterday, the Kansas City Star published contract details of the BYU and Missouri football series that will be played in Arrowhead Stadium in 2015 and in Provo in 2020. The contract included details that confirm rumors that Wagner College will be replacing Idaho State as BYU's sixth home game next year.
Other than the bowl game, and barring any last-second surprises, that information should compete BYU's 2015 schedule.
Previews for 2015 will roll out for the next eight months, but just based on where the teams are ending 2014, this is what BYU is looking at for next year:
Based on BYU's 2014 ranking and the current rankings of the 2015 opponents, BYU is looking at a 6-6 record next year. And that's including a win at Michigan, which will undoubtedly improve under new coach Jim Harbaugh.
26. Nebraska — Mike Riley has moved from Oregon State to Nebraska. The Cornhuskers usually open their seasons against a cupcake, so BYU coming to town is a bit of a change of pace for them. Riley knows BYU well having played Bronco-coached teams three times since 2009, going 1-2 against the Cougars. It's a great game in a great venue.
8. Boise State — Taysom Hill and BYU played really well against Boise in 2013 at home. This should be a huge game in front of what will hopefully be a sold-out LaVell Edwards Stadium.  The Broncos should return 18 of 24 starters from the 2014 season, but their losses are big with quarterback Grant Hedrick and tailback Jay Ajayi not returning.
10. UCLA — Jim Mora has UCLA playing its best football in a long time. The Bruins are also returning 18 starters from a solid 10-3 campaign in 2014.
85. Michigan — Something tells me Michigan won't be the 85th ranked team at the end of next year. Maybe it's five million somethings.
124. Connecticut — After a brutal September, BYU will be happy to host the Huskies on General Conference weekend.
52. East Carolina — ECU was a solid competitor in the American last year. They just lost their offensive coordinator to Oklahoma.
39. Cincinnati — The Bearcats tied with UCF and Memphis for the American Championship and went 9-4 last year. This should be a big game in Provo.
115. San Jose — BYU recruits a lot in California. A home and home for a November game with a regional team helps round out the schedule. You can't play Top 25 teams every week.
12. Missouri — A challenging game in November? A semi-neutral away and a home game returned with an SEC team? This is a huge win for independence, even if fans in Provo will be waiting a few more years for the Tigers to show up. After tough games back-to-back in September, BYU should have plenty of prep time for this one.
84. Fresno State — Senior day in Provo in 2014 was going to be Southern Miss, but the Golden Eagles bailed on BYU and left the Cougars in quite a bind to find a replacement.  Even with the Bulldogs being down a bit, this is a much better senior day game than last year's match-up against Savannah State.
36. Utah State — The Aggies have made a great turnaround under Gary Andersen and now Greg Wells. There are worse fates out there than closing the year against a solid team in a game with local interest. BYU probably played its best game of 2013 on the last visit to Logan and hopefully the Cougars will be able to replicate that performance on this trip.
So, based on rankings alone, a 47th-ranked BYU team should have gone 9-4 against the 2014 schedule. BYU could jump 20 spots in the polls, improving to 27th for 2015 and still expect to go 8-4 against the 2015 schedule, with a bowl game pending. And again, that's not counting on any potential improvement from Michigan.
The 2015 schedule looks brutal, so I'm glad to hear the team is in the trenches working hard for next year already.
BYU could be much better next year and not have a lot of improvement in the win column to show for it. 2015 looks tough, but great. There are great road venues to visit, and Boise State, East Carolina, and Cincinnati should all bring very challenging teams into Provo. Fresno State adds a fun, regional game.
There's a long, long way to go before we kickoff games again, but there's a lot of opportunity out there for BYU.