Wait a minute, could this independence thing actually work?
Updated: January 23, 2015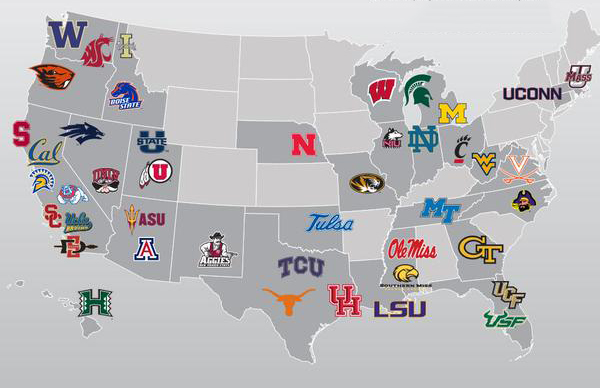 BYU and Michigan State recently jointly announced a home-and-home scheduling arrangement with games being played in 2016 and 2020.
The announcement came just after news of a semi-neutral site game against SEC powerhouse LSU and the very exciting neutral-and-home series with Missouri. BYU has also scheduled home-and-home deals with Washington, UCLA, Arizona State, and Stanford. The three-game series with Arizona looks really exciting with what Rich Rodriguez is doing there and the neutral game will probably be a true neutral game, fan-wise. Southern California got a two-for-one from BYU, but two of those games will be played during the last week of the season and the first game is in Provo, both positives for BYU. Even a home-and-home against USF sure isn't bad.
The point it is, at least from a scheduling perspective, things are looking up.
There are some complaints about the front-loaded deals—that these high-level teams are always hosting BYU first and visiting Provo later. With the revelation that BYU pays nothing to Missouri to buyout the game in Provo if the Cougars are in a Power 5 conference by 2020, I can understand teams would be hesitant about having their home game canceled, and ask for BYU to visit first.
The result is that by 2019, BYU will either be in a Power 5 conference or it will be playing a schedule (even a home schedule) very much like a Power 5 conference team.
How happy would you be if BYU was invited to a Power 5 conference? How excited would you be about the future, even if it were a few years out?
The home schedule for 2019 currently features Wisconsin, Washington, USC, and Boise State. The home slate for 2020 currently has Arizona, Michigan State, Virginia and Missouri.
Assuming BYU has still not joined a Power 5 conference, either 2019 or 2020 will be the first year of BYU's second independent TV contract. I don't want to go out too far on a ledge, but I think BYU will be able to get a broadcast partner to sign up to carry those games.
That's not to say everything is lost until then. BYU has games at home in the next four years with UCLA and Cal. Utah will be back on the schedule. Also, BYU hosts Boise State in the 2015 home opener and home games against the Broncos will continue every other year. That's a solid game and one of the only foundational pieces of independence that hasn't fallen through.
When BYU went independent, there were two cornerstone announcements made along with it: a scheduling deal with the WAC, and six games with Notre Dame.
The WAC no longer exists as a football conference and Notre Dame signed up for five games a year with the ACC. Having Notre Dame at home this year or next would have been a big plus and it's unfortunate what's happened, but it's hardly the only series in the country to get shaken up by conference realignment.
Hawaii and Utah were penciled in as annual series as well, but those schools chose to do other things and BYU was forced to find replacement games on relatively short notice.
When BYU went independent, Athletic Director Tom Holmoe urged patience from fans, saying, there may be "a transition period of a couple of years before we achieve the full vision of what football independence can become."
It looks like losing the WAC deal and Notre Dame's move to the ACC has turned that transition period into something closer to six or seven years rather than the two or three years BYU was hoping for, had set up, and had cut out from under them. Starting your own business can be rocky.
Big 12 leadership consistently maintains that Baylor and TCU's snub alone will not lead to knee-jerk decisions about expansion. The snub of Baylor doesn't have to lead to expansion to help BYU. The new playoff reality is leading teams like Michigan State to decide that they'd rather have a team like BYU on the schedule than an opponent the likes of Eastern Michigan.
Even with the 9-game schedules many conferences are adopting, teams know they can't schedule three cupcakes and expect to be invited to a lucrative postseason game. Most teams have seen this coming, but the universal hating of Baylor's cupcake schedule should shut down any remaining doubt.
---
There have been plenty of skeptics about independence, some with good reason and some just hysterical. For fans, the continued uncertainly of the future can be unsettling, but look at these schedules—we're going to make it.
There was and is a vision of what football independence can become. BYU fans may have had to endure more of a rocky transition than they'd like, but getting games with Texas isn't the worst fate in the world. Being forced to play Savannah State in November because someone bailed at the last second was less than ideal, but look at these schedules—we're going to make it.
The transition maybe took a little longer than we'd hoped, but while they aren't all headliners, the next few seasons aren't exactly chopped liver themselves. There will be great games played in Provo. We're going to make it.
I was able to visit Notre Dame for the 2012 game and one thing that impressed me was the Irish's air of confidence. There are plenty of people who complain about Notre Dame's supposed arrogance, but they built a machine. The Big 10 rejected them, largely for religious and cultural reasons and they built a program that stands on its own. Around their stadium, there is no doubt that Notre Dame will always be Notre Dame. BYU isn't ever going to be Notre Dame and the Cougars don't have to be to survive and thrive as a serious college football team. They just have to make it.
What Tom Holmoe has been able to put together for the future, even with plans A and B getting cut out from under him is nothing short of amazing. TV markets may be playing more and more of a role in college football, but what largely separates big-time from the small-time is still the fans.
BYU has great things coming. It is building something. BYU hasn't put together an exceptional year on the field in independence yet and it's going to need to if it wants that something to get built and be able to continue to stand on its own.
This long-term schedule looks great—not good, great. Power 5 great. BYU is building something. Either they're going to make it, or we're going to make it. It just depends on where you want to stand.