BYU Football 2015 Television Predictions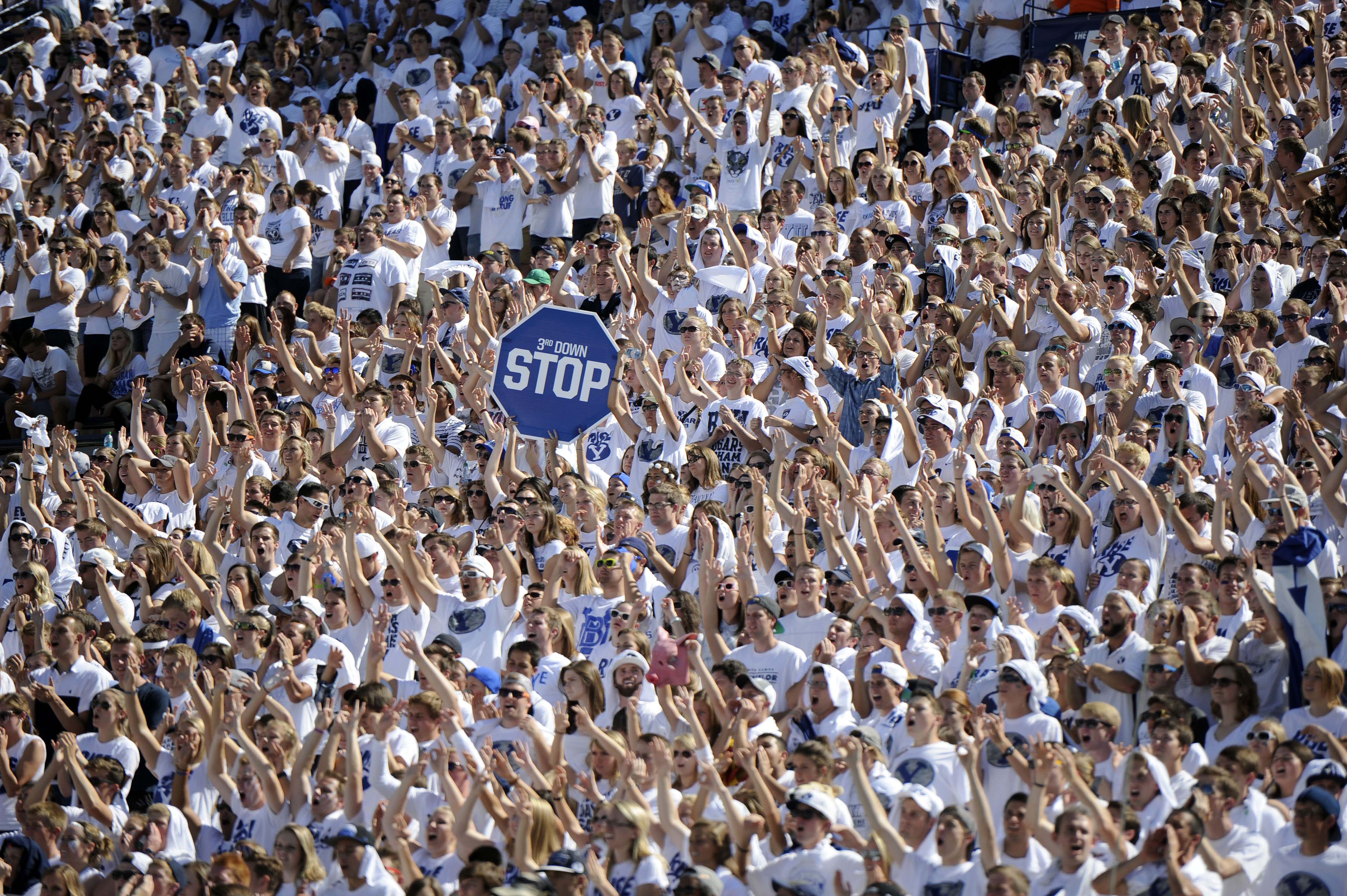 Guest columnist Jared Goulding takes an early look at which TV networks he expects to air each BYU football game for the upcoming 2015 season. Information in bold has already been announced.
Week 1
Saturday, September 5, 2015
BYU at University of Nebraska
Prediction: 3:30 PM Eastern, ESPN2
Justification: The primetime ESPN slots will likely be taken by NFL-venue/neutral-site games in Dallas, Houston, and Atlanta (Wisconsin vs. Alabama, Texas A&M vs. Arizona State, and Louisville vs. Auburn respectively). The top two games that fall under the Big Ten TV contract in Week 1 are BYU at Nebraska and Stanford at Northwestern. The Big Ten normally owns the Saturday Noon slots on ESPN and ESPN2 and both of these games could end up there, but normally it's the Eastern Time zone teams that occupy those slots. Look for the mid-afternoon slot instead as a result. There are plenty of games to fill the BTN's schedule that week (Southern Illinois at Indiana, Illinois State at Iowa, Richmond at Maryland, Norfolk State at Rutgers) so relegation there shouldn't be a concern.
Option 2: Noon Eastern, ESPN or ESPN2
Week 2
Friday, September 11, 2015
Boise State University at BYU
Prediction: 8:00 PM Eastern, ESPN
Justification: Week 2 is always the week for big matchups, and the 2015 season is no different: Oklahoma at Tennessee, Oregon at Michigan State, Oregon State at Michigan, and LSU at Mississippi State fill the slate. These games headline a decent week that also features some good G5 vs. P5 matchups including ECU at Florida, Fresno State at Ole Miss, Arizona at Nevada, Houston at Louisville, UCF at Stanford, and Minnesota at CSU. The SEC should really lay claim to the Saturday primetime ESPN/2 slots with OU at UT and several in-conference matchups. With Saturday most likely on lockdown and BSU/BYU history being a guide, look for a move to Friday primetime at 8 PM on ESPN with the added benefit of bumping USU at Utah to a lower-tier channel for their 9 PM matchup. The recent leak that Boise State officials are saying the BYU game is the only date on their schedule not yet set in stone only adds fuel to the non-Saturday fire.
Option 2: Thursday, September 10, 2015 at 8:00 PM Eastern on ESPN
Week 3
Saturday, September 19, 2015
BYU at UCLA
Prediction: 10:00 PM Eastern, ESPN
Justification: This game falls under the Pac 12's TV contract. The top matchups under their contract in Week 3 are Stanford at USC (likely Fox broadcast network slot) and BYU at UCLA. Only the late-night time slot will be possible for an ESPN broadcast with all the matchups that week: Ole Miss at Alabama, Texas Tech at Arkansas, South Carolina at Georgia, Auburn at LSU, Nebraska at Miami (FL), Pitt at Iowa, and Cal at Texas (LHN candidate).
Option 2: 9:30 PM Eastern on FS1
Week 4
Saturday, September 26, 2015
BYU at University of Michigan
Prediction: Noon Eastern, ESPN
Justification: The top matchup for the Big Ten's TV contract in Week 4 is definitely the BYU at Michigan game. The only other P5 vs. P5 game is Kansas at Rutgers, so it should be no surprise when the Cougars and Wolverines land the Noon eastern ESPN slot.
Option 2: Potential ABC broadcast network slot, but there's not really another option as this is the probably the most obvious prediction other than the Wagner and UConn games.
Week 5
Friday, October 2, 2015
University of Connecticut at BYU
Prediction: 8:00 PM Eastern, ESPN
Justification: Classic Friday TV slot for the Friday before General Conference. At least it's not Utah State as the opponent finally.
Option 2: 9:00 PM Eastern on ESPN2
Week 6
Saturday, October 10, 2015
East Carolina University at BYU
Prediction: 10:15 PM Eastern, ESPN2
Justification: Two teams that have flirted with busting the one-time BCS now New Year's Six are finally meeting on the field. If they have both made noise, this could get an even better TV slot, but BYU's willingness to give ESPN intriguing weeknight or late Saturday matchups is why we have a deal with them in the first place.
Option 2: Thursday, October 8, 2015 at 8:00 PM Eastern on ESPN
Week 7
Friday, October 16, 2015
University of Cincinnati at BYU
Prediction: 8:00 PM Eastern, ESPN
Justification: Want to have an ESPN contract? Everyone better cozy up to a good number of Friday night showcases. Conference schedules are in their full swing by this point with prime matchups in all the P5 conferences: Michigan State at Michigan, Oklahoma at Kansas State, Penn State at Ohio State, Oregon at Washington, Alabama at Texas A&M, Florida at LSU, Virginia Tech at Miami, and Louisville at Florida State.
Option 2: 9:00 PM Eastern on ESPN2
Pages: 1 2