2015 Football Schedule Expected to be Announced Soon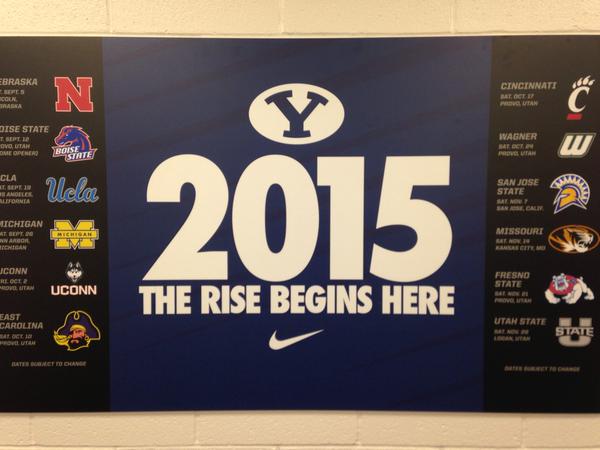 Brandon Jones reviews the schedule release dates from the previous four seasons of BYU football independence and speculates on what may be holding up the announcement for 2015.
Today is April 24, 2015. In just one week, BYU season football tickets will go on sale to the public. And BYU has still not officially announced the 2015 schedule. So, what is so strange about the lack of a schedule announcement? For one, BYU is the only FBS school in the nation yet to announce a finalized 2015 football slate. Also, during the first four seasons of independence, BYU has never waited past February to announce a schedule.
Since every other FBS program has already announced its schedule, I don't expect any of BYU's opponents to change at this point. For the same reason, I would also suspect that the order of the games (which game will be played on which weekend) is locked in at this point. Several pictures and posters have circulated on Twitter that give a glimpse into what the schedule should look like when it is eventually released. Multiple players and coaches tweeted a picture of the schedule from the wall of the football offices (note the fine print: Dates subject to change):
Who's coming to which game? I know I'll be at all of em. pic.twitter.com/hKSvelYfYU

— Mitch Mathews (@mitchmathews10) January 17, 2015
Before the spring scrimmage, KSL's Greg Wrubell tweeted out the following, seeming to indicate that at least the Cincinnati and San Jose State games have shifted from Saturday to Friday (the game at San Jose State has since been confirmed as an 8:30 PT kickoff on CBS Sports Net).
First look at this year's @BYUfootball schedule poster; nice work as always, by @BroberDave and the @BYUphoto crew! pic.twitter.com/4Jk9vFtlvO

— Greg Wrubell (@gregwrubell) March 27, 2015
Let's take a quick look at the history of BYU's schedule announcements:
2011: The full schedule was announced on December 8, 2010. On February 17, 2011, BYU announced that the Louisiana Tech game scheduled for November 5 had been cancelled and replaced on the schedule by a neutral site game against TCU on October 28.
2012: The football schedule was announced on February 13, 2012. On May 3, 2012, the Athletic Department announced that the game against Boise State would be played on a Thursday night. BYU announced that the games against Washington State and Hawaii had been moved to Thursday/Friday night contests on May 16, 2012.
2013: BYU announced the 2013 schedule on January 28, 2013. The Boise State game was moved to a Friday night in a press release issued on April 10, 2013.
2014: The initial 2014 football schedule announcement was made on February 24, 2014. BYU announced that the game against UCF had been moved from a Saturday to a Thursday on March 11, 2014. The 2014 matchup against Boise State was moved to a Friday night game in an announcement issued on April 10, 2014.
So, what can be learned from this data? In terms of absolutes, the latest in the year that a schedule has been announced was February 24. The latest that a game has shifted to a different date was May 16. And yet we are still awaiting an initial schedule announcement as May draws near. What could be the reasons for this delay?
1. BYU is still finalizing a contract with one or more current opponent. If my research is correct, all of the games on BYU's 2015 schedule have been officially announced by BYU with the exception of the game against Wagner College. Per Athletic Department policy, the games are not announced until the contracts have been signed. Due to the unusual nature of the game against Wagner (BYU and Missouri are splitting Wagner's direct expenses, plus BYU is likely paying Wagner a fee in the range of $325,000), it's possible that BYU's direct negotiations with Wagner for the October 24th game are ongoing, thereby holding back the announcement of the game (and by extension, the entire 2015 schedule). In my opinion, this is the most likely explanation for the delay.
2. ESPN is still filling its non-Saturday game inventory. Another highly likely reason that BYU has chosen not to announce the schedule yet is that the Athletic Department is waiting on ESPN to choose which, if any, of BYU's games to move to a Thursday or Friday prime-time slot. In each of the past three seasons, at least one game originally announced on a Saturday has been moved to a Thursday or Friday. I can see how this could be infuriating to season-ticket holders who purchased tickets with the ability to attend a Saturday game only to lose that ability when the game was shifted to Thursday or Friday. If enough of these boosters and donors complained to the Athletic Department, I could see Tom Holmoe holding back the schedule release until the game dates have all been finalized. This way, all season-ticket purchases are made at the buyer's risk of not being able to attend every game. However, not having a schedule in place certainly won't help early season-ticket sales.
3. BYU is still finalizing a bowl contract for 2015. Though this may be true (and likely is true since BYU's bowl affiliation for the 2015 post-season has not yet been announced), I don't see BYU holding back the 2015 schedule announcement just because the potential bowl destination remains fluid. Past schedule announcements have not made mention of post-season considerations and the potential blow to season-ticket renewals is too big of a cost to endure just because it would be nice to release the schedule and the bowl game at the same time. I don't see this option as extremely likely.
Whatever the reason(s) for the delay in announcing the completed schedule, Tom Holmoe and his colleagues in the Athletic Department are likely working tirelessly to do everything in their power to facilitate the announcement. I wouldn't be surprised to see an announcement in the next week. And I certainly expect we'll see something official in the next three weeks. The damage to season-ticket sales could be substantial if BYU doesn't make an announcement as soon as possible.