Epic Road Trips: Ole Miss 2011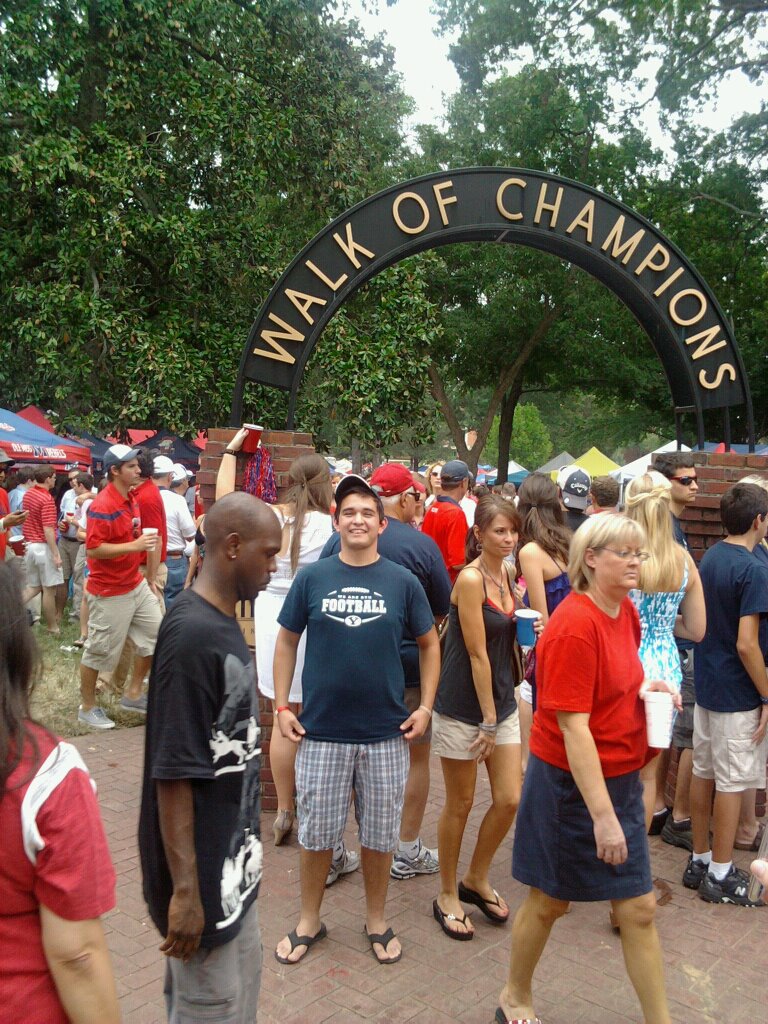 (Story contributed by Joseph Scoresby. To contribute to this series, email your epic road trip story to stories@loyalcougars.com. Please include a picture if possible.)
I went to the game at Ole Miss with two ward members. My wife was pregnant with our third child (she went into labor while watching the Utah game three weeks later; our son is either going to redeem BYU football or enjoy its demise, and I'm not sure which one yet.)
We drove down from the D.C. suburbs and stayed the night in Memphis. In hindsight, this was not the smartest move. The neighborhood was sketchy, and the hotel was sketchy. That probably explains why it was so cheap. Game day, we woke up, got out of there, ate breakfast at a Steak and Shake (why are all the best restaurants southern chains?) and drove to the game. After finding a parking spot, we explored campus and the tailgating scene at The Grove, which was awesome. It seemed that the older the Ole Miss fans were, the more polite and gracious they were about having us as guests.  When we said that we had driven down from D.C., they all got really impressed. The Utah State game was on a lot of TVs, and both Ole Miss fans and BYU fans were gathered around rooting for USU.
The game itself was also great. We had seats in the north endzone bleachers, the cheap seats, which were a separate structure from the rest of the stadium. Much to our delight, we found that they resonated nicely when all of us BYU fans who bought cheap tickets online started stomping our feet.
The Jake Heaps-led drive that ended in an interception happened while I was getting some pulled pork nachos, so I missed the entire thing, but I didn't feel surprised by it. In fact, I remember hearing some Ole Miss fans expressing anxiety during the drive, then suddenly becoming elated at the turnover.  I, on the other hand, was eating barbeque and nacho cheese, so I was happy the whole time.
I also never really felt we were out of the game. I remember sitting there into the fourth quarter, thinking. "That's okay, the defense can still pull this off."  What a change from my childhood memories of BYU.  Thankfully, we had KVN playing and he did his thing, forcing a fumble and recovering it in the end zone.
It was a great trip, made even better by the win.