Media Day Live Updates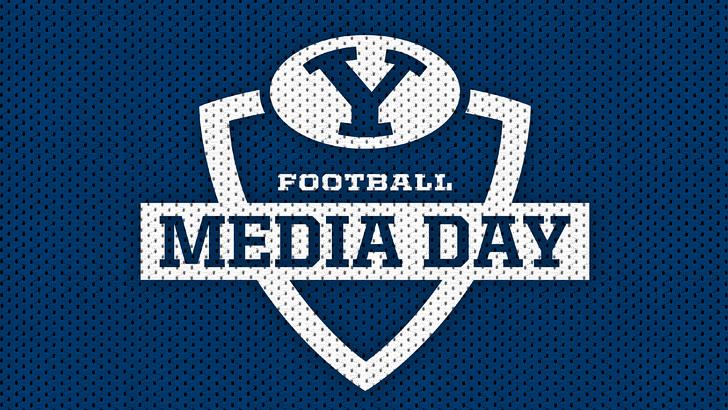 Check back throughout the day on Wednesday, June 24 as this post is updated in real time with tidbits and revelations from BYU Football's 2015 Media Day.
3:32pm: Per Ben Criddle at ESPN 960, AJ Moore has been moved to Cornerback.
11:31am: Per Jay Drew of the Salt Lake Tribune, Freshman Defensive End Isaiah Nacua has left the program and may transfer to Snow College. Drew also quoted Mendenhall as saying that the players that have been given suspensions for the opener will not have the ability to work their way out of the suspension. Bronco declined to divulge the number of players receiving discipline.
10:26am: Bronco: "As independents, we are not in a position of leverage." He's looking for the best of both worlds: winning as many games as possible on the biggest stages against the most difficult opponents.
9:53am: Jamaal Williams: "I'm feeling good." He fully expects to be full speed by the time BYU rolls into Nebraska.
9:51am: Taysom Hill: "I've been fully cleared to do everything." He's been participating in every drill for the past six weeks.
9:38am: Per Coach Mendenhall, returning offensive experience should yield consistency and, if the depth holds, impressive results in 2015.
9:35am: Robert Anae said the offense is ready to use Jamaal Williams 100% off his injury. He also wants to be able to throw the ball at a higher level. Anae mentioned that the players look different- better- after going through the first few months of Frank Wintrich's offseason training program.
9:25am: Bronco likes offensive depth except at QB and OL. He's also comfortable with the depth of the defensive front seven.
9:24am: Per Holmoe: Access and exposure are the high points of independence. Scheduling challenges have been the most difficult part.
9:20am: Holmoe stated that there's a good chance we see a few traditional Mountain West opponents on the schedule in the near future. Holmoe also mentioned that Tulsa helped in moving teams around to make the 2016 schedule a reality, though the Golden Hurricane do not appear officially on any BYU future schedules yet.
9:12am: Tom Holmoe says the fans deserve six home games and he would like to have seven in an ideal situation. Holmoe also mentioned that ESPN will decide which bowl game BYU will play in at the end of the season (assuming the Cougars are bowl eligible) based on potential match-ups.
9:08am: BYU has scheduled a home-and-home series with Toledo: Friday 9/30/16 in Provo and 9/28/19 at Toledo. Only one home game remains to be announced to complete the 2016 schedule and it will likely be either 10/29 or 11/5 against an FCS program.
9:07am: Times announced for two 2015 games: Boise St. game will be 8:15pm MT on ESPN2. UConn game also 8:15pm on ESPN2.
9:04am: Tom Holmoe on the state of the program: "We love the tradition, but we're both players and coaches, and we're really looking forward…it's the future that really counts. Bronco Mendenhall: I love our team. A lot of things have to come together for a special season. But we have some special players and key pieces in the right places against the best opponents: it has the makings of a special season.
9:01am: There will be a new addition to the 2016 football schedule announced on this program. Stay tuned…
8:55am: The State of the Program broadcast will begin in 5 minutes on BYUtv.org and ESPN3.
8:45am: In an inverview with "Coast to Coast" on Sirius XM College Sports, Bronco Mendenhall reiterated that independence is the right place for BYU right now and that BYU has the unique ability to pull it off, but that ultimately the goal is to join a Power 5 conference. When and how that might happen is still unclear. He also restated that his goal for the program is to win a National Championship and the only way that's even possible is to play challenging schedules.
8:26am: In a candid interview with 1320 KFAN, Coach Holliday admitted that the BYU receiving corps is not as deep as some of the teams BYU will face, so his players will need to be that much more precise in their execution. According to Holliday, that also means increasing the "top line talent," which is why he tries to find talented receivers wherever he can, even from places outside the normal BYU recruiting circles.
8:12am: In an interview on 1280 "The Zone," Coach Poppinga stated that Bronson Kaufusi's primary position will be Defensive End, with him standing up and rushing the passer from an OLB spot in blitz situations.
8:08am: Jake Hatch posted a list of players that are scheduled to be available to the media today: Taysom Hill, Jamaal Williams, Mitch Mathews, Ryker Mathews, Terenn Houk, Bronson Kaufusi, Remington Peck, Manoa Pikula, Fred Warner, & Kai Nacua.
8:05am: In a web chat with BYUtv, Duff Tittle mentioned that the "Four Decades of Dominance" show this afternoon will feature about 80 former and current BYU players.