Let's Review: BYU Beats Cincinnati; Where is Sack Lake City?
Updated: October 20, 2015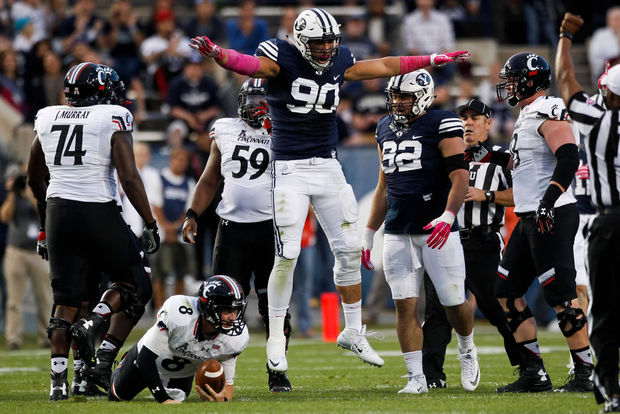 What a game! Man, if there is one thing this season is NOT, it's boring!  Has there ever been a season with so many games decided in the 4th quarter?  5 wins and 1 loss came down to the end to be decided.  It's like the best and worst roller coaster ever.  I swear in the 1st quarter, I was ready to give up football all together, and never watch another BYU sporting event again for the rest of my life!  It seemed like it was going to be a Baylor/FCS-team game, like 70-7.  There was no way BYU was going to be able to stop this offense, no way!  The Cougars were incredibly lucky to only be down by a TD at half time.  But it was a tale of two halves, indeed!
First Half
Cincinnati's first half drives ended as follows: 63 yds, FG; 92 yds, TD; 45 yds, Blocked FG; 14 yds, Punt; 20 yds, TD (after Mangum INT); and 27 yds, Punt.  That's 271 yards of offense in the 1st Half for the Bearcats.
Compare that to BYU's 1st Half stats: 3 Punts, 1 INT, 1 FG (on a short field after Cincinnati's long FG attempt was blocked), and 1 long TD drive (highlighted by two big PI calls against Cincy). BYU's offense finished the half with 190 yards of total offense and a turnover.
Like I said, it looked like the Bearcats were going to move the ball at will. Tanner did not seem like himself, there were so many dropped passes that I lost count; it was not looking good.  At least BYU's defense had already sacked the QB 5 times against an O-Line that had only given up 6 sacks the whole season. It was a sign of things to come.
Second Half
I am not sure what happened at halftime, though I'm hoping we'll see on tonight's episode of Inside BYU Football.  The defense definitely came to play. It was like Remember the Titans, you know the scene, blitz all night, not gain another yard…that one.
Tanner looked much better as well.  He must have had a good massage on that hammy or something.  Or perhaps BYU brought in a specialist at halftime to help out with his injury.
Compare Cincinnati's first half drives above with the 2nd Half: 5 punts and just one extended drive for a TD.  In the second half, the Bearcats only had 74 total yards of offense!  Cincy's final four drives went 0 yards, -2 yards, -7 yards, and 1 yard respectively!  That's pretty dang close to "not another yard".  That pep talk from Coach Yoast was just what they needed!
So, Tanner finished 19/32 for 252 yards, 2 TDs and an INT. The BYU offense tallied 202 rushing yards. BYU is now sitting just barely outside the AP poll at 27. Side note: the more I think about it, the more I feel most polls are completely useless. The CFP rankings begin on November 3rd, and that's really the only one that matters. And not from a "Gee I hope BYU can still get in the playoffs!" perspective, because, that ain't happenin', friend! More because these are at least rankings where all factors are considered, and games are actually watched and analyzed. It's not just a "let's see, who won and who lost this week, and how many points did they score" type of ranking, which is what the AP and Coaches (especially) polls are.
Looking at my predictions, I called for a 17-point BYU win, so I was close there.  I said no 4th Quarter heroics would be required, which I was clearly wrong on. Apparently that is just how things are going to be this season.
By the way, some are saying that some of those 8 sacks (8! I still can't get over how great a performance that was!) were coverage sacks, which I agree with. So, while we are all praising Tuiloma and Kaufusi and Takitaki and Tautu, don't forget to give the secondary some credit. TV doesn't always show it, but solid coverage downfield makes many of those sacks possible.
(BYU gifs via @Cougazul on Cougarboard.com)
Three Things I Liked:
I've already covered it, but Sacks! The defense as a whole played great.  Let us bask in the defensive gif glory below!
Nick Kurtz – I'm glad he had a great game: 6 catches for 119 yards and 2 TDs. It seemed like he was due for a breakout performance. And by the way, I'm now calling for Devon to get TWO TDs this week.
Defensive adjustments/execution in 2nd half – Like I said, in the 1st quarter it looked like it was going to be a very unhappy evening. I'm not sure that BYU could have kept up with a true shootout, with Tanner looking the way he did in 1st Half and with the WRs dropping so many passes. Thank goodness the defense decided to make things happen.
Three Things I Didn't Like:
First Quarter Defense – I think we were all expecting Cincinnati to show up with its high-powered, high-scoring offense, and it was certainly on display from the outset.  I like in-game adjustments, but man, can't we just start and finish strong?
Late 4th quarter punt by Cincinnati – Tommy Tuberville clearly gave up when Cincy punted in the 4th quarter with his team down two scores with all 3 timeouts and about 4 minutes left on the clock.  He was definitely sending up the white flag. If that was Bronco doing that, BYU fans would have been livid, and he would have been sprinkled with boos. And I say rightfully so; I hope Bearcat fans are upset about that one. Throw in the towel!? Jim McMahon taught us a thing or two about not doing that.
Penalties – 10 for 74 yards – In the first few games, penalties were WAY down from where they had been the last couple of years. It was five-ish a game. The last 3 games, however, the penalty totals have been creeping up, with Friday's game being the highest of the season so far. Perhaps the coaches are not coming down as hard on penalties, perhaps it's just coincidence. Either way, I hope the trend does not continue.
Favorite Play of the Game
This wasn't the most exciting play in terms of athleticism or execution, but there is something deeply satisfying about busted coverage way downfield, and the QB actually finding the wide open man. Plus it's what gave BYU its first (and final) lead of the game. The crowd went wild; it was great!
Least Favorite Play of the Game
This isn't BYU and wasn't even a college football game, but I saw it this morning. I'm not even a Colts fan, but this is so terrible, so bad…it's uncomfortable, even embarrassing, to watch. I'm not even sure what they were trying to do. It's so bad, it is my least favorite play of everything this weekend, more than dropped passes and penalties and soft zone coverage in the 1st quarter.
Boney Fuller Tweet of the Week
This one isn't quite up to the same caliber as last week's, but the pirate jokes write themselves (what is a Bearcat anyway?). But this 9/11 Truther crack is pretty good.
Meeting a former president is a rare thing. @BigPark78 knew he couldn't let this opportunity go to waste. #BeatCincy pic.twitter.com/BnBhAM1v4N

— Boney Fuller (@boneyfuller) October 16, 2015
So what do you think? What did you like or not like? What was your favorite or least favorite play of the game?  There's plenty of comment space still available below!