Let's Review: BYU Wins and Something about a Wagon Wheel
Updated: December 1, 2015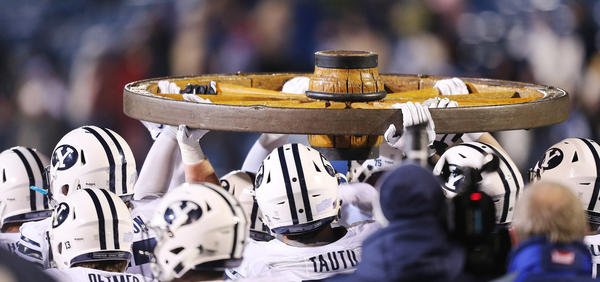 It goes by too fast. Like a really fun vacation or young children growing older, it's over sooner than it seems it should be.  I'm talking, of course about the football season.  And while there is still one more game to be played in a location and against an opponent that is still to-be-determined, there is something very bittersweet about the last regular season game, especially this one.  It's sweet because it was a win, a decisive win even. And it's bitter, obviously, because it signals that the 2015 football season is, for the most part, over.
While we all discuss whether these coaches can or can't take this BYU Cougar team to an elite level, and while we all wonder what number 4 will do and what effect that will have on the 2016 team, I would hope that we can all agree that this season was anything but boring.  And because a long 9-month-long BYU football hiatus is nearly upon us, I would hope that is something we can all be excited about.
Enough Sentimental Garbage…We Beat the Aggies!
Because Bronco has a history of saying that they don't treat any team as more important or bigger than others, games against the Utes and Aggies always make me nervous.  As is visible from the typical intensity of play and the increased virulence of their fans, it seems obvious that both those teams do NOT treat these games like any other.  It's bigger.  It's more important.  It's personal.  And while I don't live in Utah and I'm not from there, I can absolutely imagine the nonsense that those of you that do live there receive from the opposing fans during the weeks leading up to and following these games.  I feel for you.  I want the team to not only win but embarrass these other Utah teams just so that it will silence, at least temporarily, the anti-BYU noise that I'm sure you guys regularly have to put up with.
So, yeah, I get nervous for these games.  And I'm not sure what it is about Chuckie Keeton against BYU, but he just struggles against the Cougars.  And thankfully so.  By all accounts, he seems like a stand-up guy and a terrific player and competitor who, like Taysom Hill, has just been plagued by crazy fluke injuries his entire career.  A good friend of mine put it this way on Twitter, and I endorse this wholeheartedly (especially since a Chuckie injury typically brings in cries of BYU intentionally injury him or celebrating his injury or other such ridiculousness):
Keeton is tops. Tough opponent. Good to see a game without a QB injury for a change. #BYUvsUSU

— John Young (@ok4ever) November 29, 2015
Speaking of ridiculousness, what is the deal with the campaign by some to paint BYU as dirty?  I seriously don't get it.  Perhaps it's my fan bias showing, but besides the Memphis brawl (which could EASILY be argued as being started by Memphis), and maybe the Boise nut punch, what evidence do people have?  Is it because they are looking for it?  Do they WANT BYU to be dirty, and so resort to using out-of-context clips of normal football plays to make their biased point?  It's weird.  Occasionally it's annoying that people seem to love to misrepresent the Cougars, but most of the time it's just plain cute and slightly funny that they care so much about it to make such a fuss.  But, you know, I guess every other team in the entire country never does anything like that, ever.
This isn't taunting. https://t.co/iBUOwzpRYx

— Andy Splatz (@AndySplatz) November 28, 2015
Moving on!
Holy cow, another non-boring game!  The first half especially!  The ECU-Cincinnati game went long on CBSSN, so BYU actually kicked off before the broadcast started and we missed the first two or three minutes of play.  Once they did switch over, it was like "Welcome to the broadcast…and Chuckie Keeton scores a touchdown!"  Not sure who missed their assignment on that one, but hopefully they got screamed at.  25% of USU's rushing yards came from that one play during the first drive!
For most of the first half, I found myself wanting to pull my hair out!  Was this going to be just like last year!?  Down 21-10 with 3 minutes left in the half, this was not going to be good.  The defense didn't seem like they could get a stop, and besides the blocked and missed FG, not much seemed to be going BYU's way.
Then this happened:
(All Gifs via @Cougazul from Cougarboard.com)
Then, the BYU defense forced a 3-and-out for the Aggies, and 1:26 was plenty of time for a two minute drill to drive the ball 60 yards for another BYU score to end the half.  Maybe, just maybe, BYU could take the lead and then get the ball to start the 2nd Half!  And then…AND THEN…three-and-out BYU.  Seriously?  You can't run a two-minute-drill very effectively when you're punting the ball!  So, now USU had one more shot to score.  And then the unthinkable happened:
A stroke of luck, momentum shifted, the BYU defense made great adjustments to shut down the Aggie offense, the Cougar offense got rolling, more kicks were blocked…it was yet another great turnaround and no 4th quarter heroics needed!
3 Things I liked
WRs making big plays in traffic when needed. That Mathews TD to start the second half is a thing of beauty though, isn't it? It's like playing 500 in the back yard with your kid brother. Awesome!
Blocked kicks
This 4th Down call – 4th and 1, BYU trying to burn the clock down, everyone was expecting a run up the middle.  Algie Brown peels off, wide open, TD.  Beautiful.
3 Things I Didn't Like
Yet another slow start – maybe it's just the way this season was meant to be; slow starts followed by exciting finishes. Like I said…at least it isn't boring. It would be NICE for BYU to start AND finish strong, but I'll take the wins.
3rd Down Conversion rate for both teams– 4-of-13, basically 30% for BYU which is nearly 10% below its season average. And USU's season rate? 35%. This game? 42%, and many of those on 3rd and long. Third-and-long ought to be gimme for this BYU defense, but it sure seems like it almost never is.
CBSSN – Sorry, but this has to be said. They have been and probably always will be terrible, it's just how it is. And the MWC away games are probably going to be put on CBSSN for as long as they have that contract, because they want the games with more eyeballs on that network and they KNOW that is what BYU brings in. It's way lower quality than ESPN or even FOX, it's far less access for most people, there is no internet streaming option, no replay option, very few highlights…just all around the worst. But at least it's on TV, I guess.
A Bit of Randomness
So, I understand the need for it, but I just really hope it never happens at BYU.  That is, the selling of the naming rights of the stadium.  I know most (if not all) professional sports stadiums and arenas do it, and more and more college stadiums are doing it, but it just makes it feel kind of cheap, and smells a bit of desperation in the money department.  Now, there are plenty of gas station and grocery store jokes that can be made at the expense of USU and BSU, but I'll spare you those.  We are above such juvenile humor here!
Boney Fuller's NOT Juvenile Humor!
By the way, did you catch Boney Fuller this week?  It was perhaps his best week yet (and that's saying something)!  Here are some of my favorites:
#GoCougs #BeatUSU @UtahStatesman pic.twitter.com/9aY9cJPvmd

— Boney Fuller (@boneyfuller) November 23, 2015
Say what you will about USU as an institution, but there might not be a finer backdrop in all of college football. pic.twitter.com/ApvRy7cn6e

— Boney Fuller (@boneyfuller) November 23, 2015
Utah State absolutely nails it with their "Alma Mater." #GoCougs #BeatUSU pic.twitter.com/9XwWsjYzLX

— Boney Fuller (@boneyfuller) November 25, 2015
Anyone have a link for today's construction cam feed? Thanks in advance. #GoCougs

— Boney Fuller (@boneyfuller) November 28, 2015
Bronson "The Admissions Office" Kaufusi with another Aggie rejection. #GoCougs

— Boney Fuller (@boneyfuller) November 28, 2015
Brace yourselves, folks. Looks like a big batch of #MoralVictory is on its way in from the north. #GoCougs pic.twitter.com/LVUWvTKbY4

— Boney Fuller (@boneyfuller) November 29, 2015
What do you think?  Any other great plays or lousy plays or thoughts you wish to discuss?  Let's hear it!