2016 Signing Day Central
Updated: February 3, 2016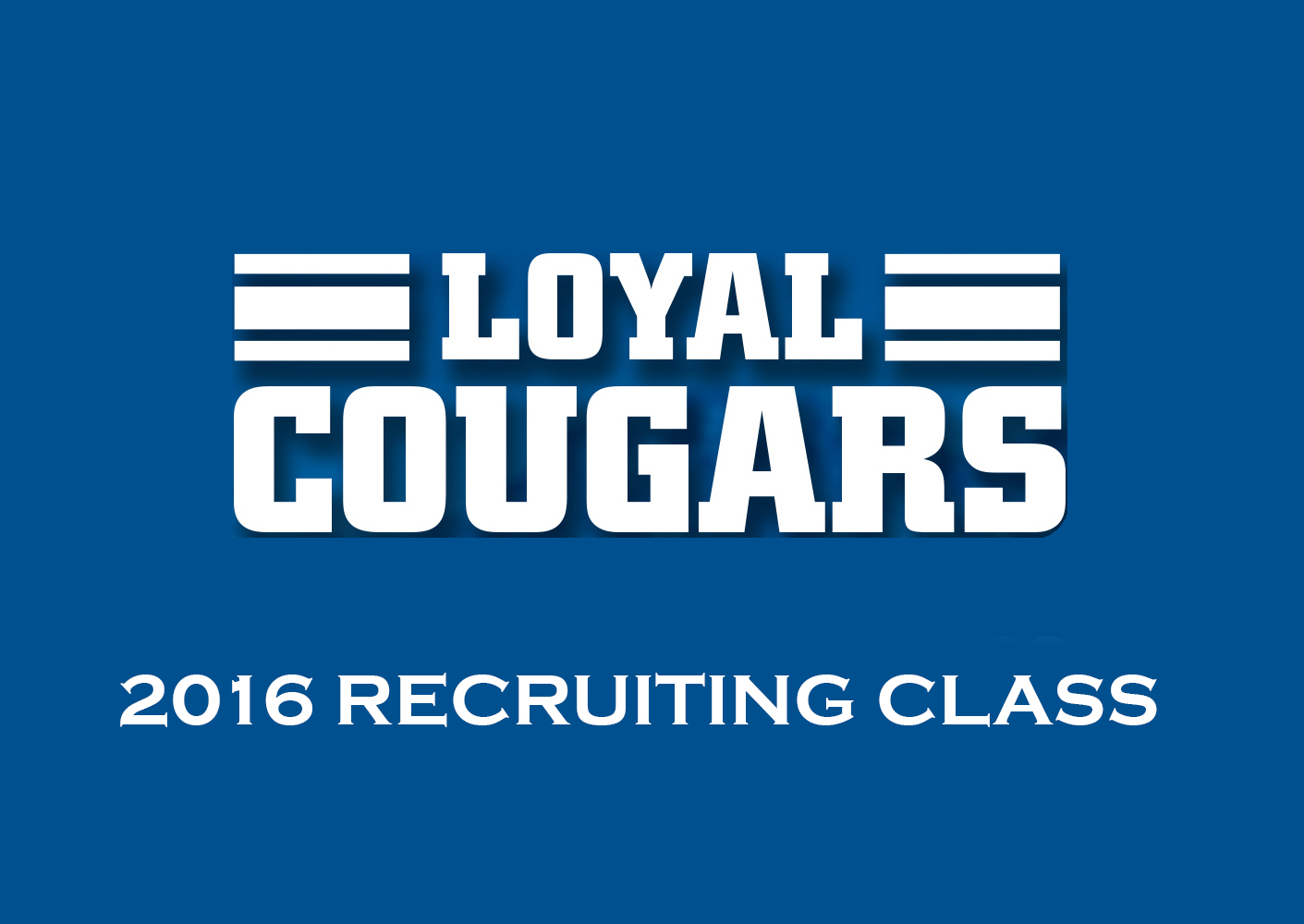 Welcome to your source for everything you need to know about the incoming recruits for BYU's 2016 recruiting class. As the recruits are announced, return here to check on the latest players to sign with the Cougars.
Thursday, February 4, 1:00 pm Just when we thought we were done, BYU signs one more player to a 2016 scholarship:
Kainoa Fuiava
6'5″, 295, Warren HS, Downey, CA
Will join the team on scholarship this fall
4:55pm One final NLI received from a currently-serving missionary:
Mack Richards (currently serving in the Mexico Puebla North Mission)
6'1″, 195, Alta HS, Sandy, UT
Will return from mission in May & join the team on scholarship this fall
2:00pm And with a slew of uncommitted prospects electing to go elsewhere, that should do it for today. BYU signs 24 scholarship players to its 2016 and we at Loyal Cougars have 9 confirmed walk-ons that will also join the program. We'll see if the coaches have another scholarship or two to announce in the coming days that were left unclaimed today. All in all, a great showing by a coaching staff that only had a few weeks to finish off the class.
11:00am Still waiting for official word from BYU, but there are strong sources saying that the following 2 recruits have chosen BYU:
Keanu Saleapaga
6'6″, 265, La Mirada HS, La Mirada, CA
Hirkley Latu
6'3″, 200, Kahuku HS, Kahuku, HI
Mission First
10:40am The first true flip is announced:
Alema Pilimai
6'4″, 200, Tustin HS, Tustin, CA
Mission First
10:25am The final planned NLI comes in. Now we're waiting for announcements from Hirkley Latu, Keanu Saleapaga, Cole Fotheringham, Fua Pututau, Alema Pilimai, Mique Juarez, Keaton Bills, Bradlee Anae, and Jaylen Morgan.
JT Gentry
6'5″, 275, Columbine HS, Littleton, CO
Mission First
9:40am And one more…
Freddy Livai
6'3″, 251, A.B. Miller HS, Fontana, CA
Mission First
9:30am They're coming in fast again: 3 more announcements from BYU:
Chris Wilcox
6'2″, 175, Eleanor Roosevelt HS, Corona, CA
Aleva Hifo
5'10", 175, Heritage HS, Menifee, CA
Clark Barrington
6'6″, 275, University HS, Spokane, WA
Mission First
9:25am BYU has announced the signing of 4 more athletes, including Oregon State flip Sione Finau:
Lisala Tai
6'7″, 300, Hawthorne HS, Hawthorne, CA
Mission First
Darius McFarland
6'2″, 250, Box Elder HS, Brigham City, UT
Mission First
Sione Finau
5'11", 170, Kearns HS, Kearns, UT
Mission First
Caden Haws
6'2″, 275, Pulaski Academy, Little Rock, AR
Expected to play in 2016, then serve a mission
8:55am Two more Cougars have sent in their National Letters of Intent:
Keenan Pili
6'2″, 196, Timpview HS, Provo, UT
Expected to play in 2016, then serve a mission
Max Tooley
6'2″, 190, Bountiful HS, Bountiful, UT
Expected to play in 2016, then serve a mission
8:45am Three more preferred walk-ons were announced last night. They are:
Gunnar Legas (Preferred Walk-on)
6'3″, 190, Orem HS, Orem, UT
Definite Mission Plans
Matthew Oviatt (Preferred Walk-on)
6'6″, 275, Round Rock HS, Round Rock, TX
Definite Mission Plans
Brevan Ward (Preferred Walk-on)
6'5″, 260, Highland HS, Gilbert, AZ
Will walk on in 2016, then serve a mission
8:00am Here's the first batch of NLIs announced by BYU:
Jonah Trinnaman
6'0″, 185, Snow College, American Fork HS, American Fork, UT
Skyler Southam
6'0″, 175, Wasatch HS, Heber City, UT
Mission First
Jackson Kaufusi
6'2″, 205, Brighton HS, Salt Lake City, UT
Mission First
Drew Jensen
6'2″, 190, Brighton HS, Salt Lake City, UT
Mission First
Solofa Funa
6'1″, 215, Spanish Fork HS, Spanish Fork, UT
Mission First
Atunaisa Mahe
6'1″, 295, West Jordan HS, West Jordan, UT
Mission First
Jaren Hall
6'1″, 185, Maple Mountain HS, Mapleton, UT
Mission First
Hank Tuipulotu
6'2″, 225, Nation Ford HS, Fort Mill, SC
Mission First
6:30am We'll begin by listing the Early Enrollees & Preferred Walk-ons that are a part of the 2016 recruiting class:
Troy Warner (Early Enrollee – Scholarship)
6'2″, 195, Mission Hills HS, San Marcos, CA
No definite mission plans
Handsome Tanielu (Early Enrollee – Scholarship)
6'2″, 295, Snow College, Waianae HS, Waianae, HI
Returned Missionary (N.C. Charlotte Mission)
Tanner Jacobson (Early Enrollee – Scholarship?)
5'10", 175, Texas Tech Univ., Southlake Carroll HS, Southlake, TX
Returned Missionary (Bolivia Cochabamba Mission)
Austin McChesney (Early Enrollee – Preferred Walk-on)
6'1″, 175, Lone Peak HS, Highland, UT
Returned Missionary (California San Diego Mission)
Dino Collins (Early Enrollee – Preferred Walk-on)
5'10", 182, Lovell HS, Lovell, WY
Returned Missionary (Argentina Buenos Aires Mission)
Britton Hogan (Preferred Walk-on)
6'3″, 220, Olympus HS, Salt Lake City, UT
Mission first, will walk-on/redshirt for 2018 season, scholarship for 2019
Tyler Luatua (Scholarship Transfer)
6'3″, 255, Notre Dame University, La Mirada HS, Paramount, CA
Will redshirt in 2016 (per transfer rules), then play final 2 seasons at BYU
Hayden Livingston (Preferred Walk-on)
5'11", 177, Rigby HS, Rigby, ID
Will walk-on in 2016, then mission, then possible scholarship upon return in 2019
Talmage Gunther (Preferred Walk-on)
6'0″, 195, Lone Peak HS, Highland, UT
Mission first, walk-on upon return in 2018