BYU joining a P5 conference: I don't think it will do what you think it will do…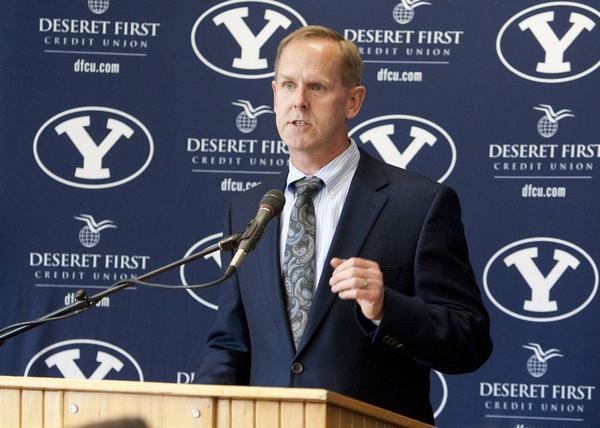 BYU fans seem to be in a constant state of high anxiety lately over whether BYU will be invited to join the Big 12 or not. I think it's largely misguided anxiety. Sure, joining a P5 conference has some nice benefits, but it won't be the magical elixir that solves all of BYU's problems that many fans seem to be expecting. Here's why:
Benefits of joining a P5 Conference
Money. This is the biggest deal. P5 conferences are rolling in money from TV contracts and whatnot. More money helps pay for better equipment, facilities, and coaches.
Prestige. There is a certain cachet that comes with being a member of a P5 conference. This theoretically helps with recruiting.
Scheduling. Being in a P5 conference would make Tom Holmoe's scheduling job easier.
Why the benefits of BYU joining a P5 are overrated
Money. Extra money would be great for BYU but what will it really do? Get BYU hoops a new practice facility? Already done. Upgrade the Marriott Center? Already done. Upgrade the football facilities or weight rooms? Mostly done. Upgrade LES? Yeah, this one would be nice. Hire or retain coaches BYU really wants? Seems like BYU is pretty happy with the coaches it has currently (although more money could help retain some of them down the road). My point is that while the extra money certainly wouldn't hurt, money alone is not going to suddenly make BYU's teams Top 10 powerhouses.
Prestige (read: recruiting advantages). This whole "prestige" thing mostly matters when it comes to recruiting. Did TCU's recruiting success skyrocket the minute they joined the Big 12? Not really. They probably got a bump, but it wasn't exactly earth-shattering. TCU has performed well in football because they've hired and retained quality coaches who can both recruit and coach well. Likewise, BYU's recruiting results will have much more to do with the coaching staff than conference affiliation. BYU's church connection gives the school an advantage with most Mormon athletes no matter what conference BYU is in, while the BYU honor code will scare off other athletes regardless of conference affiliation. Sure, there might be a minor bump in perceived prestige for BYU after joining a P5, but I don't believe that alone would make a significant difference in recruiting. Rather, I think recruiting is mostly a function of which coaches BYU has in place. Ask yourself this question: Who do you think will have better recruiting success over the next 5 years: Bronco Mendenhall with the ACC's Virginia Cavaliers or Kalani Sitake with Independent BYU? Yeah, I chose Kalani too.
Scheduling. With football, Tom Holmoe and staff have begun putting together tremendous P5-level schedules already. Sure, his job would be easier in a P5 conference (only needing to arrange 3-4 games per year instead of filling a full 12-game schedule), but when it comes to the quality of opponents, the 2016 schedule is already as good as most P5 schedules. In hoops, a P5 conference would help get better teams into the Marriott Center, but it likely wouldn't make much difference in BYU's ability to get to the Big Dance consistently.
The claim that football independence is unsustainable is nonsense
Yes, I know Bronco claimed football independence is unsustainable. Bronco was wrong. Football independence will continue for BYU as long as independence remains the best available option — even if that means staying independent for decades to come. And since the money, exposure, and scheduling that football independence provides is vastly superior to what any G5 conference can offer, independence will likely remain the best option for BYU until an offer from a P5 conference arrives.
A P5 offer probably will eventually materialize, but temper expectations
It seems likely to me that BYU will eventually join a P5 conference. Maybe in the next few years. But when that happens, don't be surprised when BYU still has the same coaches and same players and same recruiting strengths and weaknesses that it has now. If that sounds like bad news to you, here's the good news– BYU has the potential to be truly excellent in most every sport in or out of a P5 conference. With the talent Dave Rose has coming in next season, fans have every reason to be excited about the next several years of hoops. Likewise, the new BYU football coaching staff has the potential to launch BYU football into a new era of excellence.
And so, while there's nothing wrong with hoping for a P5 invite, please don't buy into the propaganda from BYU's critics that the Cougars can't thrive in their current situation. Joining a P5 will do less for BYU than fans expect. And if BYU's new football coaching staff and incoming basketball recruiting classes are anywhere close to as good as we hope, BYU might already be on the cusp of a fantastic run of success in both basketball and football, regardless of P5 conference affiliation.