BYU v. Boise State Game Preview
Updated: October 20, 2016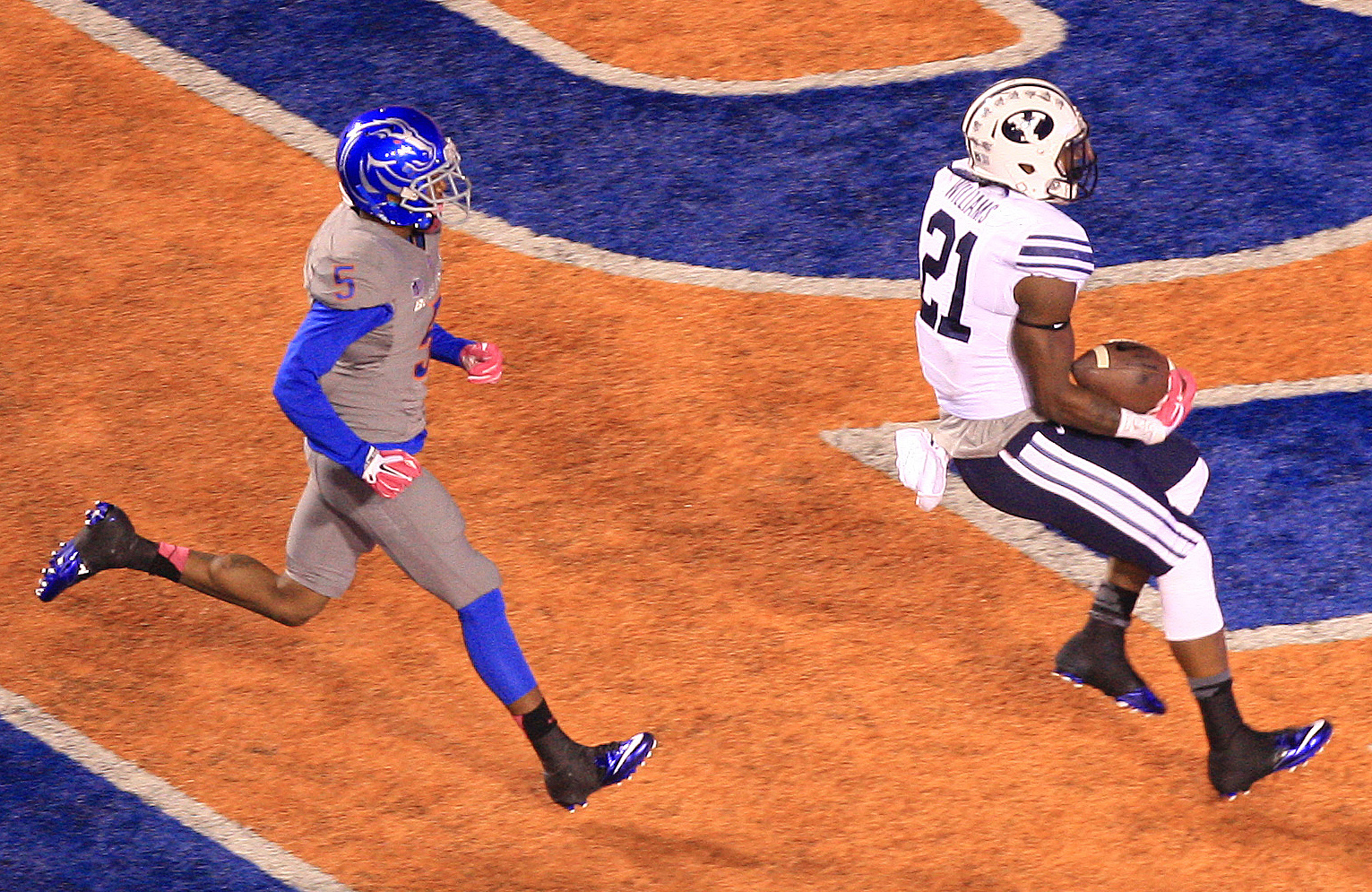 Game Capsule
BYU Cougars (4-3) at #14 Boise State Broncos (6-0)
Albertson's Stadium, Boise, Idaho
Kickoff Time: Thursday, October 20, 2016, 8:15pm MDT
TV: ESPN (Jason Benetti/Kelly Stouffer/Paul Carcaterra), BYUtv – Countdown to Kickoff (Dave McCann/Blaine Fowler) 7:00pm MDT
Radio: Cougar IMG Sports Network (Greg Wrubell/Marc Lyons): Sirius XM 143, KSL 1160 AM and 102.7 FM, and online at BYUcougars.com
Boise State Statistical Preview
So, there you have it. Those are the two most important areas that I believe could shift a close game one way or the other. Of course, I'll be interested in a lot of other things as well. Just one game into the 2016 schedule, it's difficult to know exactly what to expect from each team. But, here are the unit-by-unit breakdowns for what we can expect to see in today's game:
Turnovers: The 2016 statistics tell an interesting story with regards to turnovers. While BYU's defense is excellent at forcing turnovers (7th-best in the country with 16), Boise State's offense is equally adept at securing the football, with only 6 turnovers this season (9th-fewest in FBS). And while BYU's offense has coughed up the ball a fair amount (10 times is 61st-best in the nation), Boise's defense is atrocious in takeaways: the Broncos are last in the country with only 3. The result in turnover margin is a strong showing for BYU (averaging +0.86, 17th-best in FBS) and a poor ranking for BSU (averaging -0.50, ranked 100th in FBS). It would seem that BYU has a better chance to win the turnover battle tonight. The question is: what will the Cougars do with those turnovers? In BYU's three losses, the Cougars have averaged just 1.8 points off each turnover including an abysmal 13 points off six turnovers at Utah. In contrast, in four Cougar victories, BYU has scored a much more respectable 4.0 points per turnover. Last week, the Cougars scored 0 points off 2 turnovers and it almost cost them the game. In last year's game against Boise State, BYU trailed by 10 after three quarters and was -1 in the turnover margin. Neither team had scored any points off of three combined turnovers. Then, in the 4th Quarter, the Cougars got two interceptions, scoring touchdowns on both and finishing with an 11-point win. Winning the turnover margin and scoring points off turnovers made the difference last year, it's made the difference this year (BYU is 3-1 when winning the turnover margin and 3-0 when scoring at least 3 points per turnover), and I expect it to make the difference again tonight.

If the Cougars win the turnover margin and score at least a field goal off each turnover gained, BYU should come away with a win tonight

.
BYU Run Game: BYU has faced some fairly stout run defenses this year: Six of the Cougars' seven opponents are ranked in the top half of the FBS in Run Defense (though just one ranks in the top 35). BYU's average opponent has allowed 155 rushing yards per game and the Cougars have run for 201 yards per game. That's 130%, or almost 50 extra yards per game above what BYU's opponents normally allow. It would seem that BYU would be able to surpass the 142 yards per game that Boise State has allowed and run for around 185. However, the BSU defense has held its opponents under their averages. BSU has played against six of the top 70 rushing offenses in the FBS (also just one in the top 35). BSU's average opponent has run for 206 yards per game, but the Bronco defense has only allowed opponents to run for 142 yards per game. That's 69%, or more than 60 fewer yards per game below their opponents' average rushing total. Based on these numbers alone, you would expect Boise to limit BYU's rushing output to around 140. BYU's success in running the ball tonight is essential in creating short-yardage situations, extending drives, and opening up the playbook.

If BYU is able to outplay the BSU run defense and run for at least 185 on the ground, the Cougars should win tonight

.
BYU Run Defense: Much like BYU, Boise State will likely attempt to run the ball first in order to provide opportunities in the passing game. BYU's defense ranks 29th against the run, allowing 131.1 yards per game on the ground. But, BYU's run defense is even stronger when you consider the Cougars' opponents. BYU has held all seven opponents under their season average for rushing yards. BYU's opponents, who normally average 181 yards per game on the ground, have averaged only 131 rushing yards per game against BYU (71% of their season averages or 50 fewer yards). In contrast, Boise's 166 rushing yards per game rank the Broncos 76th in the FBS. On average, BSU's opponents have allowed 161 yards per game-pretty close to what the Broncos are getting.

BYU will need to hold Boise under 150 rushing yards tonight to give the Cougars the best chance of winning

. If the Broncos are able to run the ball against a strong BYU run defense, they will more easily be able to pass against a "less strong" Cougar pass defense. In order for BYU to keep the game close tonight, stopping the run will be key.
BYU Pass Game: This will be a case of weakness-vs-weakness. BYU's pass game averages just 204 yards per game, placing the Cougars 93rd in the country. Interestingly, BYU's highest passing totals have come against the two best pass defenses the Cougars have faced. BYU's 204 passing yards per game amounts to 90% of the 227 pass yards per game surrendered by Cougar opponents across their full schedule. A similar performance against Boise State's 68th-best pass defense (229 ypg) would give the Cougars 206 passing yards tonight. Looking at Boise's schedule, the Broncos have given up 229 passing yards per game against offenses that normally pass for 208 yards per game (110%). A similar performance by the BSU pass defense would give the Cougars 225 passing yards tonight. We would therefore expect BYU's passing total to fall somewhere in this range (206-225). With Boise being weaker against the pass, BYU will need to exploit the Broncos through the air tonight.

The Cougars should be able to win tonight if they can pass for at least 250 yards

. That's certainly a lofty goal considering such a performance would be BYU's highest passing total of the season, but it will be needed on the road against a top 15 team.
BYU Pass Defense: BYU's pass defense has been much maligned in 2016, giving up an average of 271 pass yards per game, good enough for 100th best in the country. But, with the exception of Toledo (on the bad side) and Michigan State (on the good side), BYU's pass defense has actually matched the strength of the opponent fairly closely this season. BYU allowed a Toledo offense that averages 346 yards through the air to throw for 505 yards, but held Michigan State team to only 121 passing yards, less than half of the Spartans' average of 248 ypg. And in the remaining 5 games, the Cougar defense has held opponents to 254 pass yards per game, almost exactly what those teams average through the air (256 ypg) with no single opponent exceeding its average by more than 15 yards. Unfortunately for BYU, the Broncos' pass attack averages 300 yards per game and ranks 8th in the country in pass efficiency. I don't think we will see the miraculous BYU pass defense tonight that we saw against Michigan State (on paper, the Spartan offense is the worst BYU has faced this season, ranking #88 in total offense).

But, if BYU's defense can at least hold BSU's pass game to its average (300 yards), the Cougars will have a good chance of leaving Boise with a win tonight

. Pass defense is the weakest aspect of BYU's game and even an average performance in this category would be acceptable as long as the Cougars perform up to their capability in the other areas.
3rd Down Conversions: Tonight's game features two of the nation's best 3rd Down offenses: Boise State converts on 51.3% (#7 in FBS) of its attempts and our Cougars convert on 49.0% of theirs (#14 in FBS). Both defenses have done an average job of stopping opponents on 3rd Down, with Boise allowing a 34.9% conversion rate (38th in FBS) and BYU allowing 41.2% (82nd in FBS). I won't be surprised if

the offense that performs better on 3rd Downs tonight comes away with a win

.
I should note that, as was the case last week against Mississippi State, BYU can still reach these goals defensively and lose (or have a much closer game) if the offensive goals are not similarly reached. For example, last Saturday, I predicted a 34-24 BYU win with the Cougars running for 200 and passing for 300 and holding MSU under 150 on the ground and 250 through the air. While the BYU defense did keep the Bulldogs close to those numbers (163/223), the offense fell so far short of those numbers (146/165) that the result was overtime (a statistical tie). Boise is the 34th-best team in total offense: not as high as #3 Toledo and #7 West Virginia, but not as low as #49 Arizona and #61 Utah. The Broncos are going to move the ball. But, against everyone not named Toledo or West Virginia, BYU's defense has played well enough to give the Cougars a chance to win the game. It will likely fall upon BYU's offense to open holes for Jamaal and find ways to exploit Boise through the air to give the Cougars the best chance to win.
I'd also like to make a comment about scoring. I didn't want to make this one of the keys, since it's pretty obvious that the team that scores more points will win the game. But, I wanted to recognize that both of these teams rate exceptionally high in both scoring offense and scoring defense, especially taking into account BYU's difficult schedule. Yes, BYU only scores 28.1 ppg while BSU scores 35.3 ppg. But, let's take a look at the strength of schedules. BYU has played 4 scoring defenses (#16 Utah, #25 WVU, #39 UCLA, #41 Toledo) better than the best scoring defense that the Broncos have faced (#50 USU). Stated differently, the average BYU opponent has a scoring defense ranked 53rd in FBS and the average BSU opponent has a scoring defense ranked 79th in FBS. That's a difference of 5 points per game. And how does the scoring stack up? Boise State has held its opponents to 10 fewer points, 67% of their average point total. But, BYU has scored 3 more points, 118% of opponents' scoring D averages. On the other side, BYU has held its opponents to 4 fewer points, 82% of their average point total while Boise has scored 6 more points, 119% of opponents' scoring D averages. Something's gotta give tonight as both teams will not be able to sustain these
As we've seen in six of BYU's games this season, one big play can make the difference one way or another in a close game. And, since BSU is ranked in the Top 15, playing at home, favored to win, and has never lost to BYU at home, it seems that the edge would go to Bryan Harsin's Broncos. If we've learned anything from watching the Cougars this season, it's that BYU will most likely be trailing early, perhaps through most of the game, but that the Cougars will keep it close. That's also what happened last year against Boise State. I could see the game going either way, but I think BYU will pull out a narrow victory, I'll say 34-31. If BYU's offense can score that much, or get some help from the defense with field position and even points, it will be a good sign for how the night will play out for Cougar nation. And if Kalani Sitake's team is able to secure one of its two best wins of the season, it will set the path for an exceptional 10-win season against one of the most difficult schedules in BYU history.
Depth Chart/Roster
Lastly, here is a look at the projected Depth Chart for tonight's game in Boise.
You can download the JPG and PDF versions of the latest Depth Chart, as well as printable offensive and defensive rosters, at the following location:
https://www.loyalcougars.com/football-roster/depth-chart/
Go Cougs!