BYU v. Wyoming Poinsettia Bowl Preview
Updated: December 21, 2016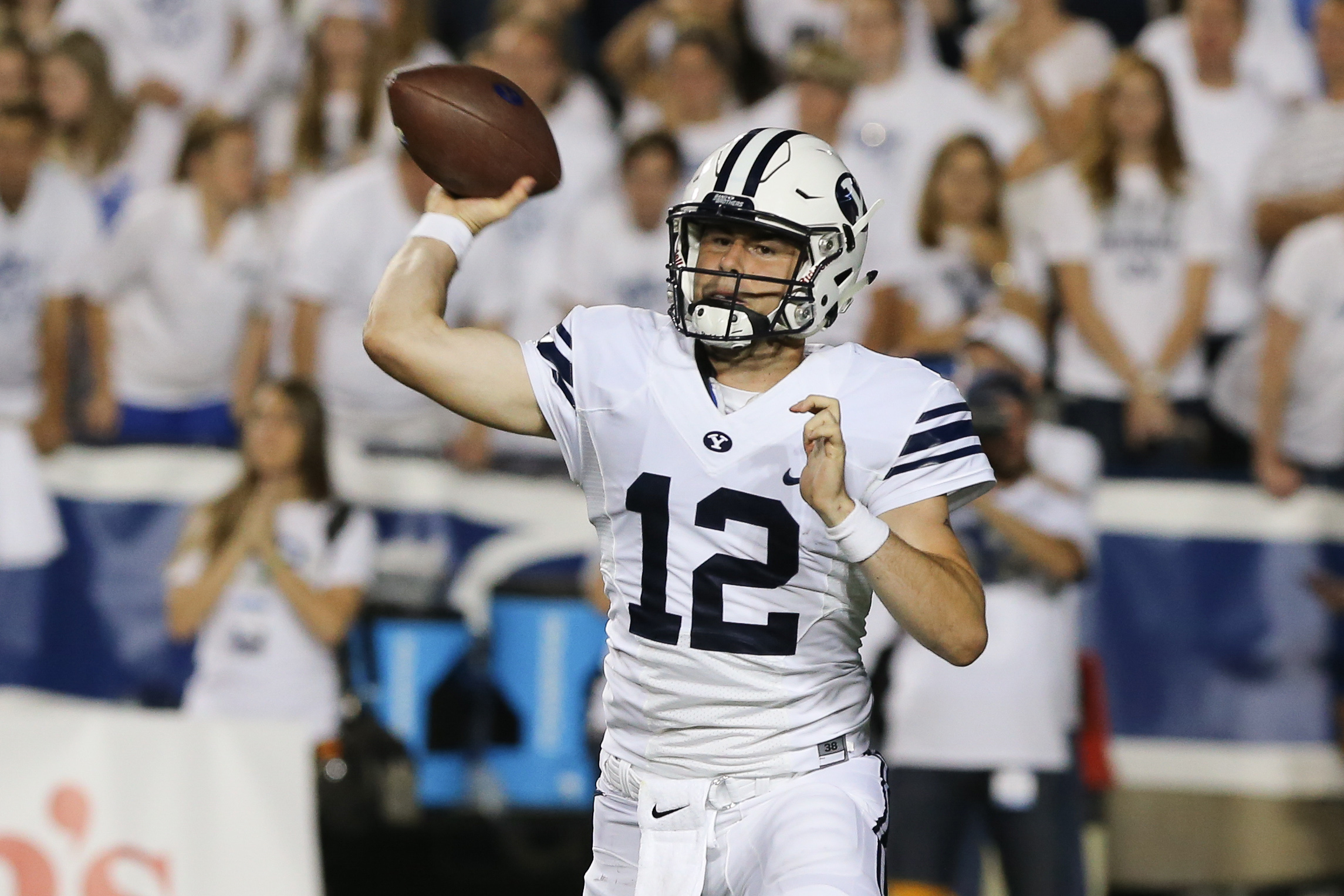 Game Capsule
BYU Cougars (8-4) vs. Wyoming Cowboys (8-5)
Qualcomm Stadium, San Diego, California
Kickoff Time: Wednesday, December 21, 2016, 6:00pm PST
TV: ESPN (Jason Benetti/Kelly Stouffer/Paul Carcaterra), BYUtv – Countdown to Kickoff (Dave McCann/Blaine Fowler) 5:00pm PST
Radio: Cougar IMG Sports Network (Greg Wrubell/Marc Lyons): Sirius XM 143, KSL 1160 AM and 102.7 FM, and online at BYUcougars.com
Wyoming Statistical Preview
Usually by the time a team has played a full season's worth of games, the statistics have become more and more predictive of what can be expected from two teams in a given match-up. That certainly should be the case tonight with respect to two of the country's top running backs. Wyoming's Brian Hill ranks 6th in the FBS with 135.9 rushing yards per game and BYU's Jamaal Williams is not far behind in 8th place, averaging 129.4 yards per game. The statistics should also prove reliable in predicting what we'll see from the defenses tonight- BYU ranks 33rd in Total Defense while Wyoming's defense is ranked 112th.

Rafael Suanes-USA TODAY Sports                                             Troy Babbitt-USA TODAY Sports
However, the stats won't help us reliably predict what we will see from BYU's offense. Twelve games worth of data only serve to predict what a Taysom Hill-led BYU offense would do in the season finale. And, unfortunately, for the fourth time in Hill's career, the value of said data has taken a hit for the bowl game as the Tanner Mangum era resumes in Provo. So, yes, BYU's offense ranks 5th in the nation in Red Zone scoring, coming away with points on 49 of 52 drives inside the opponents' 20-yard line. And yes, BYU's offense has converted 48.1% of its 3rd Down opportunities this season, 13th best in the Bowl Subdivision. But, how much of the credit for those two outstanding numbers goes to Taysom Hill and how much to the remaining 10 players on the field? In other words, how much of a drop-off will we see in these two areas with Tanner Mangum under center? It seems likely that there will be some decreased Red Zone efficiency when looking at the season-long data: BYU scored points on 44 of 45 Red Zone drives with Hill at QB, compared to 5/7 led by Mangum. The bright side in both of these cases is that these are areas in which the Wyoming defense doesn't particularly excel; the Cowboys rank 63rd in Red Zone defense, allowing points on 84% of RZ drives and Wyoming ranks 98th in 3rd Down defense, allowing conversions on 43.2% of 3rd down attempts.
On the other side of the coin, there are certainly some offensive metrics that we might expect to improve with Tanner playing quarterback: BYU's 118.2 pass efficiency is ranked 99th in the country. In limited action this season, Mangum has passed for an efficiency rating of 182.1. Even with a full season of action in 2015, Tanner reached an efficiency of 136. And Wyoming's pass defense will only help in improving this metric: the Cowboys rank 86th in the country, allowing a 137.3 rating. Another offensive category in which the Cougars would like to see some improvement tonight is Scoring Offense. BYU has averaged 30 points per game, good for 61st-best nationally. That's probably not the output Ty Detmer hoped for when bringing the West Coast offense back to Provo.
So, there you have the two BYU offensive statistics most likely to improve (passing offense and scoring offense) and the two categories most likely to see diminished results (red zone scoring and third-down conversions). In the keys to the game, I'll point out the remaining two offensive metrics that could go either way and what we'll need to see from the Cougars in order to secure their first postseason victory since this same Bowl game in 2012.
BYU Keys to the Game
BYU Run Game: Without Taysom Hill on the field, the Wyoming defense will likely be able to focus more on stopping Jamaal Williams in the run game. BYU could counter by using play-action and an improved pass attack with Mangum under center. Or maybe the Cougars will be able to find success just by feeding Williams and letting him do his thing. BYU is certainly excited to face a Wyoming team that allows more than 200 yards per game on the ground. However, Wyoming's rush defense is better than its #88 ranking would indicate. Why? The Cowboys' numbers have been pulled down by facing four of the top ten rushing teams (and 6 in the top 20). So, while the Cowboy defense has allowed opponents to run for 203 yards on average, that's only about 90% of what those teams averaged over the course of the year (225 yards per game). But here's the rub: while Wyoming typically holds opposing rushing attacks to 90% of their average, BYU's run game puts up 114% of the averages typically surrendered by its opponents. So, while Wyoming may expect to hold BYU to 180 yards on the ground (90% of BYU's 200 yard average), BYU could equally be expected to run for 231 yards based on its own season-long trend (114% of Wyoming's defensive average of 203 rush yards per game). The difference in a close game could come down to whose statistics come closer to bearing out. In other words, if BYU rushes for 230 or more yards, the Cougars will probably leave San Diego with a victory. 180 yards or fewer should signal a win for the Cowboys. A rushing total somewhere in the middle would probably mean that a different metric would carry more weight in determining the outcome. Which leads us to…
BYU Giveaways: Under Taysom Hill, the BYU offense did a reasonable job of hanging onto the football in 2016, giving up 17 turnovers (44th-fewest in the country). Under Mangum in 2015, BYU gave away the ball at a similar pace, 20 times in 13 games (finishing 61st in the nation). Tanner will have to be cautious with the football against an opportunistic Wyoming defense that has racked up 25 takeaways this season, 25th-most in FBS. And while that number isn't quite as high as what BYU's own defense has done in 2016, Wyoming's quirky defense will try to rattle Mangum in his first meaningful action since a year ago (and we all remember how things went in Las Vegas last year). In short, 

BYU will win tonight if the Cougar offense turns the ball over one time or less

. If the offense gives it away two or more times, other factors will weigh more heavily. Now that I've looked at the two offensive metrics that could sway the outcome of the game, here are five other vital keys that could factor in determining tonight's result…
BYU Run Defense: The Cougar defense has held all twelve opponents under their season rushing yard averages this season. That is a pretty remarkable achievement. And the Cougars have accomplished that feat against some rushing attacks of a similar caliber to Wyoming's 37th-ranked run game: #18 West Virginia, #23 Arizona, #24 Mississippi State, #35 Utah, #48 Toledo, and #57 Boise State. BYU performed even better late in the year, holding all four of its November opponents under 100 yards on the ground (though none of them run as well as the Cowboys). The BYU run defense is 9th-best in the country, holding offenses to only 108.4 rushing yards per game. Perhaps the best way to predict Wyoming's level of success in running the football against the Cougars would be to look at the two games the Cowboys played against a San Diego Aztec defense that allows similar numbers on the ground to BYU's defense (105.7 yards per game – ranked 6th in FBS). Wyoming racked up 205 rush yards in a win on November 19. But, the Cowboys were limited to just 95 yards on the ground in the MWC title game loss on December 3. Nothing surprising there, but not particularly helpful either. So, let's look at Brian Hill's rushing totals. It's interesting to note that Wyoming finished 6-0 when Hill rushes for 130 yards or more (and 2-5 when he didn't reach that mark). It would seem that keeping Hill under 130 would be helpful in giving BYU the best chance to win tonight. Looking at the run game as a whole, a similar analysis to what was done in Key #1 finds that we'd expect Wyoming to rush for about 129 yards (119% of BYU's defense average of 108) and we'd also expect BYU to allow 129 yards (62% of Wyoming's 208.5-yard average). It seems very likely that Wyoming will finish right around 130 rushing yards. And as was the case above,

if Wyoming finishes significantly higher (150+), they should get the win. Meanwhile, if the Cougars can hold them to 110 yards or fewer, BYU should win tonight

. Anything in the middle would likely allow other factors to play a larger role in tonight's result.
BYU Takeaways: If the aforementioned categories are stalemated, this is an area in which BYU should be able to make up the difference. The Cougars rank 2nd in the nation in takeaways with an incredible 29 on the year. To further complicate matters for Wyoming, the Cowboys rank 96th in giveaways with 22 (that's 33rd-worst). This statistic hasn't been very predictive of BYU victories this season (the Cougars collected six and five turnovers in losses to Utah and Boise State respectively), but turnover margin has been a predictive stat in Wyoming victories in 2016. The Cowboys are 7-1 when winning the turnover battle this season (1-4 when even or negative). With that in mind,

if the Cougars can 

pick up two or more turnovers and win the turnover margin, it would be yet another strong factor towards a BYU victory this evening

.
BYU Pass Defense: On paper, this is the category in which Wyoming holds the biggest statistical advantage. The Cowboys rank 32nd in the FBS in pass efficiency while the Cougar defense ranks 99th in pass efficiency defense. Wyoming has a high YPA number, 8.67, which ranks 15th in the country. They also throw a lot of passing touchdowns, 22nd most in the nation with 27. Conversely, they rank 92nd in FBS in Completion Percentage at 55.8% and have thrown the 28th-most interceptions with 13. They rank 63rd in passing yards, averaging 230.8 per game. All of this tells me that Wyoming uses the passing game mostly for big plays to spread out the defense and open up the run. They also have a tight end they like to use in 3rd-and-long and Red Zone situations, and have done so with some success. The Cowboys have the 40th-ranked 3rd Down conversion rate (43.5%) and 20th-ranked Red Zone offense (90.2%), though both are categories that BYU's defense defends well (ranked 36th in 3rd Down defense at 36.5% and 7th-best in Red Zone Defense – 72.7%). The BYU defense has done well this year when limiting big plays, passing yards, and passing touchdowns. In their four losses, the Cougars allowed 443 passing yards and 1.75 passing TDs per game. In contrast, in the eight wins, the BYU defense allowed just 325 passing yards and 1 passing TD per game. On average, BYU's opponents typically pass for fairly close to their season average (104%). By this metric, Wyoming would finish with around 240 passing yards, which would be an excellent effort from the BYU defense. But, Wyoming's offense tends to pass for 120% of the average allowed by its opponents this season. Since BYU allows 256 passing yards per game, under this projection, Wyoming would finish with over 300 yards passing. Based on the big play tendency of the Wyoming offense, I have to think the BYU would still do well even if Wyoming passes for 300 yards tonight as long as they can keep the big plays out of the endzone and force the Cowboys to finish the drives in shorter plays. I feel that passing touchdowns will be a bigger indicator in tonight's game.

If BYU can hold the Cowboys to their average of 2 passing touchdowns or fewer, the Cougars should be able to come away with a win

.
BYU Pass Offense: One final offensive area to watch will be BYU's passing game, which has been an area of weakness for the Cougars this season. BYU usually passes for just 86% of the totals typically allowed by its opponents, averaging just 206.4 yards per game. And while the Cougars under Taysom Hill completed the 49th-best completion percentage in the country at 59.7%, they totaled a mere 10.45 yards per completion, ranked 122nd in the nation. The Cougars also racked up the 30th-lowest number of passing touchdowns with just 14. BYU is the opposite of a big play passing offense. Luckily, the Cougars have two things going for them tonight. First, Tanner Mangum has taken Hill's spot at quarterback and one would expect the passing game to improve as a result. And second, Wyoming's pass defense is nothing special. The Cowboys allow their opponents to pass for 261.3 yards per game, which is ranked 106th in FBS. Wyoming allows opponents to pass for 131% of their season average. Based on these trends, we could expect BYU to pass for somewhere between 225 (86% of 261.3) and 270 yards (131% of 206.4). But, again, those numbers are based on the Taysom Hill-led offense. We would anticipate that the numbers would only be better with Mangum at QB. 

If BYU can pass for 270 yards or more tonight, it would be a sign that things are working well for the offense in other aspects, likely leading to a BYU W

. That may be a tough order, considering the Cougars have only passed for more than 250 yards once this season. On the bright side, that one game was the game in which Mangum saw his most significant action, passing for 121 of BYU's 441 passing yards against Southern Utah in just 13 pass attempts (Tanner's 9.3 yards per attempt in that game would rank BYU 11th in the country in that category, compared to the 114th-ranked 6.2 ypa the Cougars tallied over the course of the entire season).
BYU 3rd Down Defense: One final wild card factor toward determining tonight's final score is how well BYU's defense performs on 3rd Down. Wyoming's offense has done reasonably well on 3rd Down, ranking 40th in the country with a 43.5% conversion rate. The Pokes are especially successful in obvious passing situations (2nd-/3rd-and-long), ranking 28th in the nation in such situations according to stat guru Bill Connelly at SB Nation. To further complicate matters, BYU's defense ranks 106th in defending such obvious passing plays. BYU's M.O. this season has been to dominate time of possession, wearing defenses out with long offensive drives and quick 3-and-outs on the other side of the ball to get the opposing defense back on the field. On average, BYU runs 10 more offensive plays per game than its opponents. And the best way to keep those statistics intact is to stop Wyoming on 3rd Down. BYU is one of the best teams in America at just that, ranking 36th allowing only a 36.5% conversion rate on 3rd Down.

If the Cougars can hold Wyoming closer to the one-third that they normally allow and further from the one-half that Wyoming normally converts, BYU will have a great chance to win tonight

.
So, there you have the keys for the game. One final fun fact: BYU has 12 straight wins when leading or tied at halftime. We've all noticed that these Cougars are an outstanding second half team- a team that has outscored the opponent in the 2nd Half in 10 straight games, win or lose. If BYU can get an early start and hold the lead going into halftime, it will probably signal the beginning of a long night for Wyoming, a team that allowed 241 points after halftime in 2016. If that sounds like a lot, it is- especially when compared to the 96 points that BYU has allowed after the halftime whistle. As mentioned, BYU likes to dominate the time of possession. By doing so, they allow their superior conditioning to give them more and more of an edge as the game goes on.
I really like this matchup from BYU's perspective. Most of the areas in which Wyoming excels are also areas which BYU has shown an ability to counteract. And most of the areas in which BYU is weak, Wyoming should generally be unable to exploit due to its own weaknesses. The major exception to this may be BYU's pass defense against the Wyoming pass attack. Compare the rankings in the table below and you'll see what I'm talking about.
It will definitely be interesting to see how tonight's game plays out and what happens with the BYU offense. I predict that the BYU defense will do a commendable job in stopping Wyoming both through the air and on the ground and forcing a few turnovers for good measure. And, I think Jamaal Williams will carry most of the load offensively and lead the BYU offense to do enough to come away with the win in his last game in a BYU uniform. Jamaal's running should also open up additional options in the passing game and I think BYU will be able to just barely cover the 10-point spread. I predict a final score of 38-27 in favor of the Cougars, closing out Coach Sitake's first season with a respectable 9-4 record and building optimism heading into the offseason and 2017 Signing Day.
Depth Chart/Roster
Lastly, here is a look at the projected Depth Chart for tonight's game in San Diego.
You can download the JPG and PDF versions of the latest Depth Chart, as well as printable offensive and defensive rosters, at the following location:
https://www.loyalcougars.com/football-roster/depth-chart/
Go Cougs!