On verge of records, Hoffman approaches Collie, Pitta in BYU lore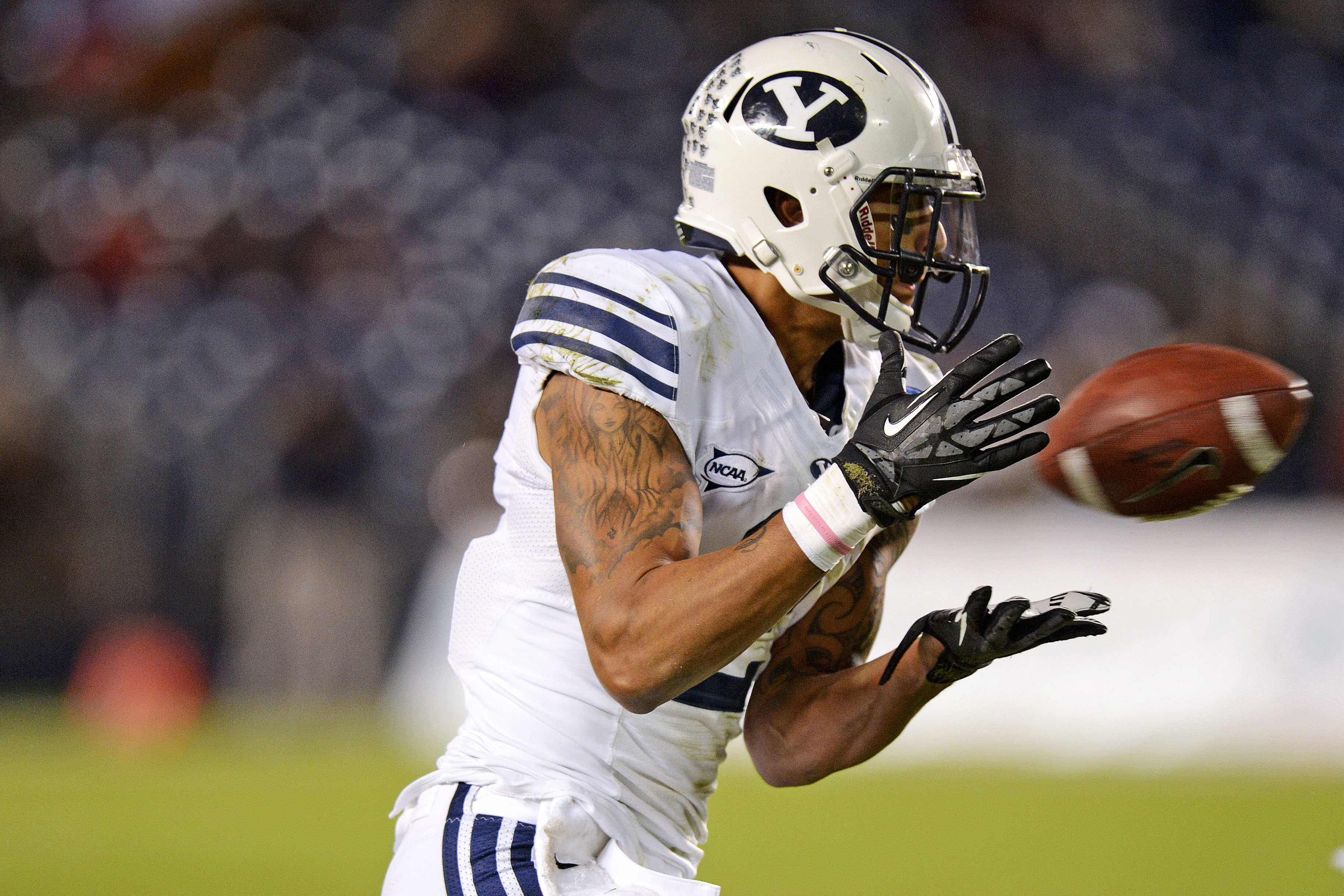 Something you certainly know: Cody Hoffman is awesome.
Something you probably know: Cody Hoffman is on the verge of breaking almost every career receiving record in the BYU record books.
Here's the list of career marks Hoffman is likely to break in 2013 (stats taken from the ever-excellent CougarStats.com):
Career receptions — Dennis Pitta: 221. Hoffman has 203.
Career receiving yards — Austin Collie: 3,255. Hoffman has 2,718.
Career receiving touchdowns — Austin Collie: 30. Hoffman has 28.
Part of this is, of course, Hoffman's longevity with the program. He had a pretty good freshman season in 2010, a very good sophmore season in 2011, and a great season last year. And he decided to come back for a fourth season (thank you, Cody).
The other part of this equation is that he's awesome. We've seen the highlight reel catches, we know about the skills. He's about to break all these records because he's a really good football player.
Whenever someone reaches career milestones like this, the natural tendency is to start thinking about where the player is on the list of all-time greats at that position within the school's history. Does his career match up with the likes of Collie, Eric Drage, Mark Bellini and Glen Kozlowski?
Such discussions are always problematic, as we're comparing players across eras and in very different circumstances. But let's make the comparison more simple: how does Hoffman's career match-up with Collie's? And keep this in mind: I'm only going to discuss their college careers; this is not an exercise in comparing skills or pro potential.
On the surface, Collie wins this easily. Collie only played three seasons in Provo, and he out-gained Hoffman by 500 yards and 12 catches. Statistically, it seems pretty obvious.
But not so fast. In Collie's three seasons in blue, he caught passes from John Beck (2004) and Max Hall (2007, 2008). I don't want to descend into an argument about recent QBs here, but I think we can say that Collie had a built in advantage in having balls thrown to him from two future NFLers. Hoffman has caught passes from Jake Heaps (2010-2011), Riley Nelson (2010-12), Taysom Hill (2012) and James Lark (2012). Whatever you think of these QBs as individual passers, none can hold a candle to Beck and Hall (though Hill can change that perception this season).
For example, in 2008, Max Hall averaged 8.2 YPA. Since Hoffman joined the program in 2010, BYU QBs have averaged 6.0, 6.9 and 6.5 YPA in each of his seasons. Let me translate those numbers for you: they're terrible. Collie averaged 15.1 YPC over his three-year career, while Hoffman has averaged 13.4. Though Collie was a more vertical player skill-wise, I think the difference in their averages has more to do with the QBs and offenses they played in than with their skills. Hoffman is not a slot, possession receiver. His average YPC should be close to Collie's, but it's not.
Secondly, Collie was surrounded by other elite weapons. In 2004, Curtis Brown was the RB and Todd Watkins was a 1,000-yard receiver. In 2007, Harvey Unga gained 1700 yards from scrimmage, and Dennis Pitta caught more passes than Collie. And in 2008, it was more of the same with Unga and Pitta, two players who would also reach the NFL. While a good argument could be made that the presence of Pitta reduced Collie's overall numbers, the offense was so good during those two seasons that it created a lot of space and opportunity for Collie.
Hoffman has not been surrounded by the same type of talent. Say what you will about Ross Apo, but he has not performed at an elite level. The TE position has been a barren wasteland in Hoffman's tenure. And until last season with the emergence of Jamaal Williams, there was not another elite offensive weapon on the field. Hoffman gets all the attention from opposing defenses, and he still produces excellent numbers.
Collie's 2008 season (106-1538-15) is arguably the best WR season in school history. Though Hoffman was awesome in 2012 (100-1248-11), his pedestrian 12.5 YPC makes his season look like a lesser version of Collie's. But it was still a remarkable season statistically, and one of only three 100-reception seasons in BYU history.
When comparing their careers, a lot of it comes down to hypotheticals. Would Collie have put up huge numbers with Heaps and Nelson as his primary QBs? Could Hoffman have put up even better numbers in 2008 than Collie if he had Max Hall on the other end?
Hoffman's 2013 season will go a long way toward defining his legacy. If Taysom Hill becomes an above-average passer, if the faster-paced offense can be effective, and if Hoffman stays healthy, we could see Hoffman not only smash all the career marks, but also challenge Collie's season records of 106 receptions and 1538 yards.
Even with a decent 2013 season that doesn't statistically eclipse Collie's 2008, a very good argument could be made that Hoffman is the best WR in school history. With below-average QB play and a lack of other offensive weapons, he's put together a great career that rivals those of Collie, Drage, Kozlowski and the others, who all had All-American level QBs slinging the ball in their direction. It takes nothing away from those gentlemen to say that Hoffman has accomplished similar greatness without the benefit of elite QB play.
Hoffman came back for his senior season as one of the best WRs in BYU history. He might enter the NFL draft in April as the best receiver to ever played for BYU.