Dynamic Duo: Taysom Hill, Jamaal Williams pacing toward greatness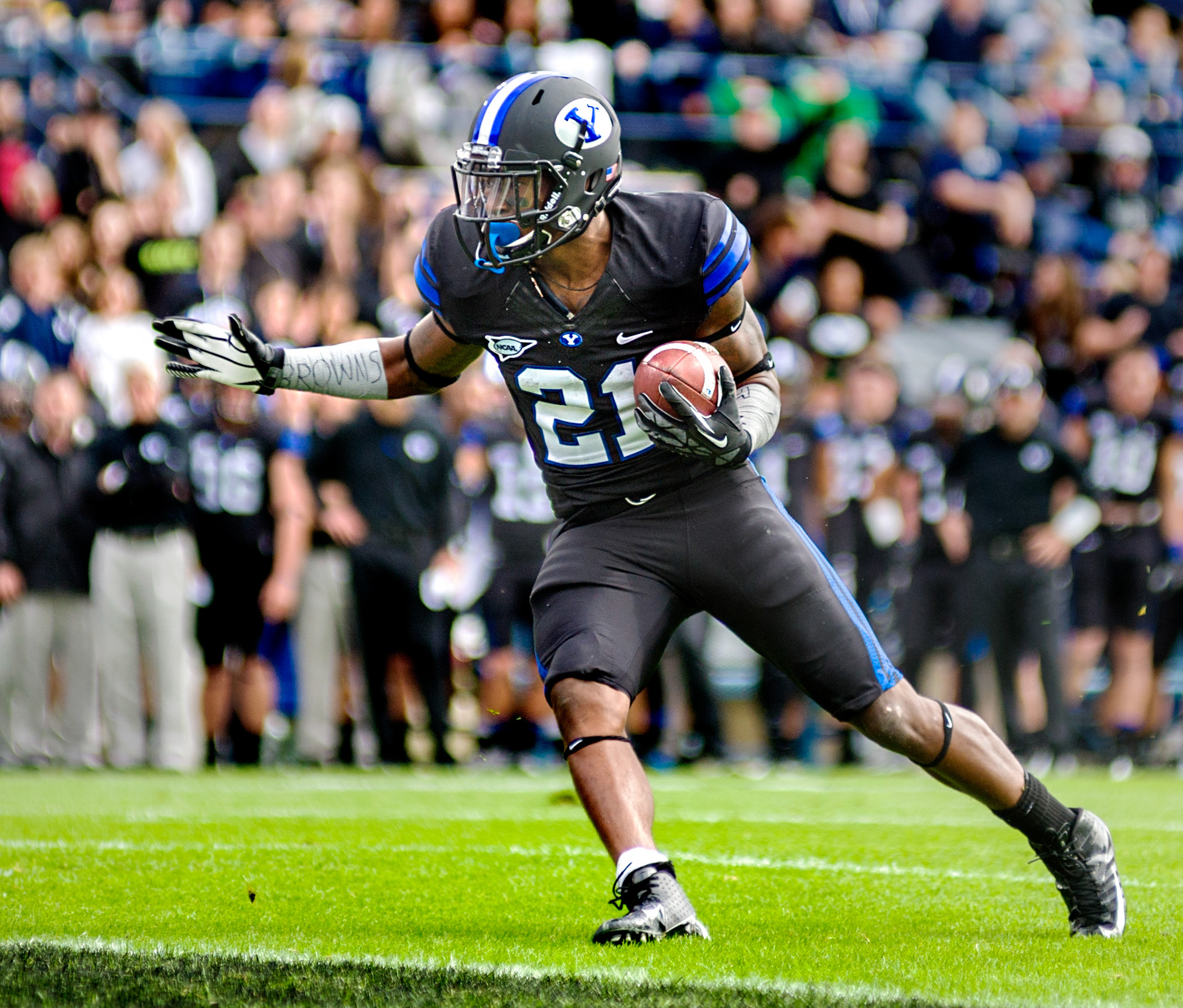 While seniors Cody Hoffman and Kyle Van Noy are pacing to leave BYU with several all-time school records in their list of accolades, a few youngsters were thrust into action due to injury in 2012 and are on record pace themselves.
Is writing about a pair of sophomores to break school records a bit Fall Camp National Championship-ish? Probably. But we're all in with Dr. Robert Anae IV — we go fast and go hard.
When Taysom Hill and Jamaal Williams leave BYU, we may very well talk about them as the best rushing duo in BYU history. It will be like how Eminem and Dr. Dre dominated mainstream rap from 1999-2002. (Can I use that reference here?)
(And any of you have any anti-curse rituals?)
In 2001, Cougar fans were taken on a ride when Brandon Doman and Luke Staley (and a well-seasoned offensive line) teamed up for some unlikely BYU run game prowess — which culminated in Staley winning the Doak Walker Award given to the nation's best running back.
Aside from that, fans aren't used to watching a QB/RB combination dominate the run game in Provo, but with Anae's up-tempo, zone-read run game and Hill's fleetness of foot, we may all be in for quite a treat. And hopefully for three seasons, too, something we didn't get to see with Doman-Staley.
The true freshman Williams (HE'S ONLY 17 YOU GUYS?!? -Rod Gilmore) was thrust into major playing time when Michael Alisa broke his arm early in the week five contest against Hawaii. Coincidentally, that game was also the first start for Hill (HE'S LIKE WAY MATURE FOR A FRESHMAN YOU GUYS SINCE HE TOOK A MISSION TRIP -Rod Gilmore).
The two combined to run roughshod on Hawaii's defense, teaming up for 298 yards and three touchdowns — splitting the workload evenly with Williams carrying 15 times for 155 yards and Hill taking 15 carries for 143 yards. The next week, the duo added 151 yards on 36 carries before Hill's season was infamously ended at the end of the game.
And that's it. We've seen Hill and Williams together for two games — one against a bad defense, one against a good defense — and they combined for 453 rushing yards.
Williams remained in action, later hitting the 100+ yard mark in consecutive games against Georgia Tech and Idaho and ending the season with 775 rushing yards.
Simple math tells us Williams needs 2,681 yards to pass Harvey Unga as BYU's all-time leading rusher — which boils down to 894 in each of his next three seasons. Doable? Williams seems the durable type, but even if he has to sit for three games per season (we're assuming bowl appearances around here), that's still only an 89.4 yards-per-game average. If Williams ends up being the Karl Malone of college football, he would only need 69 yards per game.
In a scenario where Williams is done after his junior year — which was the case with both Staley and Unga — Williams would need to hit 1,341 in the next two seasons. That's a healthy, ambitious average of 103 yards per game, if healthy. In perspective, Staley rushed for 1,582 yards in his award-winning junior season, employing an otherworldly 8.1 yards per carry to get there.
There are, of course, a TON of variables to consider when talking about Williams's pace for chart-topping greatness. Health is going to be the biggest factor, with ability of the offensive line playing a key role as well. But if Williams sticks through his senior year, it's very conceivable that @jswaggdaddy will claim BYU's rushing record.
Williams also ran in 12 touchdowns as a freshman — needing 10 per season more to surpass Staley's top mark of 41. Doable? Not easy, but I'd say so.
Hill's path to being BYU's all-time best rushing QB seems to be already paved, especially with a shift to a zone-read run game. Hill played in barely 2.5 games as a freshman before getting injured, finishing with 336 net rushing yards. Even if he were to duplicate his abruptly-ended freshman season three more times, he would hit 1,344 yards, still surpassing Virgil Carter as BYU's all-time yard-gaining running QB by 120 yards.
Simply put: with any kind of health whatsoever, Taysom Hill will top BYU's list of rushing quarterbacks. Such a career would land him at #21 on the overall rushing list, too, just behind Marcus Whalen and ahead of current running-backs coach Mark Atuaia.
Chart-topping dominance, here we come.
MORE ON LOYAL COUGARS
Brian Logan: How JC transfers like Rob Daniel transition to start at BYU
Opponent Notebook: Virginia Q&A with The Sabre
Wisconsin Travel Guide
Cody Hoffman is on the verge