Taysom Hill, BYU run past Texas in huge bounce-back win
Updated: September 8, 2013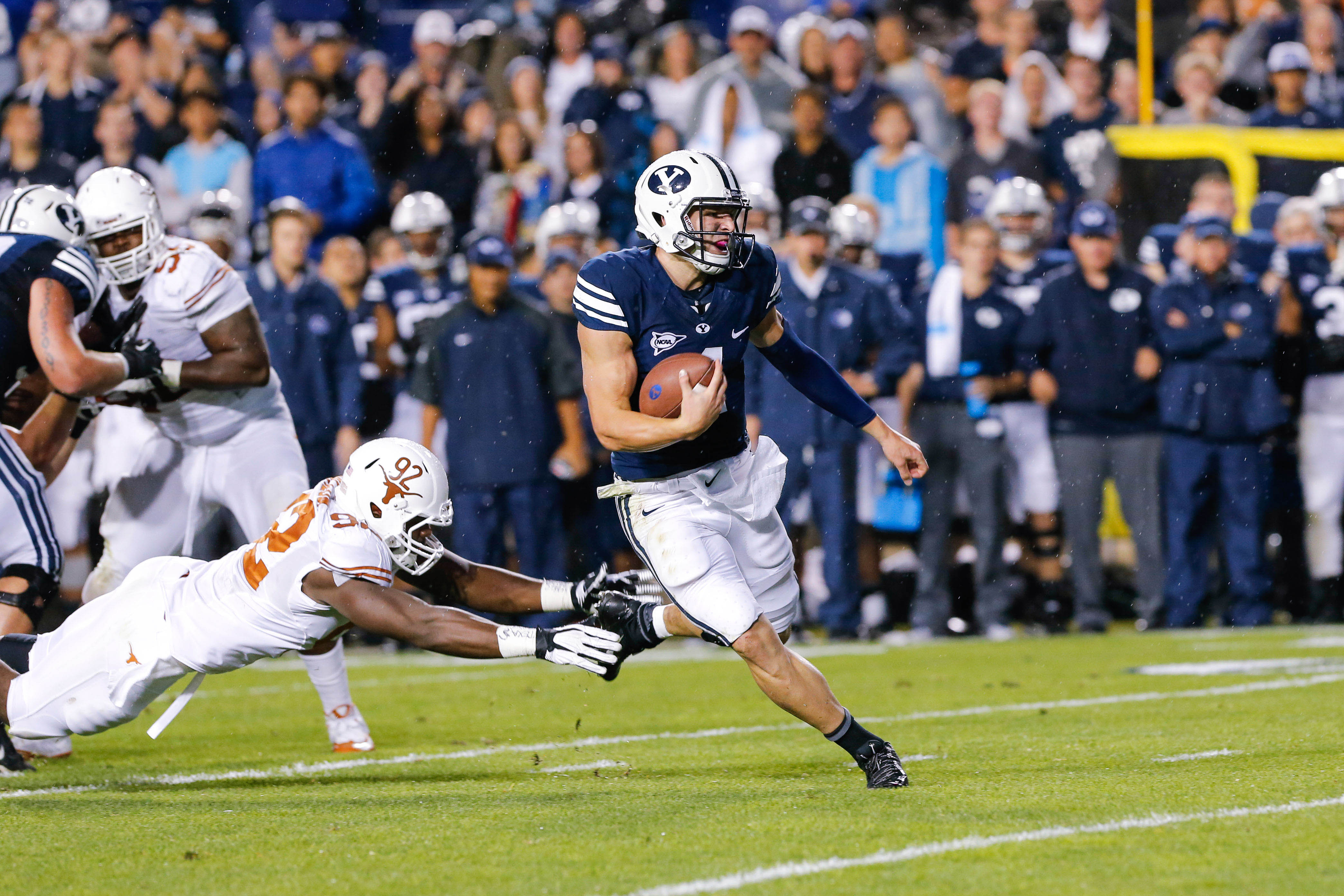 BYU and Taysom Hill set all-time rushing records as the Cougars dismantled #15 Texas.
BYU bounced back from its disappointing week one loss to Virginia in a big way on Saturday night — by steamrolling 15th-ranked Texas, 40-21. The Cougars amassed 550 rushing yards, the most ever by any BYU team and the most ever allowed in the 120-year history of Texas football. It was BYU's first win over a ranked opponent since beating Utah in overtime in 2009.
The previous all-time record for rushing yards against Texas was 452 by Rice in 1997. BYU's previous best rushing effort was 465 yards versus Montana in 1958.
It was a dramatic swing of momentum for both Texas — coming off a mauling of New Mexico State — and BYU, who spent the week recovering from the forth-quarter interception that cost them a likely victory at Virginia last Saturday.
After taking heavy criticism over the past week, Robert Anae's offense was firing on all cylinders Saturday, repeatedly gashing the Texas defense with long runs from Taysom Hill, Jamaal Williams and Paul Lasike throughout the night. Garett Tujague's retooled offensive line also responded particularly well after a disappointing opening outing.
Before the game, most observers had low expectations for the Cougars. The betting line opened with Texas favored by 3.5 and was pushed further into the Longhorns' favor as the week went on, reaching as much as 8 points by game time as money came in on Texas.
Williams raised some eyebrows when he told the Deseret News last Monday that "If we cut down on some of the mistakes and keep executing and do what we need to do, they're going to get tired, bow down to our will and we'll go out there and do our thing."
In the end, Williams' optimism was justified as he ran for 182 yards, a new career high.
The turning point of the game was perhaps a Texas roughing the punter penalty. While Texas' offense did take care of the ball and had no turnovers, with UT leading 14-10, the near turnover of giving the ball back on the roughing the punter flag started a streak of six straight scoring positions for the Cougars.
While only completing 4 of 17 passes in the first half, Hill passing improved in the second half by throwing for another 5 of 10 passes and ending the game with 129 yards through the air. Hill ended with 258 yards rushing and three touchdowns, and Lasike added 87 and another touchdown.
Taysom Hill was impressive, drawing comparisons to former Washington quarterback Jake Locker on the ESPN broadcast, as well as former Colorado State signal-caller Bradlee Van Pelt.
BYU's defense came up big yet again, holding the Texas offense to 10-21 on third downs and 4 sacks. Linebackers Alani Fua and Kyle Van Noy led the stout defense while Skye PoVey had seven solo tackles, a career high.
Justin Sorensen also connected with clutch kicks, hitting true on all four field goals and improving to 5-5 on the season.
The Cougars experienced another near-two-hour weather delay. Unlike last week's however, the delay came right before kickoff and did not interrupt the game in progress. A torrential downpour and severe lightning delayed kickoff until just before 7 p.m. MT.
The game leaves Texas with questions of their own to answer this week. In addition to questions on defense, Texas suffered key losses during the game with injuries hitting both running back Daje Johnson early and quarterback David Ash late.
BYU has two weeks of preparation before playing rival Utah at home on September 21. Utah will play Oregon State at home before traveling to Provo.