BYU vs. Boise State Preview and 9-Line Prediction
Updated: October 25, 2013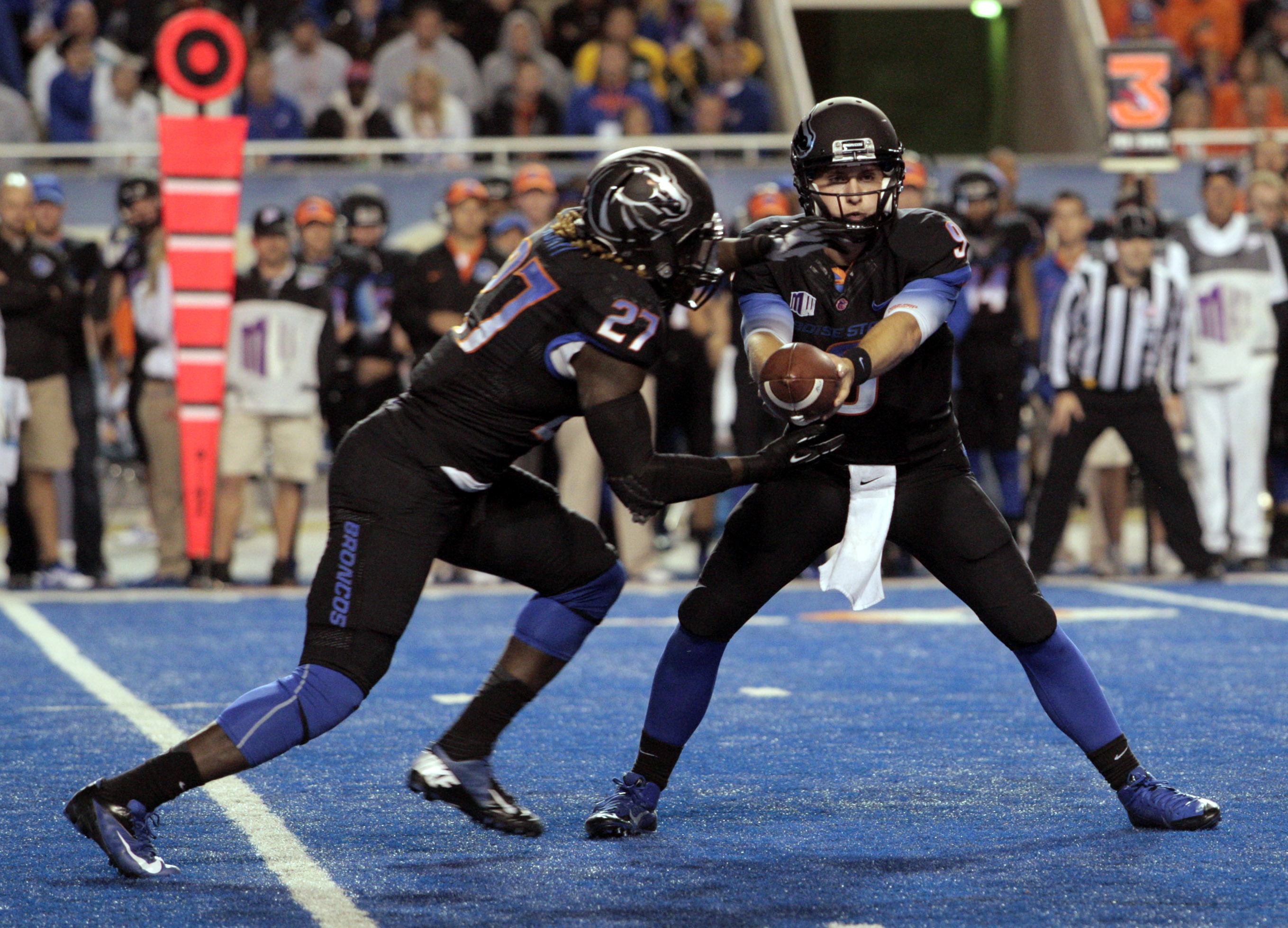 Zach previews BYU's primetime contest with Boise State using 9 predictions presented as Vegas-style lines.
Before we jump to the lines, I just want to remind everyone just how much this game means to the BYU program.
The last three times BYU has played Boise State, our successful little brother from the North, the Cougars have accomplished the following: 1) BYU managed to lose by 38 points at home while only being out-gained by 52 yards. This box score is also known as The Most Gary Crowton Thing Ever (4 quarterbacks!); 2) BYU missed a chip shot game-winning field goal as time expired to beat a ranked Boise State who finished the regular season undefeated; 3) BYU did not yield an offensive touchdown and lost because it played a man with a broken back at quarterback and then unconscionably went for two in the closing minutes.
BYU needs to beat Boise State on Friday. We all need BYU to beat Boise on Friday.  I need BYU to beat Boise on Friday. For sanity.
Total BYU offensive plays from scrimmage – Line: 89 – And you thought Go Fast, Go Hard was just a catchphrase. The Dr. Robert Anae Offense ran 115 plays in last week's victory of Houston. One hundred and fifteen, good enough to tie an NCAA FBS record. The Cougars average just under 90 plays per game and are second nationally. The Boise State defense ranks 92nd nationally in 3rd down conversion. The Broncos give up nearly 400 yards per game. With Taysom Hill coming into his own, the Cougar offense has enough firepower to keep the offensive momentum going under the LaVell Edwards Stadium lights. OVER
Boise State Trick Plays – Line: 1.5 – Chris Petersen is a fantastic football coach. Not only are his Boise teams fundamentally sound and tough to defeat, he does not shy away from giving his guys an extra shot of adrenaline. Some people think trick plays are simply gimmicks used by lesser teams in order to gain an advantage. Sure, that can happen, but that is not the Boise M.O. Petersen uses a fake punt, onside kick, double-pass, statue of liberty, hook-and-lateral, etc. as a way to engender momentum and give the Broncos a push toward a win. It's like a football version of a Five Hour Energy. Ziggy Ansah snuffed out a fake punt last year on the blue turf. OVER
Grant Hedrick Quarterback Rating – LINE: 60.0 – BYU has typically struggled with back-up quarterback during the Bronco Mendenhall era. Enter Grant Hedrick. The Oregon native relieved an injured Joe Southwick last week in Boise's 34-17 win over Nevada. Hedrick was impressive, completing 85% of his passes and rushing for over 100 yards. Here's a quick look at the Nevada defense. When asked whether taking an inexperienced quarterback to BYU was his greatest coaching challenge, Chris Petersen did not disagree.  The Broncos, as usual, have a balanced and potent offensive attack. If BYU can contain physical, bruising running back Jay Ajayi, Hedrick is going to have to beat the Cougars with his arm. UNDER
Hedrick Pass Attempts Longer Than 25 yards: LINE – 4.5– It is no secret that the BYU defense is most vulnerable to the deep ball. Frankly, I am always surprised teams refrain taking multiple shots downfield against the BYU secondary. Houston hit a few long passes last week with Craig Bills on the sideline and a skeleton crew patrolling that area of the defensive backfield. Boise loves to take shots down the field. If the running game is as bottled up as I think it will be, this tendency is going to be magnified. It is up to the BYU secondary to make the plays. OVER
Red Zone TD's for BYU Offense:  LINE – 2.5  – The BYU offense has converted 28 of its 34 trips to the red zone into points – 17 touchdowns and 11 field goals. A 50% TD rate is well below any of BYU's last six seasons. Boise State's defense is stout and gets off blocks. Will the BYU offense be able to capitalize when needed most? The emergence of Ross Apo last week will carry to Friday as BYU will have yet another weapon to use when it gets close to the goaline. OVER
Taysom Hill Total Yards: LINE – 375 – Last week BYU fans witnessed a performance not often seen in college football. Taysom Hill became just the seventh player in history to throw for 400 yards and rush for 100 yards in the same game. He accounted for 545 yards of total offense. Mormon Manziel indeed. When the Robert Anae offenses of the past were unstoppable, it was because the Cougars simply had too many weapons to defend and defenses were simply unable to account for everyone. Cody Hoffman is a mainstay and his unassailable consistency has been a hallmark of his rein at BYU. Jamaal Williams seemingly gets better each and every week. And with Taysom Hill adding a competent throwing game to his elite running ability, the Brigham Young offense is on the cusp on something special. OVER
Attendance: LINE – 63,999 — BYU has just two home games left in the 2013 campaign and Kyle Van Noy wants to know why you are NOT ENTERTAINED. The All-American linebacker took to the Twittersphere to urge BYU fans to sell out LaVell Edwards Stadium. BYU has not drawn more than 64,000 this season. (63,197 vs Texas, 63,470 vs Utah, 58,763 vs Middle Tennessee, and 60,320 vs Georgia Tech) Can it happen tonight? UNDER
Total Points Scored: 61.5 – Last year, these two offensive juggernauts combined for a baker's dozen. I am going to go out on a limb and wager that we will see more points than that on Friday evening. But 61? That number seems high, as last week's Houston game was a creature of weird circumstances. This is a battle of two teams who will finish the year ranked in the Top 25. The game will be competitive enough in the fourth quarter where field position is really going to matter. BYU's ability to prevent Boise from scoring in the red zone will be the difference. UNDER
Line: BYU by -7 – COVER – BYU 31 Boise 20
Additional Lines:
Number of sacks surrendered by BYU offensive line: LINE 6 – UNDER
"Mission Trip" references by ESPN crew: LINE – 0.5 – OVER
Bronco Dances: Line 0.5 – UNDER
Game Time I will be thankful I do not see blue turf: LINE — 59:59 — OVER
Pre-game views of Dan Smith v. Donkey Teeth: LINE — 1.5 — OVER