Life After Payton: What losing out on Dastrup means for BYU's future
Updated: November 7, 2013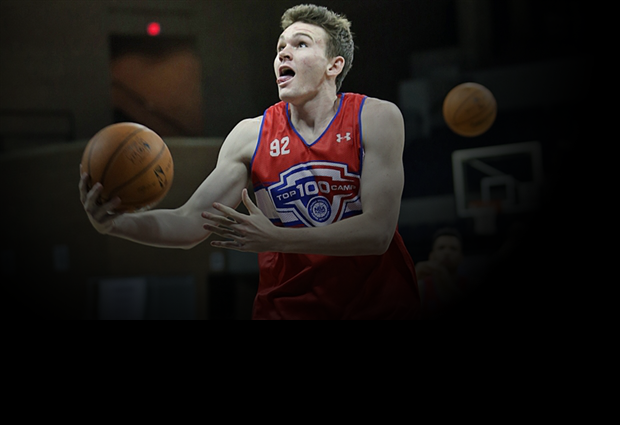 Payton Dastrup committed to Ohio State on Thursday, shocking national observers by spurning the Cougars.
I thought Payton Dastrup was coming to BYU. I was sure of it. To paraphrase Stevie Wonder: Signed, sealed, delivered, he was ours. I even wrote a 1,000-word opus about what his commitment meant to the future of the Cougar program. That's how certain I was.
I wasn't the only one. National recruiting analysts were convinced that Dastrup would play out his college ball in a murderer's row lineup alongside Nick Emery, T.J. Haws and Eric Mika. The experts over at 247Sports even predicted with 100 percent confidence that he would be Provo-bound. Cougar fans were downright giddy with anticipation.
We were all very, very wrong.
After a long and pressure-packed process, the highly touted Mesa, Ariz., prospect ended his recruitment on Thursday by committing to play his college ball at Ohio State. The four-star, 6-foot-9 forward chose the Buckeyes over many prominent programs, including Florida, Kansas, Virginia and UCLA — and, of course, BYU.
And here I am, re-writing that 1,000-word opus while I try to make sense of what just happened.
I knew there was always a chance Dastrup could go somewhere else, but I honestly believed he was in the bag. I obviously wasn't alone. BYU had his faith, his friends, and a wealth of incoming talent to perfectly complement his skill set. How could he say no to that? How could anyone?
If I had any serious doubts, they stemmed from this (now-prescient) article published by 247Sports last week. Here's the key quote:
"I'd say BYU is the most comfortable for me," [Dastrup] added. "Ohio State is probably the best in terms of ratio of getting people into the NBA. Virginia probably has the best conference to play in. Florida probably has the best coaching staff overall."
Comfortable. Comfortable. Comfortable.
That word can be a blessing and a curse in recruiting. Many players want an environment where they can feel comfortable, where they can feel at ease, where they can feel at home. Growing up in an active LDS home with parents who attended BYU, there's no doubt that comfort level was always going to be there for Payton in Provo.
But not every kid wants that. Some players see college as a chance to get out of their comfort zone and try something new. They see it as an opportunity to challenge themselves, to set themselves up for the future that they want to achieve. In Dastrup's case, that desired future involves a career in the NBA — and there's no doubt that Ohio State has sent far more players to the league than BYU has in recent years. It's an entirely logical choice.
I don't know if that's what ultimately influenced Dastrup's decision or not. Based on his public comments, I expect it was probably something along those lines. His ultimate goal is to play in the NBA, and while BYU is a comfortable environment for him, Ohio State probably gives him the best chance to get where he wants to go.
At the end of the day, Payton had to make the decision that would be best for him based on the things he valued most in a college experience. He obviously feels Thad Matta's program gives that to him — and I can't fault him for that. I wish him nothing but the best as he pursues his dream.
But that doesn't mean this doesn't hurt if you're a BYU fan. It does. It hurts a lot.
Let's be real here: this is a substantial missed opportunity for the Cougars. I know some folks tend to get a little bitter and defensive after losing out on a recruit ("We never really wanted him anyway! He's not that good!"), and I hope we can avoid that kind of silliness this time around. There should be no denying that Payton Dastrup is a very good basketball player who would have played a big role for BYU.
How big? Well, let's see what I wrote in my 1,000-word opus that will now never see the light of day:
Dastrup's commitment appears to provide coach Dave Rose with the final piece to a recruiting puzzle that's taken him several years to assemble — one that now includes four ESPN Top 100 recruits and a slew of strong role players. The picture on the box? A deep, talented Cougar team that could legitimately threaten a Final Four run or two during its time together — if not more.
I still believe every word of that is true. Teaming Dastrup with Nick Emery, T.J. Haws and Eric Mika would have given the Cougars a perfectly balanced lineup that could have been an absolute juggernaut. Multiple Final Four runs were very much within the theoretical realm of possibility. It would have probably been the greatest collection of talent to simultaneously don BYU uniforms in the history of the program.
It's totally reasonable to feel disappointed about such a great opportunity floating away. And now that it has, it's also reasonable to ask some searching questions: What does Rose do now? What does a Dastrup-less future hold? Where do we go from here?
My answer? We threaten a Final Four run or two — if not more. Still.
Like anyone else, I wish we could've had Payton Dastrup in a BYU uniform. It would have been awesome and he would've added yet another dimension to the team. He will be missed. But that doesn't mean the guys who are going to suit up in those blue and white jerseys come 2016 are suddenly the Little Sisters of the Poor. Dave Rose put together the best recruiting class in school history before Dastrup announced his intentions, and nothing that happened in the last 24 hours has changed that.
Fans are fickle creatures. I get that. But since the Dastrup news broke, I've seen several folks on Twitter suggest this (coupled with Jabari Parker going to Duke) is an indication that Rose can't get the best active LDS recruits, that he can't land the big one, that his recruiting output is somehow unsatisfactory.
And Emery, Haws and Mika are what? Chopped liver?
Let's not lose track of the larger context here while we justifiably wallow in our moment of grief. Those three players were, like Dastrup, all ESPN Top 100 recruits. (In fact, they were all ranked much higher than Payton, but that's really neither here nor there.) So Rose has managed to land three top-notch LDS athletes in the span of two years. That may not seem like a lot when juxtaposed to teams like Kentucky or Duke, who seemingly have their pick of the country's top talent year in and year out, but it's a huge deal for a school like BYU.
Playing in a mid-major conference and dealing with a unique recruiting environment that many coaches only see in their nightmares, even just one top recruit would be considered a major coup. But three? That's a testament to Rose's tireless commitment to pounding the recruiting trail and his work rebuilding BYU into a legitimate basketball program.
Would four big "gets" have been even better than three? Definitely, but we should be careful not to forget the enormity of Rose's accomplishment while crying over spilled milk. After all, it wasn't too long ago that this kind of haul was completely inconceivable on its face.
A brief history lesson for those with short memories: In the 1990s, the Cougars often didn't get the top LDS athletes. None of them. Players like Chris Burgess and Mark Madsen — top recruits in their day — chose to play for traditional power programs like Duke and Stanford, while BYU slipped further and further into mediocrity. If you would have suggested then that BYU could land a single nationally ranked prospect, let alone three, you would have been laughed out of the room. It just didn't happen.
That's why, despite losing out on Dastrup, the commitments from Emery, Haws and Mika are still so huge. It's not just about them as great individual players. It's about more than that. It's about all of them choosing to play their ball in Provo. It's about them spurning many of the nation's top programs to represent their faith's flagship institution. And most of all, it's about what they symbolize in the context of BYU basketball history — the massive sea change that has taken place in the intervening years since Roger Reid was whiffing his way through the '90s, striking out with every reasonably good LDS athlete, and turning in 1-25 seasons.
It's impossible to overstate the revolution that has occurred in Cougar hoops since that time. This is a fundamentally different program than it was 15 years ago — and the "Lone Peak Three" are a living, breathing testament to that transformation.
Who deserves the credit for the dramatic turnaround? Steve Cleveland probably gets some for his yeoman-like work pulling BYU out of Reid's morass. Jimmer Fredette certainly deserves his share for capturing the imagination of millions of people and single-handedly making the Cougars nationally relevant again. But most of all, the credit goes to Dave Rose.
There have been considerable ups and some intermittent downs, but Rose is responsible for constantly pushing, shaping and molding this program into what it is today.
A program that people talk about.
A program that top players want to play for.
A program that, regardless of what transpired this evening, is still poised to take its place among college basketball's elite in the very near future.
Could things be even better? I suppose, yes. Cougar fans undoubtedly would have loved to have counted Payton Dastrup and Jabari Parker as their own. And while we're at it, a unicorn and a few extra years of eligibility for Jimmer would have been nice, too.
Look, I'm not trying to say the BYU faithful shouldn't be disappointed about tonight's loss. We should be — Payton Dastrup could have done great things in Provo, and now he won't. It's an undeniable bummer. But we shouldn't let our disappointment cloud our vision so much that we can't see what's still standing right in front of us: The best coach in school history with the best recruiting class in school history, poised to make some serious noise in the years that lie ahead.
Dastrup or no Dastrup, I think the future looks just fine. In Rose We Trust.