Deseret Domination: BYU goes for eight straight over Utah
Updated: December 13, 2013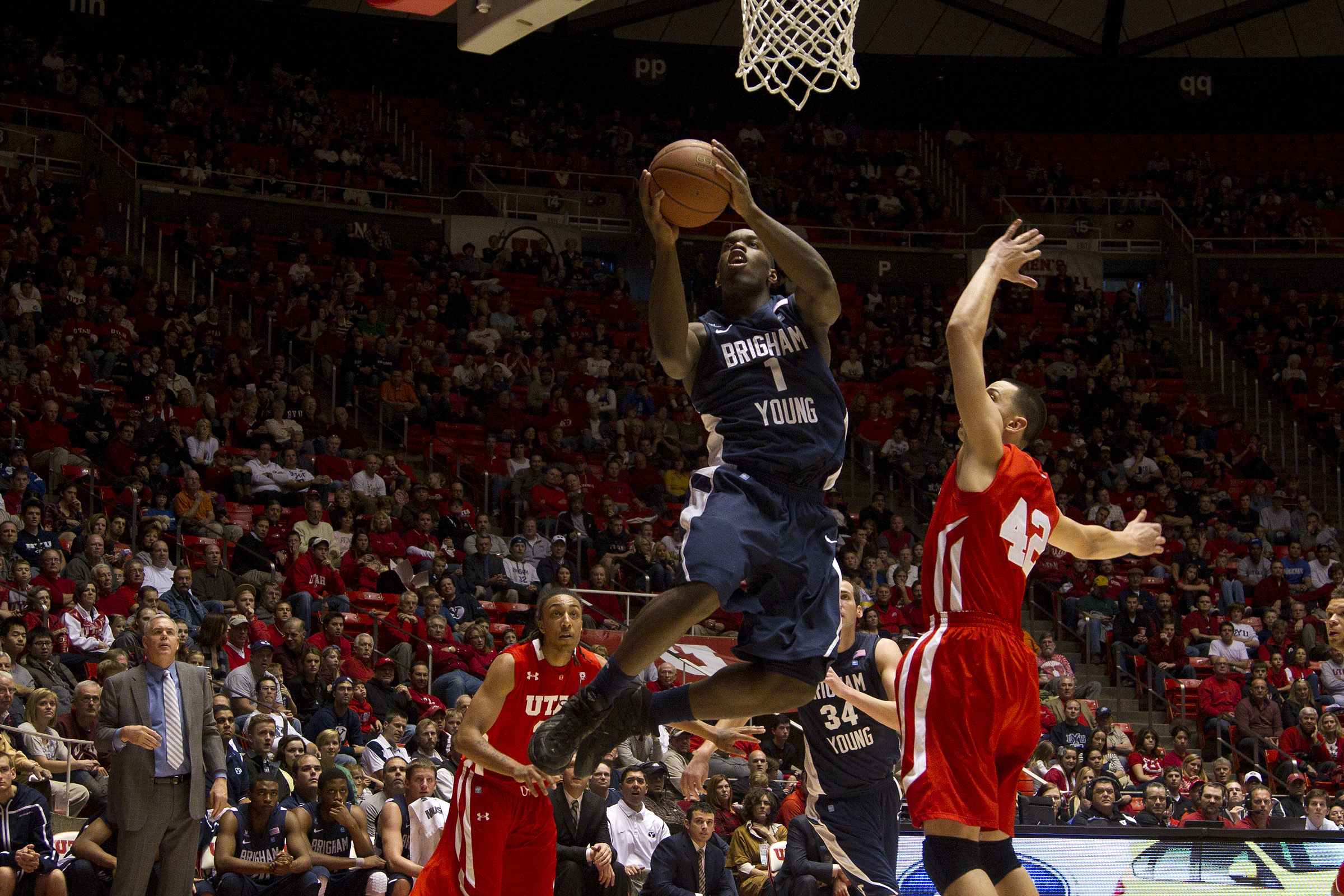 BYU can tie its longest basketball winning streak against Utah on Saturday. Greg Welch examines BYU's current 11-1 run against the Utes.
When the Cougars and Utes tip on Saturday night, BYU will be playing to tie its longest winning streak against Utah basketball, a record set almost exactly 100 years ago.
The Cougars won the first eight games the two teams played, starting January 23, 1909 and running through March 2, 1912. The Cougars also won four straight on the road during that streak — a record BYU can also tie on Saturday.
Utah claimed its first win in the series on February 8, 1913. The series has remained close since, and currently stands in BYU's slim favor by the tally of 129-125.
In Dave Rose's first year as coach, he opened 1-2 against Utah. Rose won at home, but lost on the road and in the Mountain West tournament, where BYU was unable to contain young Australian center Luke Nevill.
But in 2007, the torch was passed. By then, Nevill was one of the few players left at Utah originally recruited there by Rick Majerus. Since 2007, Rose has given BYU a golden era with an 11-1 record against Utah. Let's review that marvelous run:
January 31, 2007 | Salt Lake City
WIN 76-66
This was BYU's first win in the Huntsman Center since 1994 (when Robbie Reid hit a 24-foot three-pointer with BYU down two with 16 seconds left). In this game, BYU sill had trouble containing Luke Nevill (26 points) but was able to shut down Utah's other players. It was Keena Young and and Jonathan Tavernari who led BYU. The Cougars jumped to an 18-point lead in the second half and hung on for the big win.
March 3, 2007 | Provo
WIN 86-62
BYU clinched its first outright Mountain West championship (and first of three in a row) in front of a sellout crowd, sweeping Utah for the year. The game was senior night for Austin Ainge, Jimmy Balderson, Derek Dawes, Fernando Malaman, Mike Rose and Keena Young. BYU was led in scoring by Young and Sam Burgess with 15 points each. The win extended BYU's home win streak to 31 games. Ray Giacoletti would leave Utah after the end of the 2007 season.
January 19, 2008 | Salt Lake City
WIN 55-52
BYU was able to win its second consecutive game in Huntsman Center in a low-scoring, defensive battle. It was the first time since 1984-85 that BYU had won two games in a row in Salt Lake. Junior guard Lee Cummard carried the team with 19 points, a team-high nine rebounds, two steals and one assist. A Sam Burgess 3-point shot with 2:27 left gave BYU the lead and, in this contest was able to hit free throws and secure the win.
February 20, 2008 | Provo
WIN 67-59
This win stretched BYU's home winning-streak to 45-games. Tavernari lead BYU with 20 points, while Lee Cummard and some freshman named Jimmer Fredette each had 14.
January 27, 2009 | Salt Lake City
LOSS 94-88 (OT)
BYU's one blemish in the last 12 games against the Utes came in a hard-fought, tough road game. The game featured 10 ties and 10 lead changes. Senior Lee Cummard shot 7-8 from the floor and had 23 points, but poor free throw shooting (13-22) doomed the Cougars.
February 28, 2009 | Provo
WIN 63-50
Sophomore Jimmer Fredette began to take over the series, leading BYU in scoring with 25 in this game. The Cougars were also finally able to contain Luke Nevill. After he dominated in Utah's win in Salt Lake one month before with 32 points, he was only able to put up 9 points on 3-of-12 shooting this time around.
January 30, 2010 | Provo
WIN 82-69
Junior Jimmer Fredette put in 36 points and helped BYU improve to 21-2 on the season for this game. Jimmer's 36 points broke Danny Ainge's record for most points scored against Utah. Freshman Tyler Haws added 15 points.
March 3, 2010 | Salt Lake City
WIN 71-51
At the time it was played, this 20-point loss was the worst ever for Utah against BYU at the Huntsman Center. Brandon Davies came off the bench to score a then-career high of 21 points. Utah center David Foster had 2 points on 1-2 shooting and 2 turnovers.
January 11, 2011 | Salt Lake City
WIN 104-79
This was one of, if not the most memorable game in the series. Seniors Jimmer Fredette and Jackson Emery beat Utah by setting a new worst-ever for Utah against BYU at the Huntsman Center. Emery recorded his 196th career steal, passing Danny Ainge on the all-time school list. Jimmer poured in 47 points, including the iconic 40-foot shot to end the first half. BYU was ranked 10th in the nation at the time.
February 12, 2011 | Provo
WIN 72-59
Junior Charles Abouo led BYU to victory in a physical contest. Abouo's career high 22 points and Jimmer Fredette's 23 led BYU in what Coach Rose called a "knock-down, drag-out game." BYU only had a one-point lead at halftime, but was able to put Utah away in the second half, in large part thanks to Jimmer scoring 12 straight points late in the second half.  It was Jim Boylen's final game against BYU as Utah's coach.
December 10, 2011 | Salt Lake City
WIN 61-42
After BYU and Utah changed conference affiliations, the two began playing in December for the first time (every game before had been played in January, February or March) and only playing once a year. In this game, Senior Noah Hartsock gave BYU 19 points and seven rebounds. BYU was helped in the win by threes from Nate Austin, Stephen Rogers and Brock Zylstra. The win gave BYU its first three-game win streak in Salt Lake since 1942-43.
December 8, 2012 | Provo
WIN 61-58
Although BYU and Utah only played once in the previous season, this is first time since 1920 and only the second time ever that the rivals only met once in the calendar year. BYU came into the game heavily favored, but trailed the majority of the game and took one of its only leads with 4:21 remaining. Matt Carlino, who came off the bench behind Craig Cusick and Brock Zylstra, had a game-high 19 points. Utah transfer Josh Sharp led BYU with 9 rebounds, including securing a crucial Utah miss with 26 seconds left to play.
While Utah wasn't able to win, last year's close contest in a game where Utah was a big underdog showed the series is more competitive than it had previously been. Other than 2012, the other six wins in BYU's current seven-game streak have all come by 13 points or more.  Most basketball fans will figure losing by only three points on the road translates to a good chance to win at home, but both team's rosters are pretty different this year.
With the games only being played half as often now, running off a streak of games like this in the future will be much harder. That sets BYU up with a special opportunity this year to tie its longest win streak against the Utes and would give the Cougars a chance to break that record next year on the their home floor.
However it ends up, everyone should be glad both teams are playing. Saturday's game will at least be one more addition to the rivalry that's seen 255 games played in 104 years. I hope they never stop.