Just Like Football: BYU sleepwalks through 81-64 loss to Utah
Updated: December 15, 2013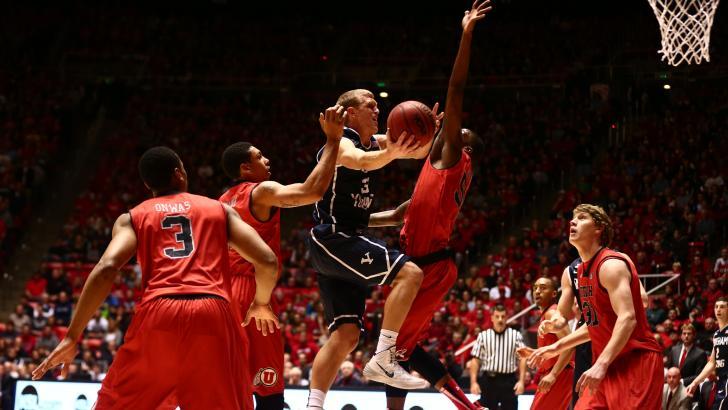 The Cougars started flat and never recovered, suffering a blowout loss at the hands of their much-improved rivals.
In basketball and in life, some nights just aren't your night. Sometimes everything goes wrong, nothing goes right and you can't help but wonder what in the world just happened.
For the BYU men's basketball team, Saturday evening in Salt Lake City was certainly one of those nights.
The Cougars ran into a fully functional Utah basketball buzzsaw, getting blown out by their rivals 81-64 in a game the Utes led wire to wire in front of a raucous Huntsman Center crowd.
It wasn't pretty. Jordan Loveridge started the game off with a bang, scoring 12 points in the opening minutes with a barrage of three-pointers and sparking his team to a sizable early lead. BYU never recovered. The Utes beat the visitors at their own game, pushing the ball quickly up the floor when opportunities arose and using smooth ball movement in the halfcourt to dismantle BYU's zone defense. The home team led 42-29 at halftime.
It was more of the same in the second half. Utah scored the first five points after the break, killing any hope of a momentum swing in the Cougars' favor. From there, it was all Utes. BYU made a few mini-runs to begin cutting into the lead — but every time it seemed like they were about to gain some semblance of a foothold, Utah would counter with a run of their own to extend the margin even further. The final result — a 17-point loss to your biggest rival — is tough to swallow, but it could have been much worse: the lead was well over 20 until Skyler Halford dropped in a couple threes in garbage time.
There's a lot to pick through here. We could be here for hours dissecting all of the reasons why BYU performed so poorly at such an inopportune time — they are legion. But why don't we save ourselves the time and the trouble and just agree that they got outplayed and outcoached in every single aspect of the game.
You could see it from the opening tip. Utah was playing with fire and passion and desire and energy — and BYU was playing scared. They were tentative, they were weak and they were physically and mentally overmatched. It was an unmeasurable, intangible type of thing, but it was there and you could feel it immediately — and I was watching from 2,500 miles away. I had no confidence in BYU's ability to win the game once it hit the 15-minute mark of the first half. You could see it on their faces and in their body language.
But it was more than just intangibles. The Cougars continue to be a sieve defensively, allowing opponents to score at will. Let's be real: the Utes are a good basketball team. Anyone who says otherwise isn't paying attention. But they're not the 1996 Chicago Bulls — which is what they looked like for stretches on Saturday. Everything was going in, everything seemed to come easy, everyone was rolling from Loveridge on down the roster.
You have to give Utah credit for their good performance — but BYU's abysmal defense certainly helped things along. It didn't matter what scheme they played. It didn't matter if they pressured or dropped back. It didn't matter if they went big or small. Nothing worked. There's a lot of soul-searching to be done at the Marriott Center offices this week. There has to be. They simply can't afford to continue to give up 80-plus points a game and expect to beat good teams.
The offense didn't help much either. The Cougars' "Big Three" had an absolutely abysmal showing, with Matt Carlino, Tyler Haws and Kyle Collinsworth combining to shoot 11-for-36 from the floor for just 33 points. A suddenly goggle-less Eric Mika chipped in 12 of his own, but also got outmuscled around the basket too often by Utah's more aggressive bigs — before getting ejected on an extremely weak flagrant-2 foul once the game was already out-of-hand.
With their defense not producing many turnovers to spark their transition scoring, the Cougars' halfcourt offense lacked creativity and quickly bogged down as four guys stood around taking turns watching one teammate attempt to beat the Utes one-on-five. There was no movement, there was no screening, there was no off-ball action whatsoever. BYU isn't a great halfcourt team to begin with — they obviously thrive in the open floor — but when they can't even execute simple sets to get Haws the ball in spots where he can be effective as a scorer or passer (and it likely would have been the latter with all the extra attention Utah was throwing his way), there are bigger problems afoot.
This was a team loss in the truest sense of the term. Nobody (with the possible exception of Josh Sharp, who provided good value in 15 surprising minutes) performed well. The stars, the role players, the coaches — it looked like the entire program had been infected with that alien disease from Space Jam. Everyone shares some significant level of blame for this catastrophic outing.
Then again, true as that may be, I also don't want to sound too dire. This is not the end of the world. This isn't like losing to the Utah teams of recent years. This is a good Ute team that has the pieces to really make some noise as a dark horse in the Pac-12. But the loss does sting, and it does further expose some key flaws in this BYU squad, and it should serve as an impetus for reflection and reevaluation for the coaching staff over the coming week.
It's entirely possible that this game was an outlier and the Cougars will never play that poorly on both ends of the floor simultaneously ever again — but that doesn't mean there aren't real changes to be made. After all, there's still a lot of basketball left to be played, including an entire conference schedule. There's still plenty of time for improvement — but that process needs to start now, not in February or March when it's too late.
I'm confident Dave Rose understands this, particularly after witnessing the sobering events of Saturday evening. Chances are he'll already have the game film cued up and his notepad ready to rock by the time you read this article. I'm sure he, like every BYU fan, has no interest in living through this type of performance again — even if it was just one of those nights.