Big plays, missed chances doom Cougars in 31-16 loss to Washington
Updated: December 27, 2013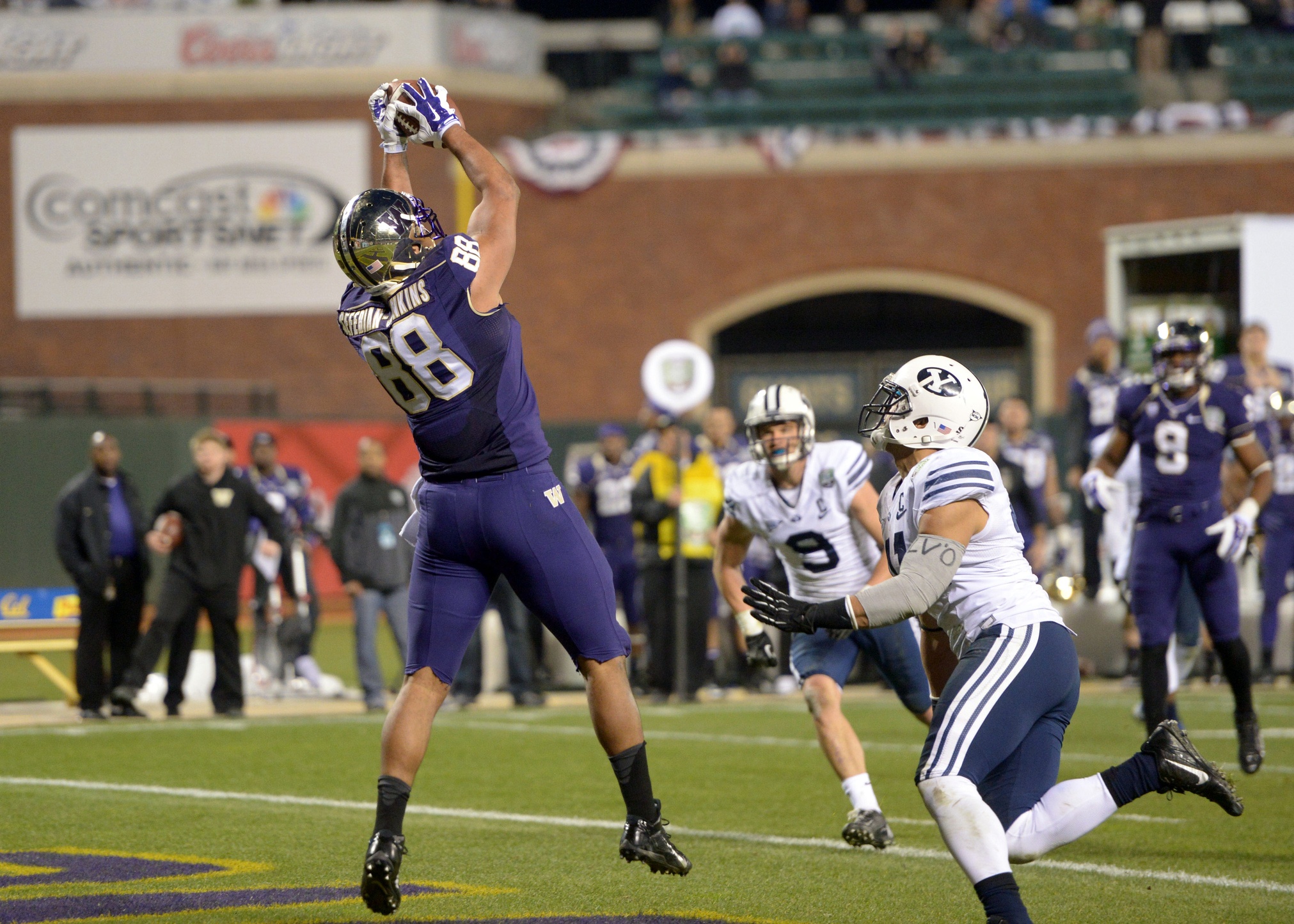 Special teams and red-zone struggles hindered BYU, which lost in a bowl for the first time in five years.
Two big kickoff returns, one for a touchdown, keyed the Washington Huskies to a 31-16 win over the BYU Cougars in the 2013 Fight Hunger Bowl in San Francisco on Friday night.
Early in the second quarter, Taysom Hill passed for 58 yards and ran for 18 more to help BYU fire its first salvo, completing an 88-yard drive with a one-yard touchdown run to tie the game at 7-7. But John Ross returned the following kickoff 100 yards for Washington, and the Huskies slowly took control of the game from there.
BYU's defense played well enough given the opponent, only directly giving up 24 points. This tied Oregon and Arizona State for the fewest points given up by any defense to Washington this year. Bishop Sankey lead Washington offensively, rushing for 95 yards and two touchdowns. Keith Price was a clean 17-22 for 123 yards and one touchdown.
BYU's offense also played well at times, running up plenty of yards, but as has been a narrative this season — Justin Sorensen kicked a BYU record 21 field goals this year — settled for plenty of field goals. Taysom Hill was a workhorse, throwing 48 times for 293 yards and running 31 times for 133 yards. Hill's 426 total yards accounted for 90% of BYU's offense.
The BYU special teams, however, had some significant struggles, giving up the Ross touchdown and another long return that set up Washington with a 35-yard field, which it would use to take a 21-13 lead. Punter Scott Arellano also failed to get off one punt and had another that traveled only eight yards.
After the game, Jamaal Williams, who had 31 yards on 12 carries, said, "Special teams is a great aspect of this game and [Washington's] were tremendous."
Head coach Bronco Mendenhall: "I told our team I was proud of them, I like how hard they played and our special teams needed to execute better." Mendenhall added that while there are clearly things left to fix with the offense, he was "optimistic about where we go from here. I love Taysom's leadership, I like the direction of the offense."
Cody Hoffman was Hill's main receiving target and had more than 100 yards by halftime. He broke the remaining two school records within his reach — his 18th career 100-yard game, breaking Austin Collie's record, and his 167 receiving yards pushed him past Curtis Brown in career all-purpose yards.
Washington's defense, which has been strong all year with a three-sack-per-game average, had five against BYU, with team sack leader Hau'oli Kikaha recording three himself.
After giving up a touchdown on Washington's first drive of the game, BYU handed the ball back to Washington deep in their own territory on the punt that never was kicked. The Huskies were unable to convert a second fourth-down attempt and enlarge their lead, as Kyle Van Noy was able blow up the play in the backfield.
Down 7-0 and with the offense stalled again, BYU ran a fake punt, direct snap to safety Daniel Sorensen from its own 20 yard line. Sorensen converted the 4th-and-2, and the Cougars went on to cash in the 88-yard drive for their only touchdown of the game.
BYU's offense looked strong at times, putting up 297 yards by halftime, but was unable to score in the second half. After the game, Hill said that Washington's safeties adjusted to play closer to line of scrimmage. Mendenhall then added that the way to adjust to Washington's move is to be able to hold protection long enough for the receivers to run past the safeties, something BYU struggled with tonight — and all year.
In the third quarter, Rob Daniel intercepted a pass and returned it deep into Washington territory, but BYU was unable to convert and Justin Sorensen missed a 44-yard field goal. Sorensen did make field goals of 45, 32, and 31 yards in the game. He finished the season a very solid 21-for-26.
Washington finished the final year of the Steve Sarkisian era with a record of 9-4 as Chris Petersen takes the helm.
BYU finished 8-5 for the second season in a row, this time against one of the most challenging slates in school history. Eyes now turn hopeful toward 2014, when BYU is scheduled to open the season with two road games at Connecticut and at Texas.