BYU Football Early 2014 Prospectus: Part 1 – Quarterback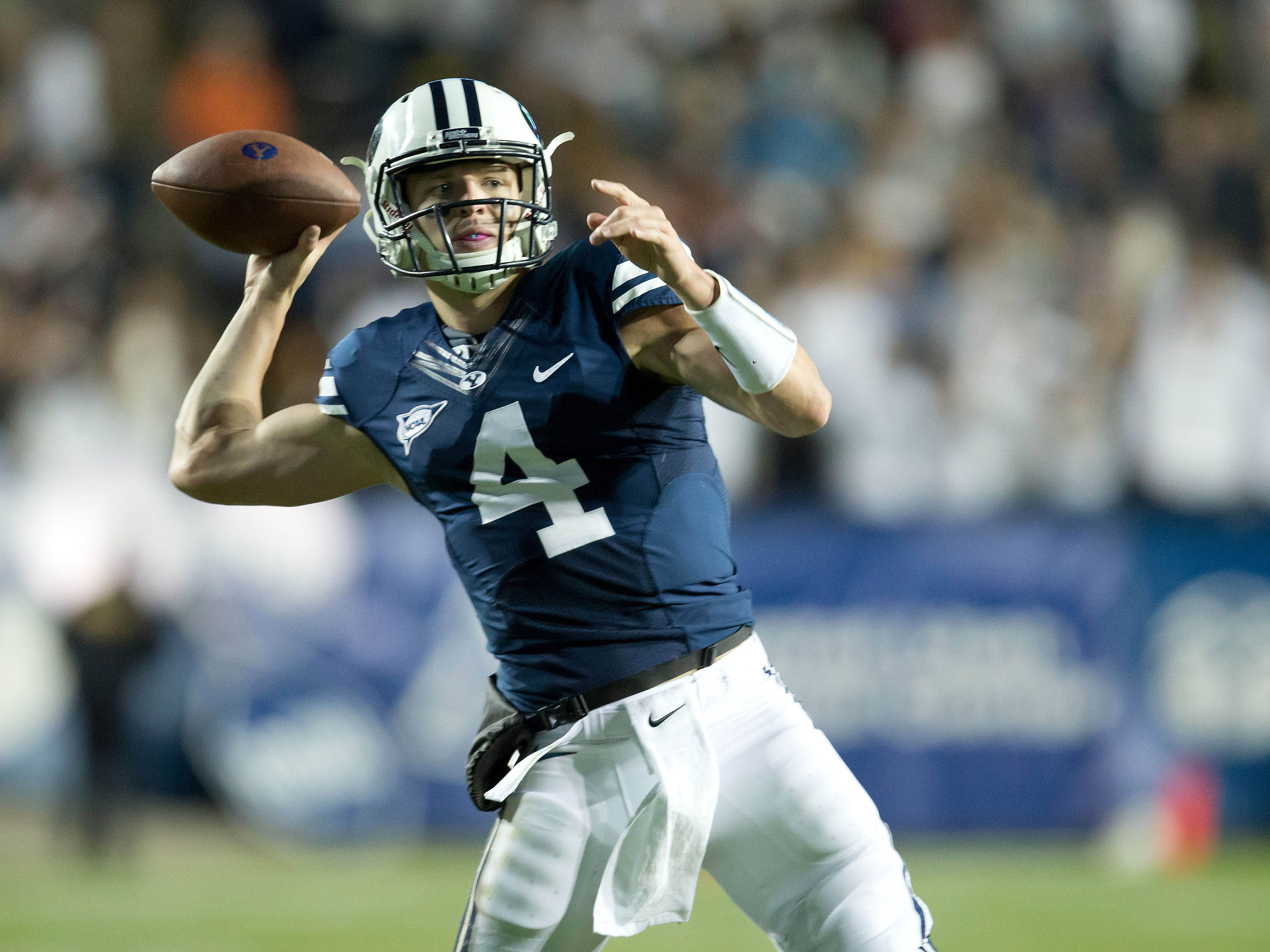 In Part 1 of an 11 part series, Brandon Jones takes a look at what 2014 has in store for the quarterback position.
Overview
As BYU football enters the offseason, I wanted to take a position-by-position look at the changes facing the Cougars in 2014. In this 11-part series, I'll begin with the group that is most field-ready, the Quarterbacks, and proceed in order to the position group that needs the most work in Spring and Fall practices to find the guys who will replace departing starters and develop their system knowledge in preparation for the season.
In anticipation of this preview, I have updated the Current Roster, Scholarship Totals, Missionary lists, and Depth Chart for 2014. Please take the time to review these pages if you're interested and let me know if you have any additional depth, missionary, or roster information. You can post a comment or email me here. If you are a member of Cougarboard, you can also send me a boardmail here.
Though the offseason is agonizingly long (244 days from the Fight Hunger Bowl to the 2014 opener in Connecticut on August 28), there are some football milestones to help us along the way:
February 5 – Signing Day
March 3 – Spring Practice Begins
March 29 – Blue/White Game
July 31 – Players Report for Fall Practice
August 1 – Fall Practice Begins
Quarterback
From a personnel standpoint, Quarterbacks coach Jason Beck seems to have the easiest job heading into the 2014 season. Taysom Hill will be the unquestioned starter in Spring and Fall camp and the offensive staff should look to get him as many first-team reps as possible to further develop his decision-making, passing ability, and familiarity with the offense.
With the recent announcement of backup Ammon Olsen's return to SUU, the battle to become the primary backup will take center stage in Spring and Fall camp. Christian Stewart and Billy Green will divide any meaningful practice reps as the major candidates to assume that role. Since Green still has a redshirt available, he would seem to be the most likely 3rd-stringer unless his abilities prove too valuable to ignore. If the coaches consider him a candidate to start at QB in 2016, they may continue to give him practice and game reps to prepare him to battle in 2016 with Tanner Mangum.
Walk-ons Hunter Moore and McCoy Hill (and potentially Brad Heap) will add depth to the group as needed, with Hill joining Heap as converted Tight Ends if the QB cupboard proves too full. The coaches were content with five rostered QBs through offseason practices and into the season in 2013. However, with the Tight End docket also relatively full (7 players slated for the fall), Hill and/or Heap may find themselves without a spot on the roster when the season rolls around.
With only three QB's currently on scholarship, the coaches are looking to pick up a late signee when Signing Day rolls around on February 5. Current targets include current Washington State commit Ronald Monroe and Texan WR/QB Keyon Dilosa. Both are scheduled to visit campus on January 31.
Current QB pipeline (based on players currently in the system)
Departing Scholarships: 2 – Jason Munns, Ammon Olsen
Returning Scholarships: 2 – Taysom Hill, Billy Green
Returning Walk-ons: 1 – Christian Stewart
Incoming Walk-ons: 2 – Hunter Moore (spring), McCoy Hill (fall)
Projected Depth Chart:
T.Hill
Stewart
Green
H.Moore
M.Hill/Heap
Click here for all current Early 2014 Prospectus articles.