BYU Football Early 2014 Prospectus: Part 3 – Cornerback
Updated: January 21, 2014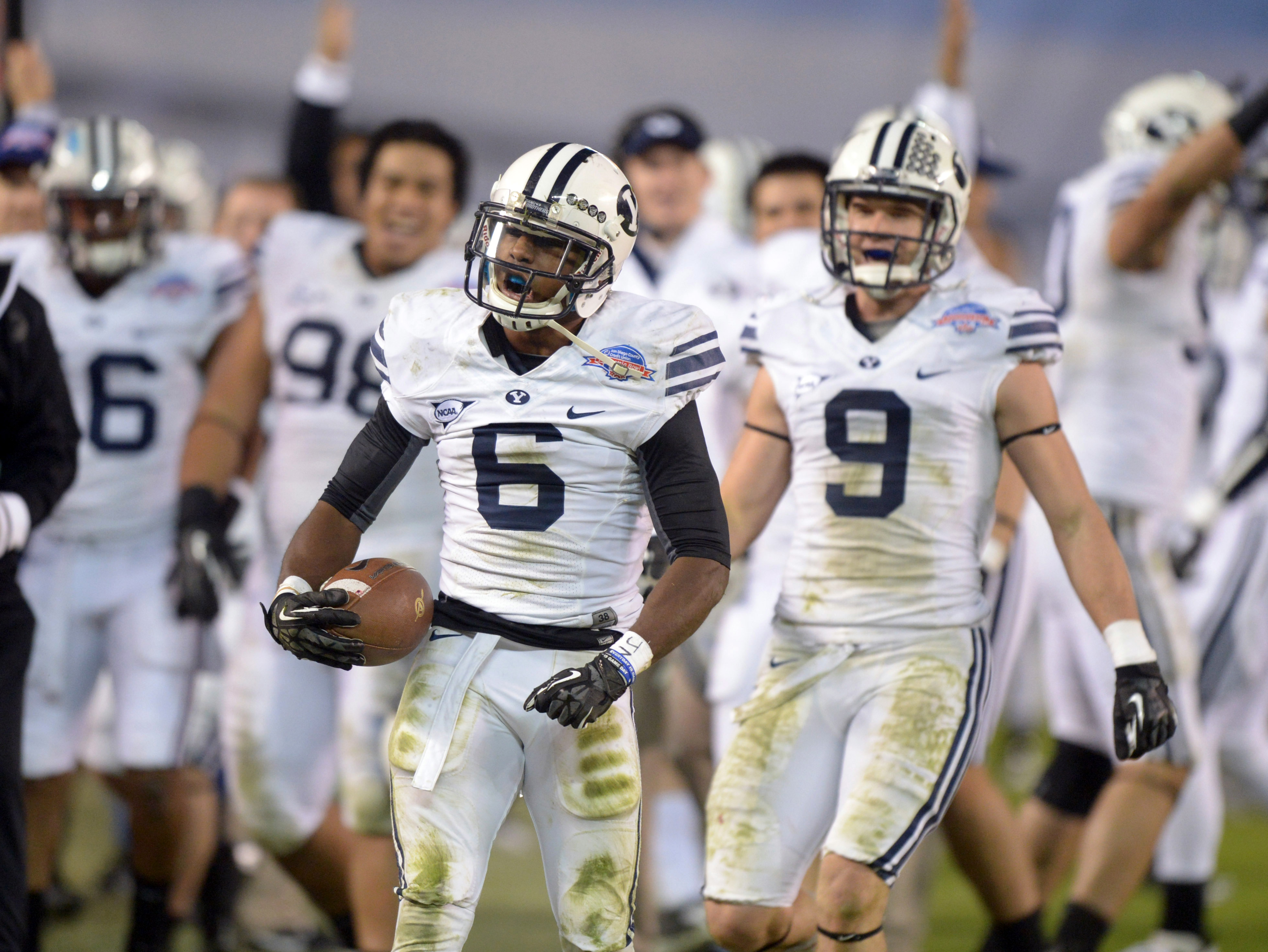 In Part 3 of an 11-part series, Brandon Jones reviews the outlook for BYU's Cornerbacks in 2014.
Cornerback
Entering spring camp in 2013, BYU was looking for a new star to emerge at Boundary Corner while returning Jordan Johnson at Field Corner. Just when coaches thought they found that star in JC transfer Trent Trammell, who earned high praise from teammates during offseason workouts and conditioning, Trammell tore his ACL on the first day of practice and was lost for the 2013 season. Matters were further complicated when Johnson also tore his ACL during the second week of practices in the fall. Another incoming JC transfer Sam Lee was forced to miss the season with a back injury.
Coaches scrambled to put together a piecemeal group consisting of four players better suited to play safety- Mike Hague, true freshman Dallin Leavitt, Rob Daniel, and Skye PoVey– as well as converted true freshman wide receiver Michael Davis. All things considered, the group performed admirably, leading the nation in Passes Defended (70) and helping BYU field the 16th-best Pass Efficiency Defense in the country.
Heading into spring camp this year, no once could blame Coach Nick Howell for suffering from a bout of déjà vu. Jordan Johnson returns for a Senior season in which the Field Cornerback position will be his to lose. Yet again, Howell will look to find a starting Corner on the Boundary side of the ball. And yet again, Trent Trammell would seem to be the most likely choice, assuming his performance on the practice field matches the endless hype that's been spouted for the past year.
Howell's main offseason goals will be to get his starters as many reps as possible (while limiting injuries) and to develop a solid hierarchy of trained players behind them. We'll know how successful he is in this endeavor by how quickly we see players switching positions away from the Cornerback corps. Rob Daniel should be switched immediately to Safety to take over for Craig Bills as Bills shifts to Daniel Sorensen's vacated Kat position. Assuming that Dallin Leavitt still has plans to serve a mission following this semester, I would expect him to remain with the Cornerbacks during Spring practice and switch to his natural Safety position following his mission. The movement beyond those two will be the key indicator in the coaches' level of confidence in their cornerbacks. If Michael Davis, Khalil Bell, and Skye PoVey are allowed to switch to their original positions (WR, RB, and S respectively), we'll know that the coaches feel good about the remaining players.
Assuming Johnson and Trammell to be the starters, the mix for backup spots in 2014 includes Sam Lee (who will miss Spring ball and potentially more after back surgery), Trevor Bateman, Howell's brother-in-law Skye PoVey, and true freshman Michael Shelton (who has already enrolled at BYU and will participate in Spring practices). Barring an additional late Signing Day addition, Khalil Bell and D.J. Doman will round out the group.
In conclusion, while the returning Cornerbacks only bring a combined total of 20 starts and 55 games played (of which Johnson and PoVey combined for all 20 starts and all but 4 game appearances), there is no shortage of available talent. The Cougar coaches should be able to churn out another solid unit that, on paper, could improve upon 2013's already outstanding performance.
Departing Scholarships: 4 – Mike Hague, Adam Hogan, Rob Daniel (move to safety), Dallin Leavitt (move to safety/possible mission)
Returning Scholarships: 5 – Jordan Johnson, Trent Trammell, Sam Lee, Trevor Bateman, Mike Davis (possible move back to WR)
Incoming Scholarships: 1 – Michael Shelton (Spring)
Departing Walk-ons: 1 – Scott Lefrandt
Returning Walk-ons: 3 – Skye PoVey (may play safety/nickel primarily), DJ Doman, Khalil Bell (possible move back to RB)
Projected Depth Chart:
FC: Johnson/Lee/Davis/Bateman/Bell
BC: Trammell/PoVey/Shelton/D.Doman
Click here for all Early 2014 Prospectus articles.