BYU Football Early 2014 Prospectus: Part 2 – Running Back
Updated: January 16, 2014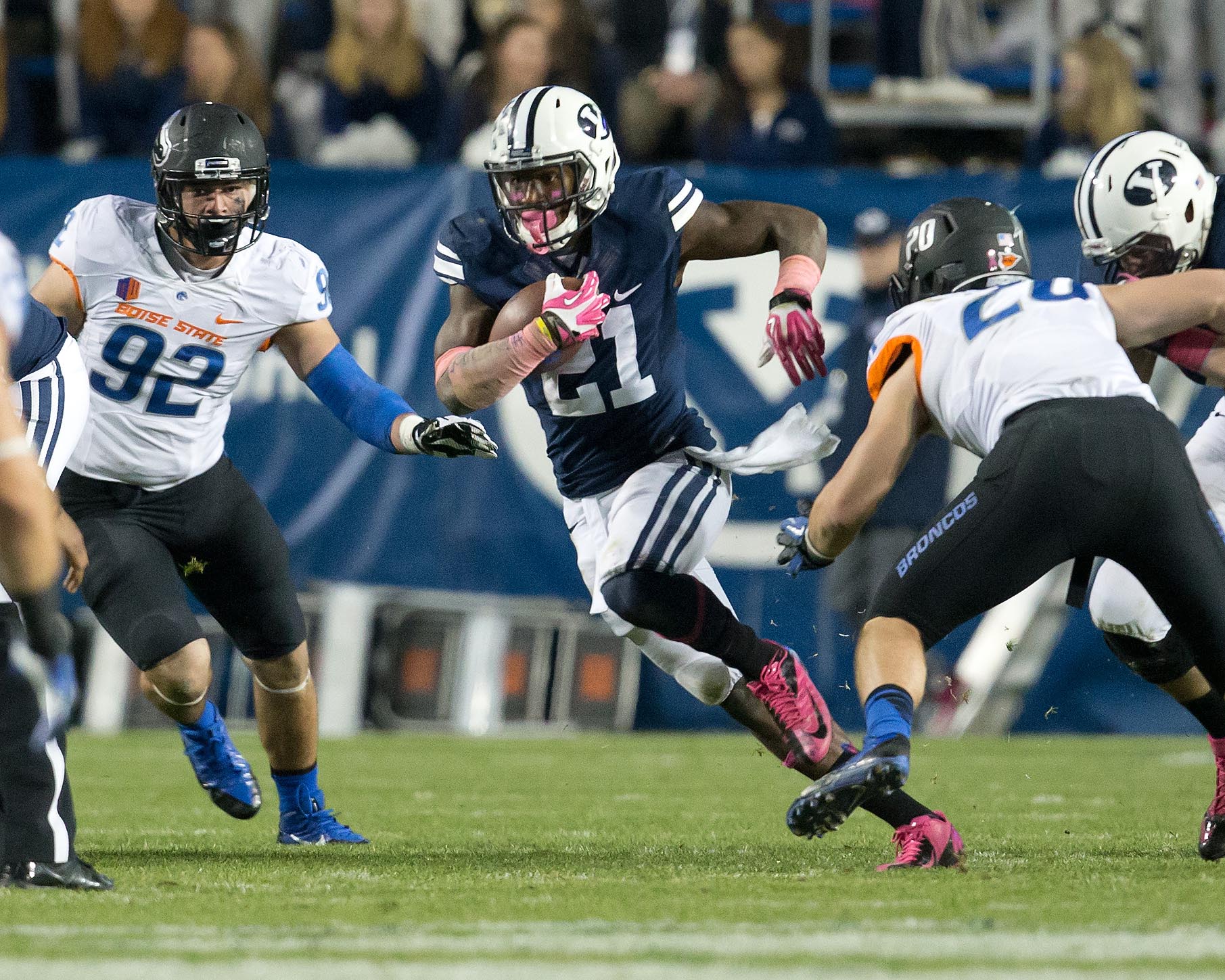 In Part 2 of an 11 part series, Brandon Jones examines the BYU running back position group heading into 2014.
Running Back
Running backs coach Mark Atuaia can afford to join Coach Beck for an occasional break, as his job will also not require much more than reinforcing fundamentals this offseason. The entire running back group at Coach Atuaia's disposal during the final nine games in 2013 will return for 2014. The only departure is Michael Alisa, who will shift back over to the defense to play outside linebacker.
2013 contributors Jamaal Williams, Adam Hine, Paul Lasike, and Algernon Brown will return in 2014 with an additional offseason of conditioning and position mastery under their belts. Iona Pritchard will also be back, and coaches hope to see him rise closer to the potential they saw in him prior to his devastating leg injury during the first live play of Fall Camp in 2011. Scholarship player A.J. Moore will be a year further removed from his mission rust and walk-on Nate Carter will continue to add depth.
Newcomers to the group will include walk-on Marcus Case, who returned in September from a mission to California. 5′-8″ true freshman and Texas speedster Cedric Dale will also join the mix for immediate playing time in the fall. His burst and body type compare favorably to Jamaal Williams.
Walk-on Colby Hansen will also look to rejoin the team in the fall. The coaches may also consider returning converted cornerback Khalil Bell to his originally-recruited position, as long as the injury bug doesn't wreak havoc once again on what could be an outstanding CB group.
In short, an improved RB corps combined with improvements to the offensive line should allow this group to flourish this year and remove some of the rushing load from QB Taysom Hill's shoulders.
Departing Scholarships: 1 – Michael Alisa (moving to Outside Linebacker)
Returning Scholarships: 6 – Jamaal Williams, Adam Hine, Paul Lasike, Algernon Brown, Iona Pritchard, AJ Moore
Incoming Scholarships: 1 – Cedric Dale (Fall)
Returning Walk-ons: 1 – Nate Carter
Incoming Walk-ons: 3 – Marcus Case (Spring), Colby Hansen (Fall), Khalil Bell (could move back from Cornerback?)
Projected Depth Chart:
Combo: Lasike/A.Brown/I.Pritchard/Case/C.Hansen
Tailback: Williams/Hine/N.Carter/A.J.Moore/Dale
Click here for all Early 2014 Prospectus articles.