BYU Football Early 2014 Prospectus: Part 4 – Tight End
Updated: January 27, 2014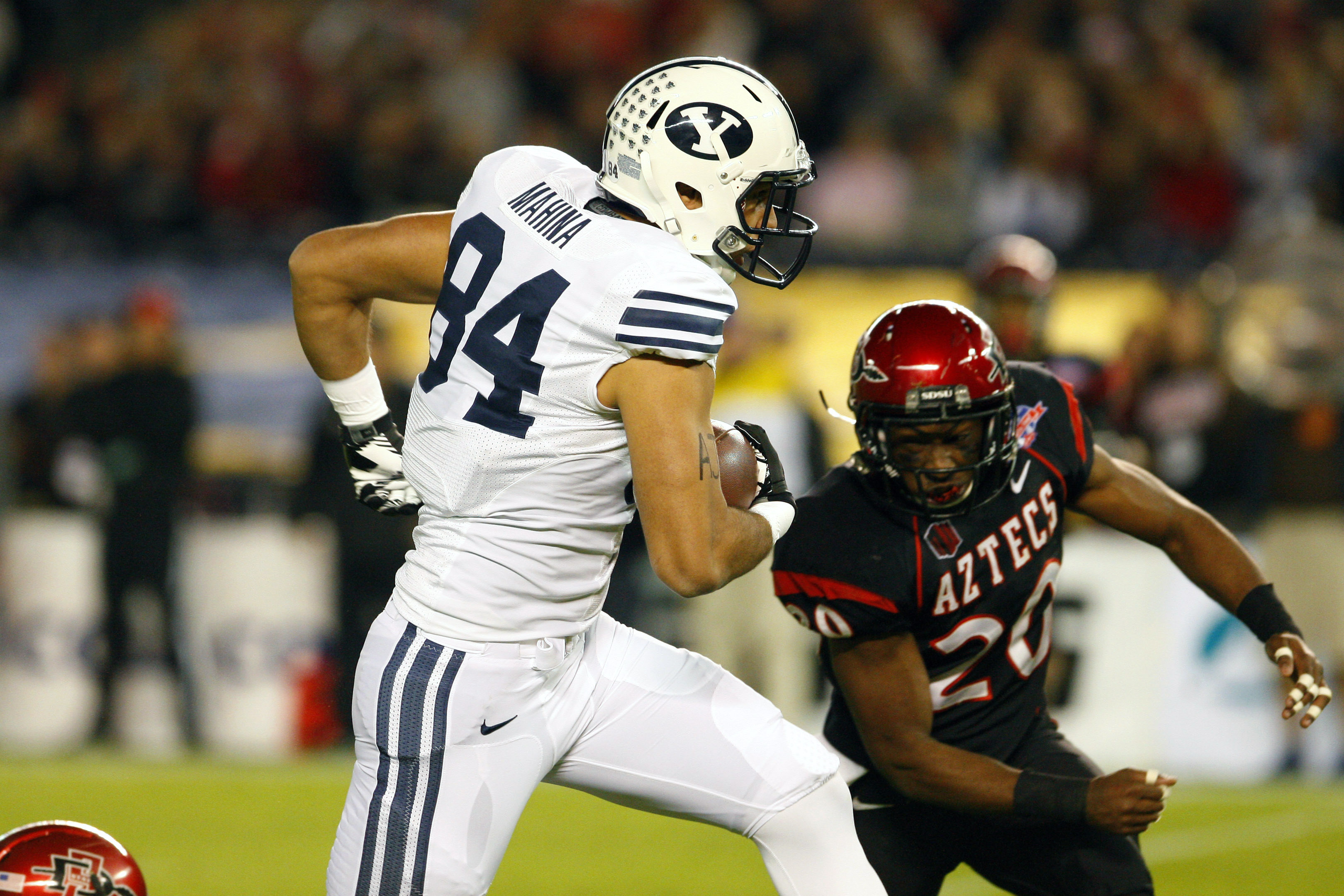 In Part 4 of an 11 part series, Brandon Jones examines BYU's 2014 tight end situation.
Tight End
From a personnel standpoint, not much will change with the Tight End group in 2013. Though program mainstays Kaneakua Friel and Richard Wilson have completed their BYU careers, Brett Thompson and Devin Mahina will return in 2014. The tight end group hasn't been the same since Dennis Pitta and Andrew George graduated in 2009. In the first five seasons of Robert Anae's offense at BYU, the tight ends averaged 1178 receiving yards a season. The patchwork 2010 group only caught for 451 yards, bringing an end to Anae's first O.C. tenure.
And while Anae's "Go Fast, Go Hard" offense in 2013 brought a net increase of 1200 offensive yards over 2012's performance, that improvement came entirely through the efforts of the running game. Despite running 108 plays more than the 2012 offense, the 2013 squad attempted 51 fewer passes for 272 fewer yards on a 53% completion percentage (down from 59% in 2012). If that wasn't a bad enough omen for the tight ends, they also saw a reduced role in the passing game, as they accounted for only 12.5% of the passing yardage, down from 17.6% in 2012. Indeed, the 368 receiving yards by the tight ends undoubtedly ranks as the lowest production from a BYU tight end corps since the 1970's.
There seems to be no reason why the tight end position can't be used effectively within Anae's new offense. Indeed, for a team with offensive line issues, the use of the tight ends would seemingly open up more quick pass options. So, what is the cause of the lack of production from the tight ends? Is it a result of trying to keep the offense simple for a young QB? Were there simply more trustworthy/experienced options among the WR ranks (Hoffman, Falslev, Ridley, etc.)? Or is the talent level of the TE group simply not where it once was? No matter the reason, we should see an improved performance from this group in 2014. Taysom Hill is a year older, the experienced WR options are gone, and some new faces will join the TE ranks.
Aside from Thompson and Mahina, tight ends coach Andrew George will get Terenn Houk back for 2014. Bryan Sampson will also return, a year removed from his mission. Walk-on Brad Heap rounds out the list of returning players, but he may move to quarterback or be forced off the roster if neither position has room for him.
Incoming true freshman Matt Sumsion will join the team for Spring practice and Colby Jorgensen will return from a mission to Calgary, Alberta, Canada in time for fall camp. Talented walk-ons Grant Jones, Trevor Brown, and McCoy Hill will also return from missionary service in time for fall practices. It remains to be seen how many tight ends will be carried on the roster this fall. Only seven were rostered in 2013 and if the tight end's role in the offense does not increase, it seems counterproductive to carry 10 players (of 123 total rostered) to man a single offensive position that only accounts for 6% of BYU's offensive production.
This much is certain: something needs to change to bring this group back to former glory and help the offense take another step forward in 2014.
 Departing Scholarships: 2 – Kaneakua Friel, Richard Wilson
Returning Scholarships: 4 – Brett Thompson, Devin Mahina, Bryan Sampson, Terenn Houk (may play slot receiver)
Incoming Scholarships: 2 – Matt Sumsion (Spring), Colby Jorgensen (Fall)
Returning Walk-ons: 1 – Brad Heap (may play QB)
Incoming Walk-ons: 3 – Grant Jones (Fall), Trevor Brown (Fall), McCoy Hill (Fall, may play QB)
Projected Depth Chart:
Thompson/Mahina/Houk/B.Sampson/C.Jorgensen/Sumsion/G.Jones/T.Brown/Heap/M.Hill
Click here for all Early 2014 Prospectus articles.