BYU likely out for 2014 QB Ronald Monroe after Vanderbilt offer
Updated: January 27, 2014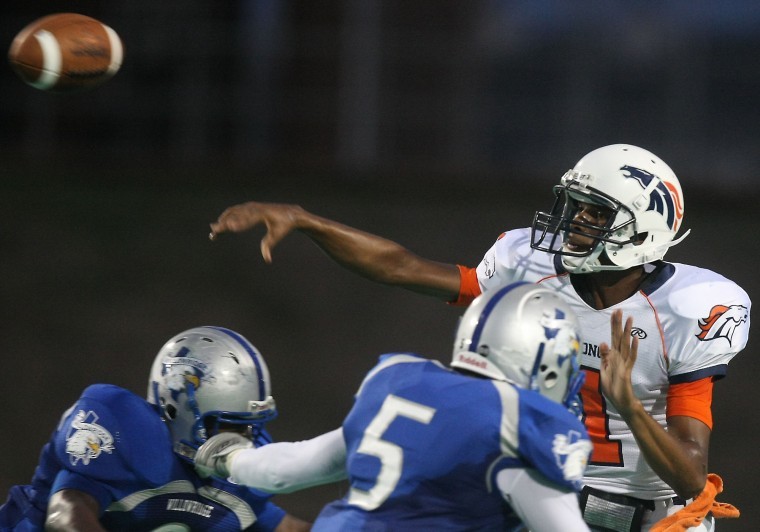 Sunday offers may have bumped BYU out of the running for the talented Texas athlete.
BYU fans hoping for a talent infusion at the quarterback position following the departure of Ammon Olsen may not get it, at least not out of 2014 three-star prospect Ronald Monroe.
On Sunday, the 6-foot-2 Monroe received offers from Vanderbilt and TCU. Monroe, currently committed to Washington State as a receiver, visited San Jose State last week and was scheduled to visit BYU this Friday, Jan. 31. Both SJSU and BYU are interested in him as a quarterback. But his visit to BYU is being supplanted by a trip to Vanderbilt, according to Britton Ransford of Wazzu Watch, Washington State's Rivals site.
This was confirmed by a Twitter account dedicated to the recruitment of both Ronald and Donald (his twin brother), which seems to be run by a relative, when asked if Ronald was going to visit BYU. The answer: "no delayed."
I suppose the inclusion of the word "delayed" doesn't shut the Cougars out entirely, but it seems the decision to replace an official visit with one to another school makes it pretty clear where BYU stands with Monroe.
As of now, the only QB slated for BYU's 2014 class is two-star prospect Neil Pau'u, brother of BYU linebacker Butch Pau'u (who has been serving a mission), who appears to have played more receiver than quarterback in his senior year of high school, according to his MaxPreps page.