Women's soccer caps off 'Bizzy' day with eight new players
Updated: February 6, 2014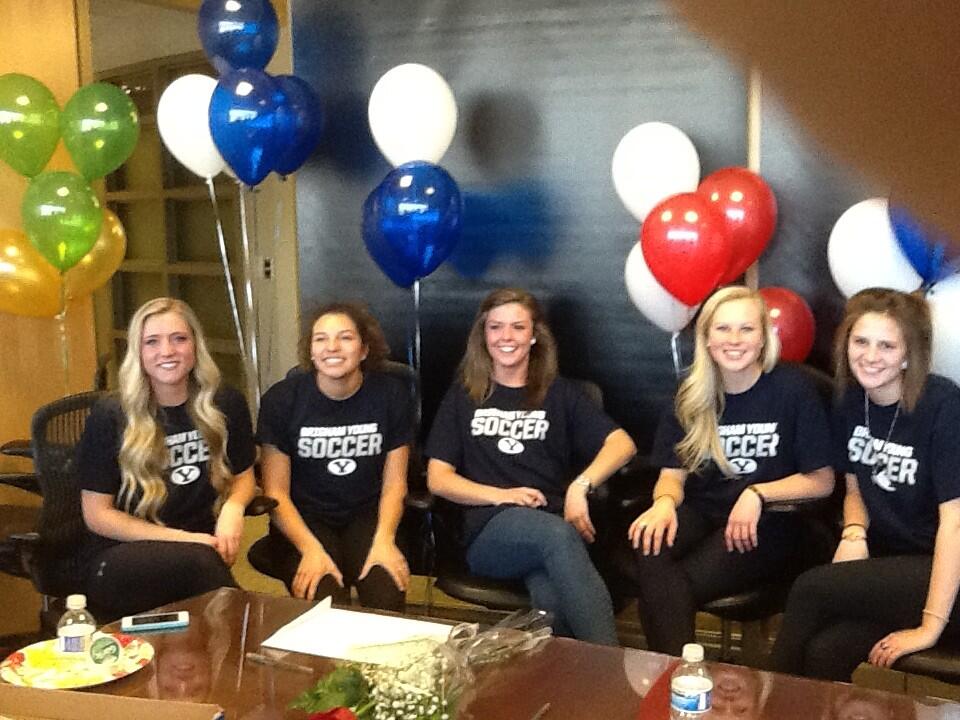 The reigning Deseret News Ms. Utah (and a relative of one of BYU's biggest nemeses from the 2013 football season) led a wave of eight players to sign with BYU women's soccer at Wednesday's National Signing Day.
One of the biggest stories in the state of Utah during college football season was Ute standout Andy Phillips, who took time away from the U.S. men's ski team to serve as Utah's placekicker during a 5-7 season.
Next year, he may not even be the biggest story in his family.
Younger sister Elisabeth 'Bizzy' Phillips signed a national letter of intent to player soccer at BYU on Wednesday, capping eight new signings for the Cougars. Included in that group are six players from Bizzy Phillips' Sparta United club team in Salt Lake City. Each player hails from the state of Utah — just one year after BYU signed a class of seven from five states.
Bizzy earned Deseret News Ms. Soccer honors as a senior after leading her Alta High School teammates to the postseason. She scored 23 of her 58 career goals in her final campaign, good enough to also take Utah Gatorade player of the year status.
The center midfielder hails from an athletic family, as well. Aside from older brother Andy, dad Greg Phillips played collegiate soccer at BYU, and two older brothers both played at Whitman College in Washington.
Bizzy Phillips wasn't the only signing at BYU on Wednesday. Below are the other seven who inked their names to represent the Cougars in the West Coast Conference for the next four years.
Carla Swenson, MF
A Brighton High School graduate, Swenson made waves locally when she gave up her senior season to try out for the Columbia U-20 women's national team. A dual-citizen, the Utah native is eligible for national team membership on her mother's bloodline. The spritely, 5-foot-3 midfielder is known for her technical ability and aggressive finishing around the net.
Rachel Bingham, MF
Bingham tallied 13 goals and 11 assists in leading Maple Mountain High School to a 14-3-1 record and a spot in the UHSAA Class 4A quarterfinals. The Sparta United club player also earned NSCAA all-America status as a senior.
Alyssa Jefferson, D
Originally committing to Utah in February, the six-time state cup champion from Sparta United and Jordan High School flipped to BYU after an ACL injury sidelined her for much of her senior season.
Madie Lyons, F
The only true forward in her recruiting class, Lyons is a two-time all-State honoree who played for Alta High School and Sparta United in Salt Lake City. The grand daughter of former BYU quarterback and current KSL color analyst Mark Lyons, Madie Lyons led the Hawks to a 19-2-1 record while also excelling on the track.
Shaylyn Orr, D
A two-sport athlete in soccer and basketball, Orr has started every game since her sophomore year — whens he helped the Hawks to the Class 5A state championship. The Sparta United club player also received an offer from Utah State.
Stephanie Ringwood, MF
The younger sibling of former BYU star Jessica Ringwood Apo was a two-time state champion and two-time all-state pick at Brighton, as well as another member of the Sparta United team that fielded nine Division I soccer commits.
Nadia Gomes, MF/F
Another Brighton product, Gomes scored 15 goals to earn Class 5A Most Valuable Player honors as a senior. Also a member of the Portugal U-19 women's national team.