Cougars cruise by Weber State in NCAA 1st Round
Updated: November 15, 2013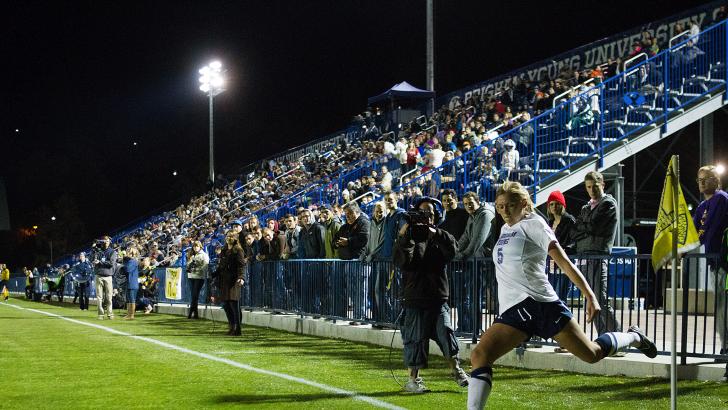 BYU women's soccer put together a solid first-round win over Weber State to advance in the NCAA Tournament.
Marissa Nimmer is used to stepping up to the corner on set piece opportunities for the BYU women's soccer team. So used to it, that she knows what makes a good corner kick. Her first chance Friday night didn't feel like a good kick.
It didn't matter.
Nimmer's kick in the eighth minute bounced around the six-yard box like a pinball before falling off the back of a Weber State defender for an own-goal, and BYU cruised to a 4-0 win over the Big Sky champion Wildcats in an NCAA Tournament first-round game at South Field. Nimmer finished with an assist on the night, on top of the setup on the Weber State own-goal.
"I thought it was too close (to Weber State goalkeeper Ryann Waldman), but I know if I hit it in the air, we have a ton of players who can head the ball in," Nimmer said. "I knew someone would be there."
The own goal was only the beginning of the onslaught BYU (15-4-1) laced on the Wildcats (10-5-5), who were making their first tournament appearance since 2005. BYU coach Jennifer Rockwood "felt" a corner-kick goal coming, and the ice breaker paid immediate dividends.
"It helped us settle down," Rockwood said. "We've had a lot of (corner kicks) this year. Nimmer put up a great one, very dangerous; that's why she takes them for us. We had people crashing the goal, and they're tough to handle."
A little more than 20 minutes later, BYU used a one-two play to settle even more into the game. Jaiden Thornock added a goal just after the half-hour mark, bending a through ball from Niki Fernandes just inside the far post to go up 2-0.
"I saw the ball bounce up, controlled it, and I just got my shot off," Thornock said. "That's what my job is as a forward: to get my shot off. Luckily, it fell my way and I was able to get my shot and my team was able to open the field for me."
Thornock's goal came less than three minutes after she stepped onto the field as a substitute, and the changes were perfectly set to keep the Wildcats off balance. Weber State didn't record a shot on goal until the first minute of the second half.
But the first five minutes after the break proved crucial in the end. The Wildcats put up four shots, including three on goal, as Erica Owens and the BYU defense were called into action.
Owens finished with four saves to preserve the shutout, also allowing defender Paige Hunt to get into the attack for three shots on goal.
"Erica is so great, because she doesn't have to touch the ball a lot in a game," Rockwood said. "She's ready when she's needed, and she seems to always come up with a couple of big plays. We're certainly going to need her as we advance into the next round."
After Fernandes' 49th minute shot on goal, the Cougars controlled possession the rest of the way. Colette Jepson Smith took a pass from Nimmer, then raced down the sideline to chip the goalkeeper and put BYU up, 3-0 in the 52nd minute.
The Wildcats went down a man in the 68th minute, when defender Kellyn Olsen was sent off with a red card after denying BYU's Ashley Hatch of a goal-scoring opportunity. Ella Johnson stepped up to the penalty spot, and the conversion gave BYU the final 4-0 scoreline.
"We work a lot together in practice, focusing on connecting passes and find each other and our forwards," Nimmer said. "When we get in the game, it just comes and we are able to connect well."
The Wildcats' last tournament was in 2005, when the upstart squad from Ogden, Utah, posted a 1-1 tie at BYU before advancing on penalty kicks, 4-3. The Cougars own the regular-season series, 14-0 all-time.
The NCAA Tournament will continue Thursday, Nov. 21 with games at neutral sites. BYU will face the winner of Denver and Colorado, which will be played Saturday afternoon.