WCC Tournament: 3 keys to beating San Francisco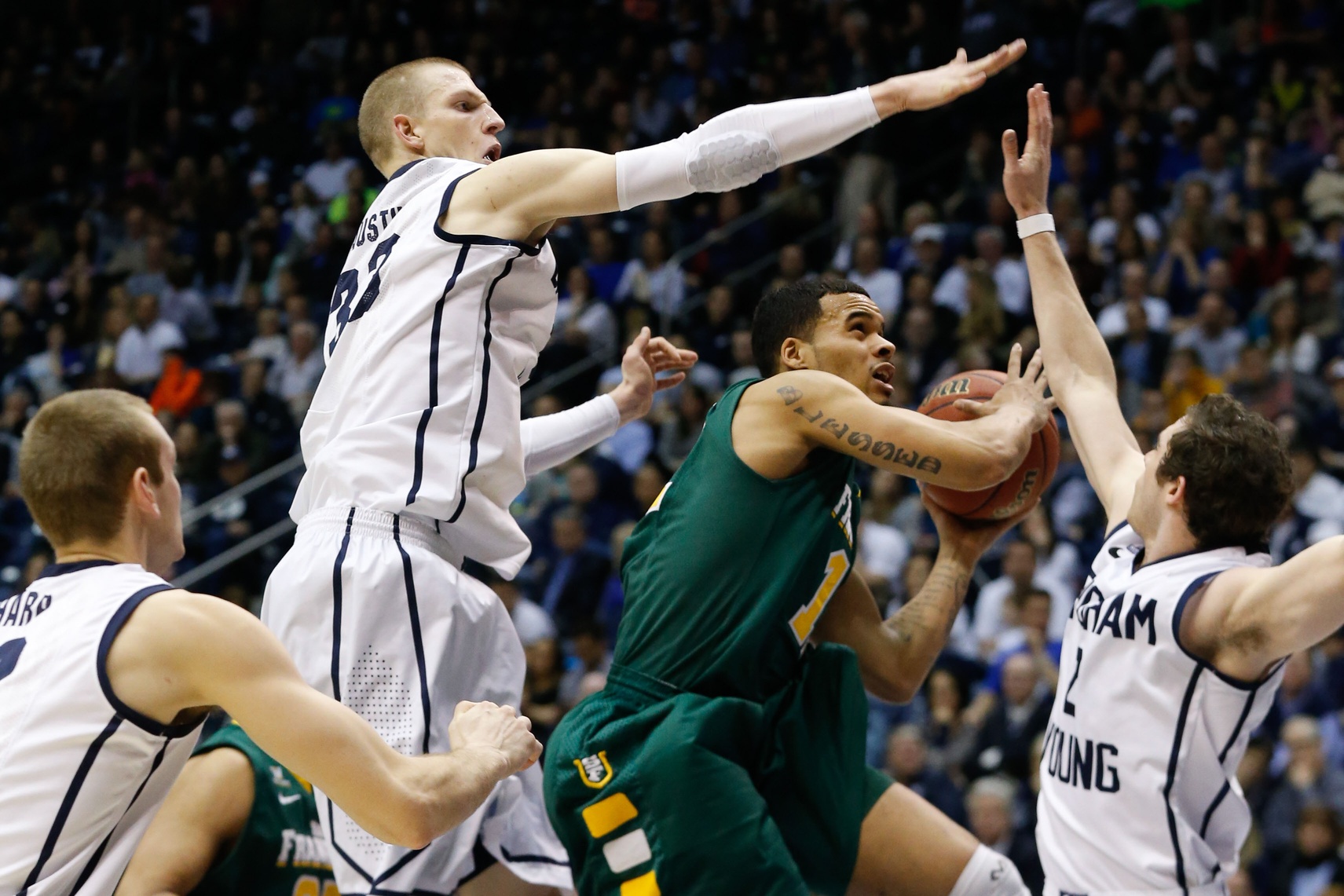 Brett highlights three important elements to BYU beating San Francisco in the WCC Tournament semifinals.
They say it's hard to beat a team three times in a season. (If you ever find out who They is, kindly let me know.)
BYU ventures to do just that late Monday in the WCC Tournament semifinals against the San Francisco Dons. Similar to BYU, head coach Rex Walters has USF playing its best basketball at the right time. The Dons have not lost in a month's time (since visiting Provo) and have won six straight, including Saturday's quarterfinal win over San Diego.
The Cougars are 5-1 against San Francisco since joining the WCC. This is the first meeting between the two schools in the conference tournament.
Any list of "keys to the game" can probably apply to any game of basketball ever played — "make shots," "don't commit turnovers," etc. But I've attempted to use games against San Francisco to see what BYU did or did not do well in the past. So here are my mostly-well-reasoned keys to beating USF.
CREATE TURNOVERS
In the quarterfinal round of the tournament, San Diego let USF be mostly comfortable in its offense. While the game was by no means a show of proficient offense, Avry Holmes, Matt Glover, and company were mostly allowed to operate free of duress and the Dons committed only nine turnovers.
The turnover battle was key in BYU's 83-76 win at USF earlier this season. The Cougars committed only 10 turnovers while forcing the Dons into 16 — a number 4.3 above USF's season average. This was instrumental in helping BYU overcome a bad day on the glass. USF outrebounded BYU 40-29, including 16-9 on the offensive glass. Seven more offensive rebounds led to (you guessed it) seven more field goal attempts than BYU. The Dons may have won that game by sheer number of shot attempts had BYU not caused as many turnovers.
Carlino, Collinsworth, and Halford combined for eight steals in that game. The addition of Anson Winder and his solid defense to the rotation should help bolster the Cougars' effort in the turnover battle. Winder played five and three minutes in the two games against San Francisco.
A similar turnover effort should lead to positive results today.
CHASE 3-POINT SHOOTERS
A key area that has helped BYU to its 2-0 mark against San Francisco this season is limiting damage at the three-point line, something that really kills the Cougars when they are unable to do it.
The Dons are averaging 18.5 three-point attempts per game this season, but put up only 12 per game versus BYU. San Francisco shot 5-of-10 and 5-of-14 in the two games this season — decent percentages, but much more manageable than other three-point outcomes BYU has faced this season (giving up 10 three-pointers against Pacific or 14 to Portland).
The only time San Francisco has beaten BYU in conference competition infamously came last year in Provo, a loss that completely flattened BYU's at-large hopes for the NCAA tournament. In that game, the Dons shot a blistering 14-of-23 from behind the arc — interestingly, the same numbers in this year's Portland loss.
Advanced statistical analysts will tell you ad nauseam that the only shots worth shooting are three-pointers and shots near the rim. BYU needs an active defensive effort, especially in limiting the three-ball that has done it so much damage this season.
MAKE FREE THROWS
BYU is shooting 68.4% from the line as a team this season. It's not a great number, and the only team doing worse in the WCC is … wait for itttttt … San Francisco, at 64.9%. When BYU came uncomfortably close to dropping another home contest against USF this year, the Dons shot a not-good 6-of-11. But the Cougars left a massive number of points on the floor by shooting 14-of-29, a frigid 48.4%. Even a 70% outing would have added six more points to BYU's cushion. That's kind of a big deal.
On the flip side, BYU got to the line an impressive 37 times at San Francisco, making 28 for a respectable 75.7% day at the line. After being down at halftime, BYU built a nine-point lead with nine minutes remaining, then shot a remarkable 16-of-19 from the charity stripe the rest of the way.
This was BYU's first road game following the horrific Loyola Marymount-Pepperdine trip that began conference play. What saved the Cougars' road confidence possibly for the entire season was calmly hitting free throws. Statistically, you can count on the Dons to shoot poorly from the line. If BYU can manage to perform just a bit above its average, it could account for a major point difference — even decisive enough to account for a win.