WCC revenue more than doubled from 2007 to 2012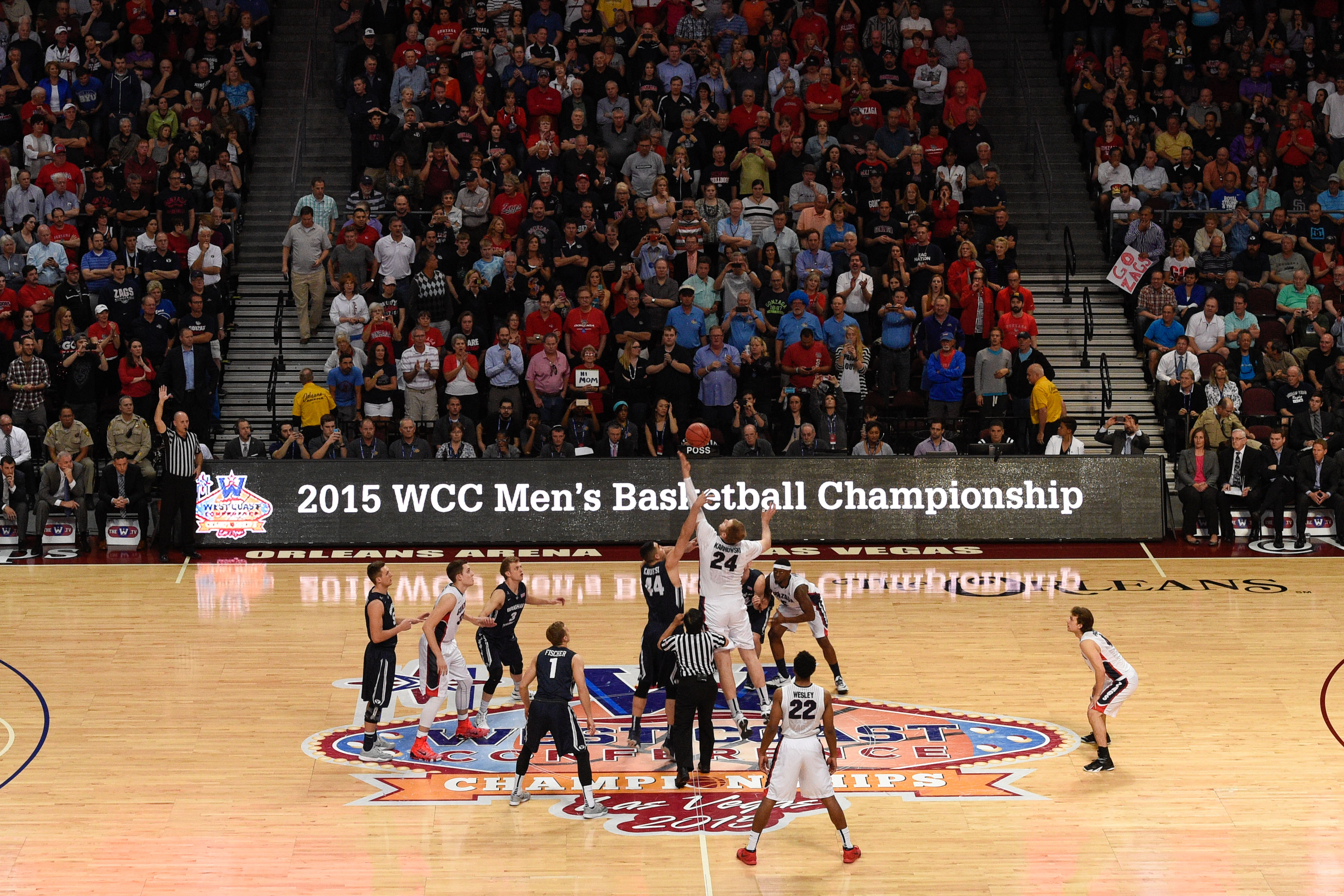 During his time as commissioner of the West Coast Conference, Jamie Zaninovich oversaw expansion of the membership from 8 schools to 10, adding BYU and the University of the Pacific.
Loyal Cougars can also report that Zaninovich's time as commissioner was successful financially as well. According to the conference's non-profit tax filings, overall conference revenue expanded from $3,459,485 in 2007 to $8,431,590 in 2012, a 143 percent increase.
The revenue pulled in by basketball-only conferences is miles away from the football-driven TV contracts of the Power 5 conferences. Major conferences have recently started paying about $20 million per year per team.
Still, reported per-team distributions have also doubled. WCC tax documents report in 2008 Gonzaga was paid $286,834 while the other 7 schools were granted an average of $122,173. Four years later in 2011, Gonzaga was paid $520,431, BYU was paid $457,026, and St. Mary's College was paid $357,026. The rest of the conference averaged $259,693 per year.
Like total revenue, it looks like payments to teams more or less doubled for everyone over Zaninovich's tenure. Not a bad record for any CEO.
It's possible that some of the conference's financial activities fall outside the cash grants reported. Educational programs, for instance, are perhaps being funneled through the schools, but are reported differently than the cash grants.
The 2012 financial filing shows a rise in revenue from 2011, but a slight drop in money distributed to Gonzaga, BYU, and SMC. The conference made more than $1,000,000 more in 2012 revenue than in 2011, but when totaled, distributed just over $100,000 less to all schools. Perhaps the investment in building the digital network TheW.tv accounts for the extra expenses.
Gonzaga was paid slightly less in 2012 than in 2011, $449,277, as was BYU, $312,015, and SMC, $256,277. The rest of the conference was up however, averaging $284,610. If indeed the WCC is building TheW.tv out of the decreased distribution, Gonzaga, BYU, and St. Mary's are not only helping the rest of the conference get on TV more with good basketball, they're largely paying for it as well.
It's probably a good investment. Gonzaga could be hoarding more of the cash they've made on tournament runs, but having a stronger conference with games available on TV will probably help them, and BYU, more in the long run. To have the rest of the conference earning more in 2012 than Gonzaga was earning in 2008 is pretty good progress for everyone.
Something to watch in the future is if the 2012 investment was a one-time payment or an ongoing expense. Hopefully BYU's and Gonzaga's payments are back into the $500,000 range for 2013.
Every college sports TV contract must balance exposure (which channels and what times) with the cash paid. The only rule of college sports is everyone gets what they can negotiate for. The WCC is being very friendly to the Cougars by allowing BYU to retain its own home games for BYUtv. The Mountain West wouldn't even release the replays of football games to BYUtv and tried to squeeze as much revenue as possible out of every game.
The conference does get some good exposure in return for allowing BYUtv to broadcast most of BYU's home games. Along with the games being produced by BYU, the conference also gets half of its conference tournament broadcast on BYUtv. It seems like a good partnership.
The conference revenue largely comes from NCAA appearances, the WCC tournament, and regular season ESPN games on TV. Gonzaga, BYU, and St. Mary's earn the bulk of that money. They are given a larger share, but it's good to see revenue growing for the other schools as well. The conference has improved on the court and will hopefully continue to see improvement in that area.
An email to current WCC officials asking for comments about the financial information was not returned.
For comparison, there have been a few widely reported basketball-only TV contracts struck recently. Fox is paying the reformed Big East $500 million over 12 years, or about $4 million per year per team. It seems like a lot of money for not a lot of ratings. The Big East teams wanted cash and were willing to gamble exposure to get it. I'm sure both parties are hopeful ratings will improve before their 12 years are up. The Big East tournament and championship were particularly disappointing.
If you really want to feel bad for someone in the conference realignment game, it's UConn, who has to watch its old basketball-only friends pull down more money from Fox than the Huskies get from ESPN. The American's distribution contract brings in about $2 million per team per year- figures similar to the Mountain West, really (other than for Boise State). The Huskies get to watch Georgetown and Villanova earn more from basketball alone than they get for all their sports. At least UConn is getting a big chunk of the $70 million left by everyone leaving the Big East, but that will all paid out by 2020.
Something more comparable to the WCC is perhaps the Atlantic 10. The 16-school A-10 reportedly split $5 million per season or about $300,000 per year per team from their TV deals alone. It is a solid basketball-only conference doing a lot of the same kinds of things the WCC is doing, but with the added benefit of working with East Coast schools in some large TV markets.
As the WCC moves forward, revenue sources likely aren't going to change much. Maximizing each of the three current sources: more teams into the NCAAs with deeper runs, more games on ESPN during the season, and a bigger conference tournament will be key for the conference to continue to build on the growth seen over the last few years.