Haws missing FTs at Gonzaga was stunning…or was it?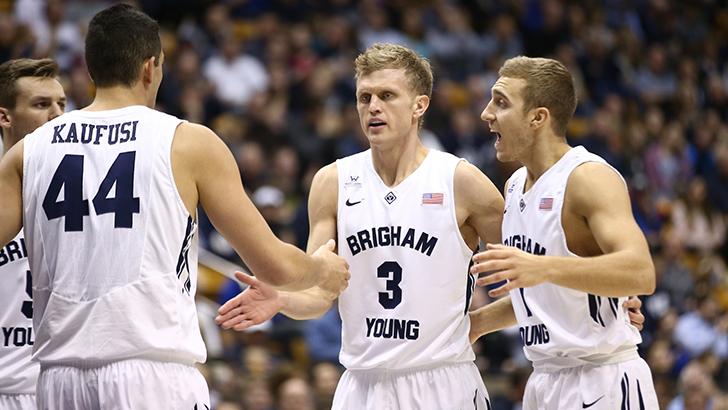 When Tyler Haws missed two free throws in the closing seconds of BYU's dramatic win over Gonzaga, Cougar fans everywhere were stunned.  Haws is one of the greatest basketball players to ever play at BYU.  He is BYU's all-time leader in points, free throw percentage, free throws made, minutes played, and games started.  He's done it all…except make a game-winning shot.  [Note: 4 days after this article was written, Haws hit is first game-winning shot vs. Santa Clara in the WCC tournament…]
How could this be?
Haws will always be remembered for his consistency.  Nearly every night, he scores 20 points.  However, in close games this year, his shot is failing him.
BYU has played in 14 games this year decided by fewer than 10 points.  In these single-digit games, in the final 2 minutes, Haws has shot 4-21 (19%) from the field, and only 1-10 (10%) from three-point range.  From the free throw line, he's shooting 73%.
Compare this with his career averages:
Career
(full game)

Senior Yr. Close Games
(last 2 minutes)

FG
47.7%
19.0%
3pt
37.9%
10.0%
FT
88.3%
72.7%
Clearly, making shots at the end of games, especially against good opponents, is difficult for anyone.  Danny Ainge recently said: "The hardest guys to find…are scorers at the ends of the games who can finish".  But this is Tyler Haws, the leading scorer in BYU history we are talking about.  The drop-off is dramatic.
I've wondered many times why Tyler Haws does not have even a fraction of the national recognition that Jimmer had.  One reason is Jimmer won championships, and NCAA tournament games.  Another is Jimmer's ridiculous range on 3-pointers.  Jimmer also had a different name and an interesting background.  But, one of the major reasons, I believe, is because Jimmer was clutch.  When the game was on the line, he delivered.
Here are Jimmer's comparative stats:
Career
(full game)

Senior Yr. Close Games
(last 2 minutes)

FG
45.5%
44.4%
3pt
39.4%
55.6%
FT
88.2%
91.3%
In baseball terms, Haws is an amazing middle reliever.  He does all of his work in the middle of the game.  He's had a Hall of fame career.  And I'll love him forever.
He's just not a closer.
Follow John Ahlander on twitter at @NoneTheYser
Source stats here