BYU Football Early 2014 Prospectus: Part 11 – Inside Linebacker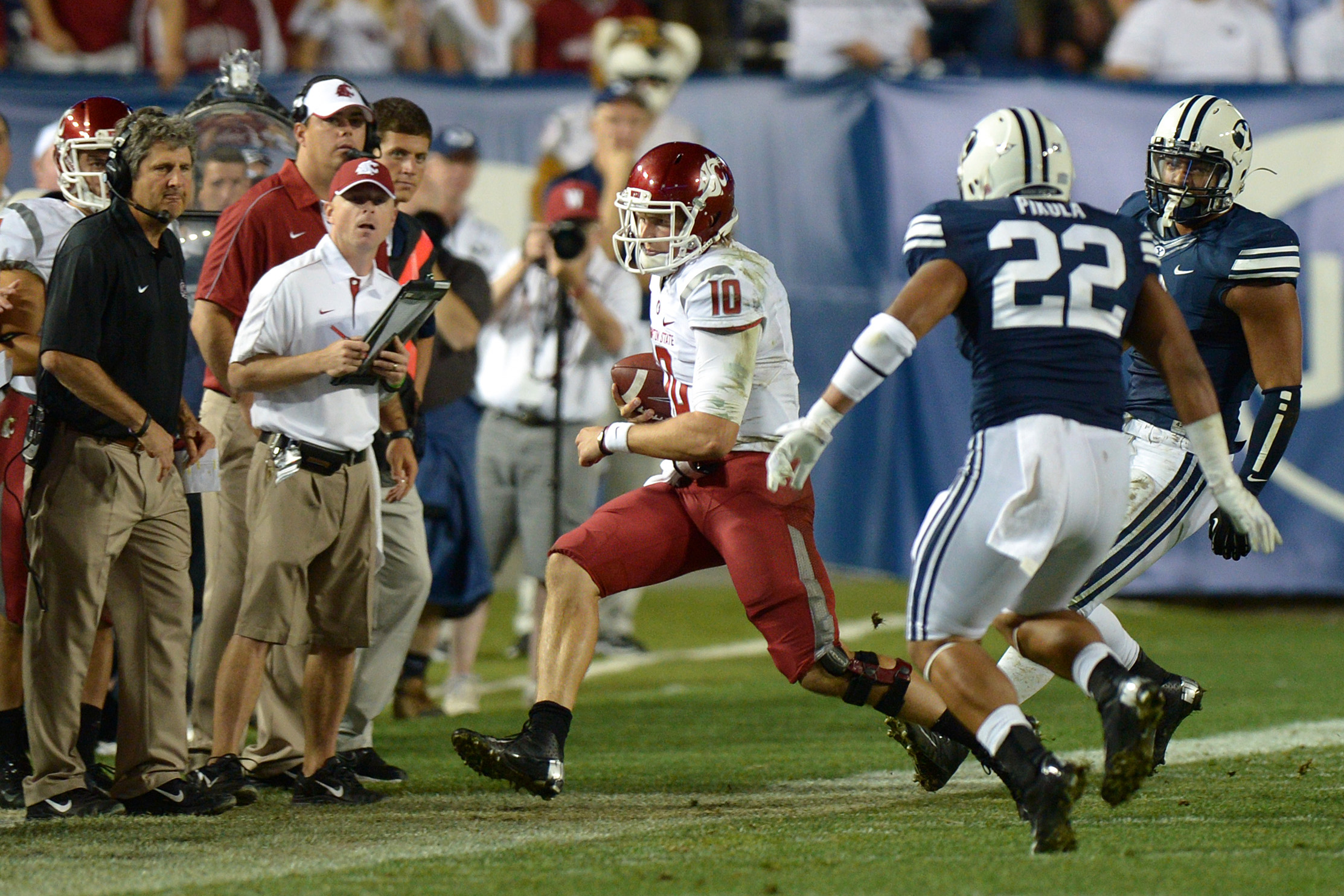 In the final part of an 11 part series, Brandon Jones previews the BYU Inside Linebackers heading into the 2014 season.
Inside Linebacker
We've previewed each position group on BYU's 2014 football team and today, we take a look at the group with the most turnover from 2013: the Inside Linebackers. The three players who saw the most playing time, Uani 'Unga, Austen Jorgensen, and Tyler Beck have all graduated. The returning ILB's combined have started just one game (Manoa Pikula started against Notre Dame in 2013). The returning players accounted for only 39 of the 275 tackles recorded by inside backers in 2013. Coach Paul Tidwell has his work cut out for him as he finds the six guys who will see the field in the middle of BYU's defense this season. And similar to the situation faced by some of his fellow coaches, he leads a group lacking experience but high on talent.
Manoa Pikula has received high praises from the coaches and should have the inside track to nailing down one of the starting jobs. The only other players returning to the inside linebacker position from 2013 are post-mission redshirt Toloa'i Ho Ching and 2013 mop-up man Teu Kautai. Class of 2013 recruit Rylee Gautavai left in January to serve a church mission to Montreal.
Three scholarship players have joined the team this spring. Jherremya Leuta-Douyere shifts over from the outside and brings a little bit more game experience to the inside (Leuta-Douyere has played in 22 career games for the Cougars). Austin Heder and Adam Pulsipher have rejoined the team following missionary service to Montreal, Canada and Rancagua, Chile respectively.
Two additional scholarship players will return from missions before the opening of fall camp. Phillip Amone was a member of BYU's 2012 recruiting class and will return in July from the Chile Osorno Mission. Va'a Niumatalolo, son of Navy head coach Ken Niumatalolo, was a walk-on in the 2011 team and impressed the coaches enough to earn a scholarship for this season. Niumatalolo returns in April from the Utah St. George Mission.
Of the four walk-ons expected on the 2014 roster, Zac Stout will be the most likely contributor. Stout rejoins the team as a walk-on following his disciplinary sentence resulting from his role in the Halloween 2012 Rancherito's brawl. Coach Mendenhall has left the door open for Stout to re-earn his scholarship for the 2014 season. Matthew Relei saw action in the final three regular season games in 2013 and his experience as the backup deep snapper should solidify his position on the roster. Jared Richardson, brother of former Cougar D-linemen Jordan and Brock, has been brought back to the team after four years away from football to help with depth. Zach Newman is expected to rejoin the team this fall after a May return from the Chile Antofagasta Mission.
Mike LB
Halfway through Spring practice, the top three ILBs appear to be Pikula, Leuta-Douyere, and Stout. If JLD earns the second starting spot, I'd expect him to play at Buck with Pikula at Mike. But, if Stout earns the second spot, he would likely play Mike and Pikula would slide over to Buck. Right now, I'd show Pikula as the starter at Mike with Stout as his backup and Pulsipher the third options. Kautai (shoulder) and Ho Ching (knee) are also options at Mike but have been sidelined this spring due to injuries. Amone will probably begin his training at Mike fresh off a mission this fall.
Buck LB
With Leuta-Douyere listed as the starter, the backup role will likely go to either Austin Heder or OLB Sae Tautu, who has been cross-training at Buck this spring. Richardson has been the final option at Buck this spring with Relei recovering from a shoulder injury. Niumatalolo and Newman will rejoin the mix at BLB this fall.

Departing Scholarships: 4 – Uani 'Unga (graduation), Tyler Beck (graduation), Austen Jorgensen (graduation), Rylee Gautavai (mission)
Returning Scholarships: 3 – Manoa Pikula, Teu Kautai, Toloa'i Ho Ching

Incoming Scholarships: 5 – Jherremya Leuta-Douyere (position change from OLB), Austin Heder (spring), Adam Pulsipher (spring), Phillip Amone (fall), Va'a Niumatalolo (fall)
Departing Walk-ons: 1 – Tanner Cox
Returning Walk-ons: 1 – Matthew Relei
Incoming Walk-ons: 3 – Zac Stout (spring), Jared Richardson (spring), Zach Newman (fall)
Projected Depth Chart:
MLB: Pikula/Stout/Pulsipher/Kautai/Ho Ching/(Amone)
BLB: Leuta-Douyere/Tautu/Heder/J.Richardson/Relei/(Niumatalolo)/(Newman)
Click here for all Early 2014 Prospectus articles.