Spring Fever: 5 reasons to drink the BYU kool-aid in 2014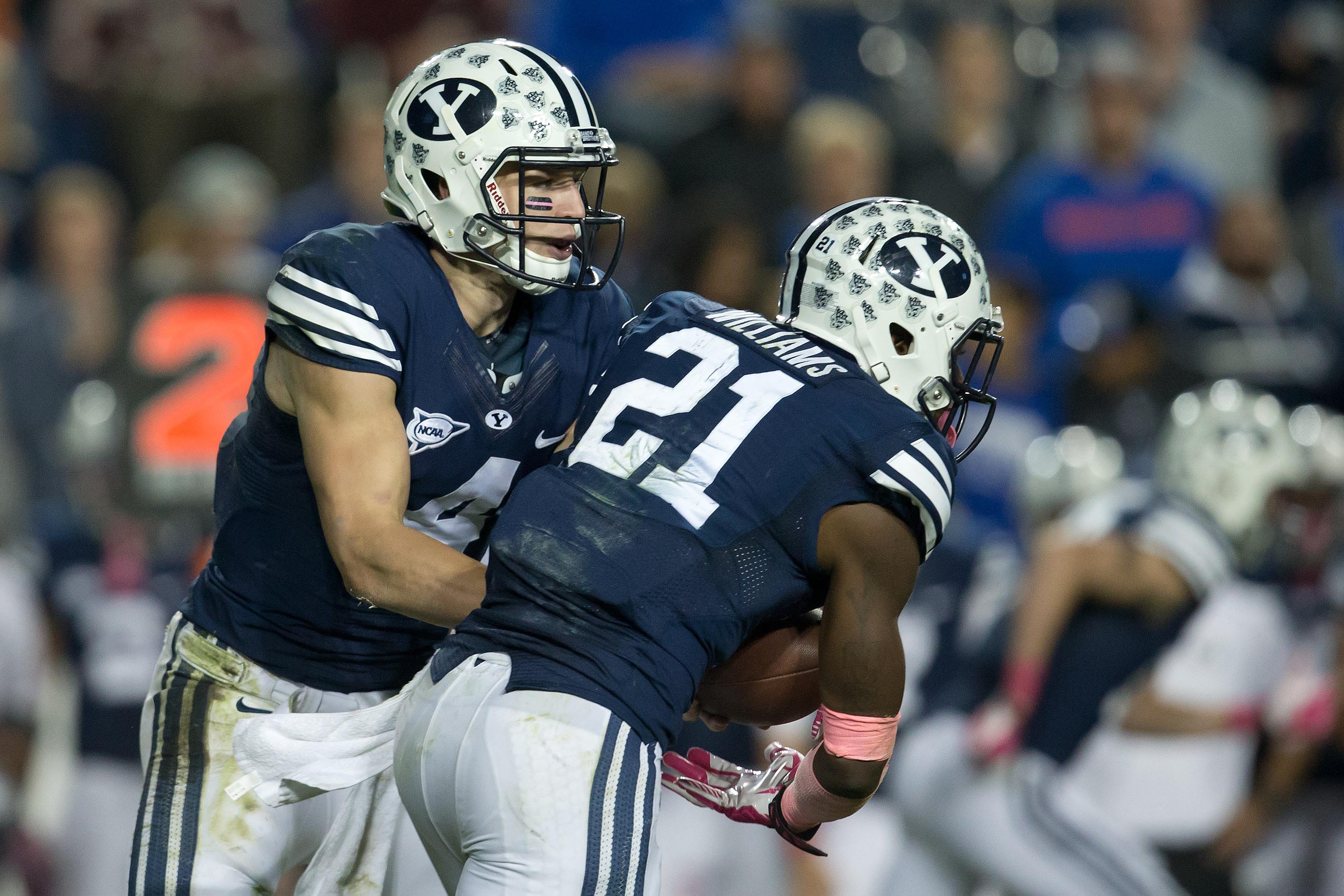 Drink it in, Cougar fans. Five reasons why you should consume blue kool-aid for the 2014 football season.
It happens to me every year. Every winter, I recite to myself reasons why I should temper my expectations for BYU football in the coming year.
Cody Hoffman will be hard to replace.
We saw some pretty fine linebackers move on from the program.
It's hard to travel so much and play at a high level.
The offensive line had a long way to go at season's end.
Then spring practice starts, and by the time we reach the end of the spring scrimmage I'm on board and fired up. New players, new ideas, a different schedule — optimism takes over and I'm playing out in my head all of the awesome ways BYU will destroy its opponents, run the table, and commemorate the 30th anniversary of its national title WITH ANOTHER ONE! WHO'S WITH ME? We're going to go to Connecticut, and then to Texas, and then Florida…….YEEEAAHHHHHH!!!

I love sports because for the most part, if your team is at least decent (read: not the 2013-14 Utah Jazz), a new season brings a clean slate and the possibility of greatness.
That's not to say I fully expect or demand perfection and lead crusades against quarterbacks, coaches, and administrators when it isn't reached. I continually try to enjoy the journey over the destination, because a lot of things — many that you or your team can't control — have to happen to reach that ultimate destination.
For me, enjoying the journey over the destination begins with the hopes and dreams of seeing something transcendent in the coming season — because at least in small spurts to medium stretches, we will see those things. And that's why football is really fun to watch, even if your team doesn't win them all. But deep inside, I hope that many small spurts of greatness during the journey can and someday will combine into that great destination.
Here are five items I believe will provide us with moments of greatness in 2014 and are enough to drink in the BYU kool-aid and hope for something transcendent:
1. MORE OFFENSIVE DIVERSITY
At the end of the 2013 season, Bronco Mendenhall and Robert Anae named a priority: Take the load off Taysom Hill's legs and get the ball to playmakers.
First, that requires playmakers, which I'll address later in the list. Next, it calls for a larger diversity of plays. Bronco has spent a large portion of the offseason devoted to improving the offense with the Doc, and we've seen at least one result of this: the addition of the fly sweep element.
To me, this feels like a natural progression of Anae's 2013 offense. BYU played with the fastest offense in the country last season (measured by fewest number of seconds between snaps), but it often felt like the only run play for which the Cougars could line up quickly was the zone-read with the RB option up the middle or with Taysom Hill keeping it to go outside.
One small wrinkle — the fly sweep — could have a drastic positive effect on the Go-Fast-Go-Hard run attack. Even the threat of handing it off to a receiver in motion can open up lanes for a back going between the tackles. Another play-action option can be nothing but helpful.
More importantly, though, we'll see the receiver be effective in the fly sweep element. A play-action threat is only effective if it's actually a threat — and after the first time a team doesn't properly cover Devon Blackmon in motion, it will be a threat the remainder of the season. More than a schematic wrinkle, I'm fairly certain the fly sweep is being added solely to get Blackmon the ball — and it's a good plan. Guys like Blackmon, Michael Davis, and Trey Dye can be utilized well in that role, and it will open up other parts of the offense.
The fly sweep can also be used to pitch a ball out to a man already on the move with a screen pass.
Eventually, I hope this progression leads to the addition of the triple option from the diamond formation. So far, Anae has chosen to use it as a power formation with the two backs not getting the ball filling in run gaps to block linebackers. It has been marginally effective. But the formation lends itself to its own wrinkle, the triple option. One back can still block, one can act as a fullback traditionally does in the option (the dive option), and the other swings wide with Taysom Hill for the pitch or keep set of options.
For now, though, getting a player like Blackmon the ball meets the priority to take the load off Taysom and let playmakers do more work — and it also adds diversity that should make the offense more difficult to stop.
2. #Taysom4Heisman
Do I really think Taysom can win the Heisman? No. But being a finalist is not outside the realm of possibilities. Here's why:
We've already seen a much better passer this spring. Hill was not deficient last season, just inconsistent. Between his accuracy and his mechanics, he looks less like a tank who throws decently well and more like a quarterback who also happens to be a tank.
We should expect a big jump from Hill. Instead of spending his offseason rehabbing a destroyed knee, he has all his time to spend on his game, especially throwing improvement and film study.
The foundation of Anae's offense is now in place. The newness in every part of last year's offense (every position coach and coordinator, scheme, play-calling) will be gone. Now it's time to fly.
Even though coaches will spend time limiting how much of the offense Taysom must carry on his own legs, he'll still get his. Defenses will have to pick a poison and then die by it, which means Hill will break out enough big runs to cause fits. Between his own skills and so many weapons to which Taysom can give the ball, at least the numbers should be impressive. Which brings me to my next point . . .
Pages: 1 2