Comprehensive breakdown of BYU's 2014-15 non-conference basketball schedule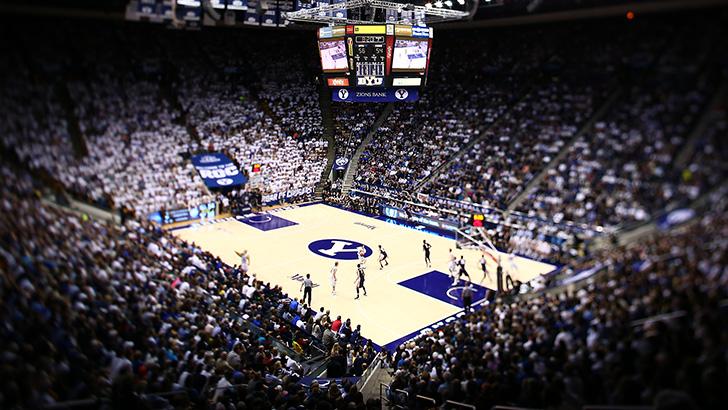 A look at trends, travel, TV, and individual opponent profiles for BYU basketball's non-conference schedule for the 2014-15 season.
BYU announced its non-conference basketball schedule for the 2014-15 season on Tuesday, making public the campaign that will follow one of the most ambitious and difficult non-conference slates in school history.
In 2013-14, BYU played 11 games against nine different NCAA tournament teams, and finished the season with an RPI strength of schedule of 41.
What follows is a complete breakdown of the non-WCC schedule — considerations of general trends, travel, television, and team-by-team profiles.
GENERAL TRENDS
In non-conference competition last season (none of this will count exhibition games), the Cougars played 13 games — six at home, three on the road, one true neutral game (Texas in Kansas City), and three pseudo-neutral games: road-neutrals against eventual one-seed Wichita State (in Kansas City) and against Massachusetts (in Springfield, Mass.), and the usual home-neutral in Salt Lake (against Utah State).
For 2014-15, the Cougars will also play 13 non-conference games in a less strenuous set of contests. BYU will play far fewer road and mostly-road contests (two to five). Here's a simple table to compare:
| | | |
| --- | --- | --- |
| Type of game | 2014-15 | 2013-14 |
| HOME | 7 | 6 |
| Road | 2 | 3 |
| True Neutral | 3 | 1 |
| Home-neutral | 1 | 1 |
| Road-neutral | 0 | 2 |
Not including two exhibition games (opponents TBA), the Cougars are set to play two teams for the first time: Arkansas-Little Rock and Southern Virginia — with a possibility of a third in Missouri, depending on the to-be-determined bracket and results at the Maui Invitational.
The teams BYU has played most on the schedule: Utah (255 times) and Utah State (230), with the possibility of facing San Diego State (71) in Maui.
BYU has three teams that reached the NCAA tournament last season guaranteed (the final three before conference play), plus four of the seven possible opponents in Maui.
By conference, BYU's slate is diverse. The Cougars are guaranteed to duplicate games within a conference only against the Pac 12 and the Big West. One game against teams from the following conferences are scheduled: Atlantic 10, Big Sky, Ohio Valley, Mountain West, and Sun Belt. BYU can get more meat on its SOS as the following conferences are represented at the Maui Invitational: ACC, Big Ten, Big 12, Mountain West, Pac 12, and SEC.
TRAVEL
The travel itself will be much less strenuous in the 2014-15 season. In 2013-14, the Cougars left Utah on four different non-conference trips: to Stanford, Kansas City, Massachusetts, and Oregon. Next season, BYU leaves Utah only once: to the Maui Invitational in Hawaii.
TV
Because of the lesser amount of road games and a higher-profile tournament, the television situation will also be improved from last year. The seven home games will all appear on ESPN, ESPN2, ESPNU, or BYUtv, as will the game at Energy Solutions Arena. You're taken care of on the neutral tournament games, too, as ESPN is a partner in the Maui Invitational, so all three Maui games should be on ESPN or ESPN2. Typically, only the game that determines 7th and 8th place ends up on ESPNU, so BYU need only win one of its first two games in Maui and all three games will be on ESPN or ESPN2.
That leaves the two true road games. In 2012, Weber State willingly allowed BYUtv to broadcast BYU's game in Ogden, and there would be little reason to believe that won't happen again. The road game at Utah State will be determined by the Aggies' contract with the Mountain West. The MWC is back in business with ESPN on select games, so it is possible that game appears on an ESPN network. If not, it would likely air on CBS Sports Network.
Page 2: Team-by-team profiles: Warming Up for Maui