Best Game Ever: Jan 2011 – Aztecs get Jimmered (the first time)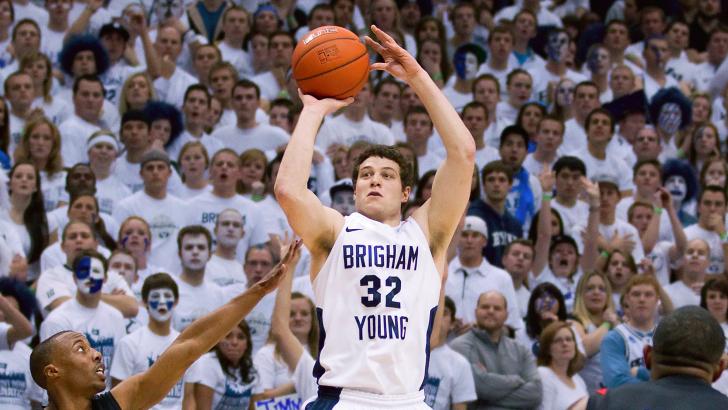 Eric Glem remembers the epic atmosphere of a rare top-10 matchup  — part of the Loyal Cougars "Best Game Ever" series.
BYU had just beaten Colorado State on the road. After that, all eyes turned to undefeated San Diego State's (20-0) upcoming game against BYU (19-1). I'd never been around such hype as was surrounding this game. In my years at BYU, I spent the winter in the front row of the student section, following the team, camping out, feeling a part of something big. But the hype between 9th-ranked BYU and 4th-ranked SDSU blew any other hype out of the water.
Before we even get to the game, we have to talk about how we got to the game. In the past, I would set up my tent, others would follow, groups would show up and we'd energize ourselves days before the game started. This one was a little different. BYU wanted to have more control of how the students tickets were assigned due to the high demand.
So instead of the days of players seeing us huddled in a quickly expanding line, eating free pizza, and scheduling rotations and mounting excitement, BYU decided that for one morning it would distribute wristbands to the students attending the game with what appeared to be little real thought to how it would play out logistically. I think those in charge of the wristbands underestimated the hype this game really had. Big swing and a miss.
I showed up early on Tuesday, as did the entire student body of BYU and probably UVU. I showed up with my friends, we got in line. It was snowing, news cameras were already littering the area, and wristbands were methodically distributed in what can only be described as a glacial pace. As luck would have it, I was assigned 506001— the first wristband there was.
Now that my anxiety for merely getting into the game was alleviated, my stress level shifted to winning the game. Every conversation I had started and ended with "We have got to win."
We got to Wednesday night. Students were let in two hours early as usual, and the student section filled up in minutes. As people came in, my friends and I tried to find the 24 scouts that had requested tickets to the game. 24 scouts, that's a lot. It was one of the few times the Marriott Center was full as the National Anthem rang out its first notes.
Basketball is a game of runs and momentum, and both teams had their fair share in the first half. The first half was as much of a nailbiter as had been anticipated. Jimmer's crossover threes, Jackson Emery's lock-down defense, and James Anderson playing good, physical minutes off the bench. (Editor's note: Not hyperbole or bad memory! Anderson had 5 blocks and 3 fouls in 14 minutes.)
At halftime BYU was down by one point. I told myself if it stayed close, SDSU would run out of gas before BYU did.
The second half was much like the first: the crowd was in to every play, offense or defense. I distinctly remember Jimmer coming up the court with about 12 minutes to go, and pulling up deep from 3 and hitting it. I looked to my right and Holly just looked at me and we shook our heads in disbelief.
For each shot that went in for BYU, shouts rang out like it was a buzzer beater. Each BYU defensive stop roused a raucous cheer. As time started to tick away, we watched the Cougars do what they had done on several occasions that year: they turned it up before the other team had a chance to catch them. It was only a 4-point game with 6 minutes to go, and that's when Jimmer took over. 22,700 fans and a myriad more watching on TV watched as the he racked up the last 9 of his 43 points, completely dominating and showing why he was inevitably the Player of the Year.
As the final seconds ticked away, I watched the team and the fans celebrate something we felt was much bigger than us, something historical. The final buzzer sounded with BYU winning 71-58, and before the blessed student section could sing "Rise all loyal…" fans had rushed the court.
I remember sitting probably for the first time since I walked into the Marriott Center, taking in my surroundings and breathing a sigh of not only relief, but pure joy. We had won, and yes I mean we. I'm sure everyone in that crowd felt like I did. For those that watched on TV, the joy was incredible, but for those there the moment was truly transcendent, and we sat until the people started cleared out, already reminiscing over the play we'd just witnessed, just soaking it in.
by Eric Glem
#9 BYU 71, #4 San Diego State 58
January 26, 2011
Provo, UT | Attendance: 22,700
Box Score
The Loyal Cougars "Best Game Ever" Series is about shared stories — the time you left a game you attended in person and thought "that was the best game ever!" If you have a story to tell of such a game, submit it to bestgame@loyalcougars.com and share it with the fan base.
Read the timeline of published stories at the Best Game Ever page.