#BYU50: Coast-to-coast treasure hunt preps BYU fans for kickoff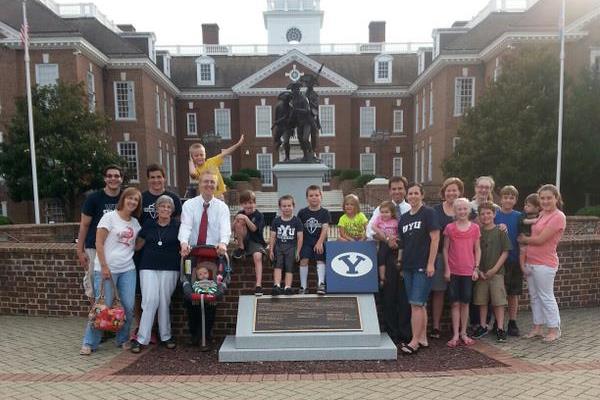 David Almodova gives insight to BYU's 50-state giveaway.
Every football fan in the country is counting the days to kick off, but fans at Brigham Young are counting down by using the whole country, one state at a time.
Starting 50 days before BYU football kicks off on August 29 against Connecticut, the BYU marketing team has been placing boxes full of BYU gear in one state per day — and giving them to the first fan that finds them after seeing a photo on social media.
David Almodova, Director of Marketing for BYU athletics, spoke to Loyal Cougars about their project. "This all originated from giving away tickets," he said.
In the weeks before the 2012 Poinsettia Bowl, BYU had a few tickets allocated to give away through promotions, but weren't sure how to do it. The marketing team started leaving them somewhere conspicuous, like next to BYU's LaVell Edwards Stadium, and posting a photo of them on social media. The idea was the first person to find the tickets got them.
That led to boxes full of gear and stickers being given away on the first Saturday of fall practice in 2013, but all of those boxes were hidden in the state of Utah. The marketing team noticed they got a lot of fan feedback from across the country.
"Wherever we go and play on the road, we've got a great following. Northwest, Southwest, Midwest, East Coast, our fans our everywhere," Almodova said.
For 2014, the marketing team wanted to take the treasure hunt idea coast-to-coast, but wasn't sure that would work. "We didn't do a lot of research, but we did some. We knew that there was at least BYU alumni in every state in the country," Almodova said.
So far, the team has been able to successfully place boxes in every state mostly working with relatives, personal contacts, and friends of friends of the 30 staff members.

CONGRATS to Tracey Marshall and Jamie Winfield our winners in Atlanta Georgia!! #BYU50 pic.twitter.com/OIZ5SVnzhE

— BYU Cougars (@BYUCougars) July 18, 2014
"Several of the people who have been dropping the boxes for us have told us that their location was crazy. When we were in Scottsdale, the person trying the drop box had to wait and try to avoid the crowd," Almodova said. "The guy who dropped the box in Delaware said we had 30 different families show up. In Delaware!"
The boxes contain a jersey, a branded pylon, and a custom football with signatures of former great BYU quarterbacks. Almodova said the staff picked the contents of the box after thinking of what kinds of things fans would want to have in their home.
@BYUcougars Love the new BYU gear!!! #BYU50 #Florida pic.twitter.com/7gCDXHHQVl

— John Smith (@JSmithCapital) July 17, 2014
While most states are only getting one box, some of the states with the most BYU fans and alums are getting more. There were four boxes in California. One family barely missed out on getting the first box of the night and had a young child so disappointed, he was crying in the Los Angeles Angels' parking lot. Luckily, the family was split up in different locations around Orange County and found the fourth and final box of the night.
Don Barber won the BYU box in Iowa. Like most fans, he was driving around in the vicinity of where he thought the box might be when the photo was about to be posted.
"I was hanging out at Drake (University) stadium. I was thinking, 'What could be better? Blue track. It could work,'" Barber said. "My daughter Tasha Watson was the instigator. She said, 'Dad help me. You drive and I'll navigate.' It was a team effort."
Barber and family were the first of 25 people who showed up at a favorite local ice cream shop on a Wednesday night in Des Moines, Iowa. "They were excited. I think it's cool. It's just a neat promotion," Barber said.
Thanks to EVERYONE who came out tonight in Iowa for #BYU50!! pic.twitter.com/EQxb4BFtyn

— BYU Cougars (@BYUCougars) July 23, 2014
In the coming weeks, the boxes will continue to be placed around the country. Almodova confirmed his team is moving through the states in alphabetical order with the exception of Utah, which will again be on the first day of fall camp, August 2, and Connecticut, which will be last since that's where the season kicks off.

"Our number one goal is to reach out and connect with our fans, so anything we can do to connect and engage," Almodova said. "We feel like we have a nationwide fanbase and this was a way to show that, yeah, we do have fans in every state in the country."