Best Game Ever: 1990 – Heat, hospital and beating #1 Miami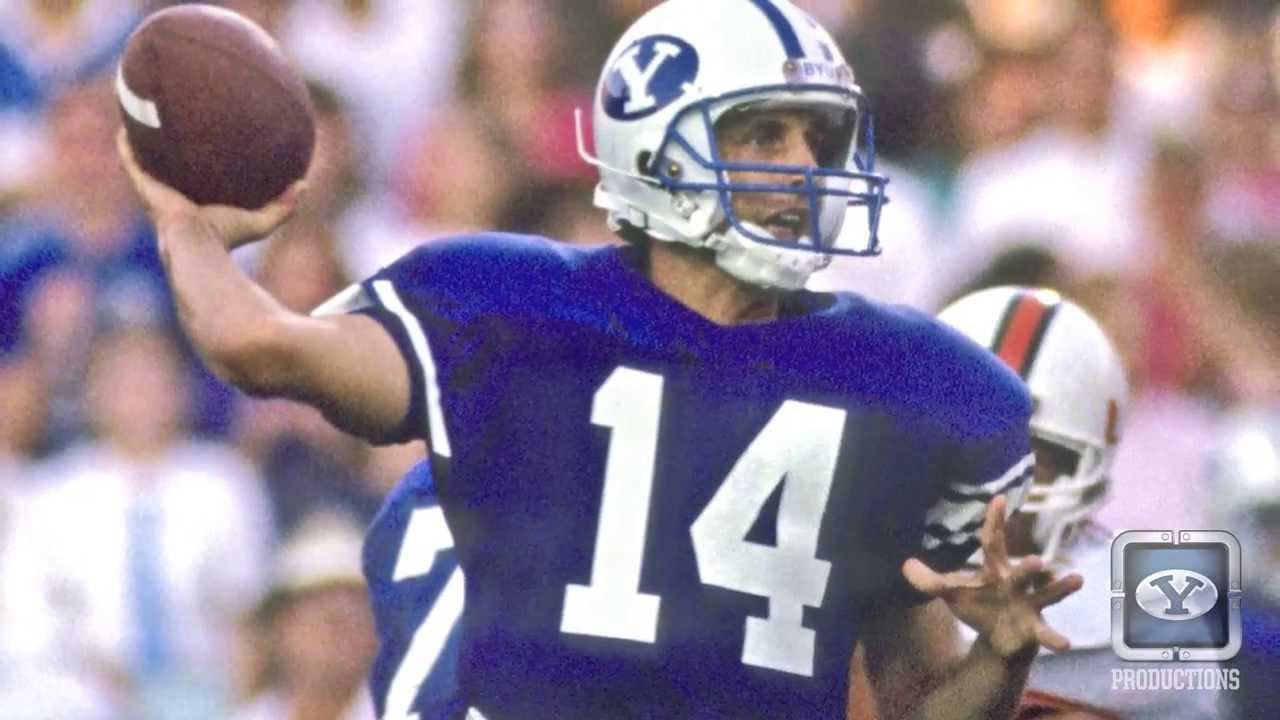 Noel Johnson experiences BYU's massive upset of Miami as part of a wild day with his father — Part of the Loyal Cougars "Best Game Ever" series.
On the morning of September 8, 1990, I found myself prepared to leave for Provo from Blackfoot, Idaho to attend the much hyped BYU vs. Miami football game. Miami was the previous year's national champion and preseason #1 team.
I was to meet my father, Myron Johnson, at a rest stop south of Tremonton where we would travel in one vehicle to Provo. Dad, then 74 years old, had joined the Cougar Club to ensure better seating at the games. I had attended nearly every home game since being a student at BYU from 1963-67. Dad and I always arrived at the games very early to watch the teams warm-up, and me, being a high school football coach, seeing if I could pick up any drills to use in practices at home.
I remember it being very hot that early September day, in the mid 90's. Dad, having lost a leg from osteomyelitis as a teenager, was on crutches but still capable of following me. We stopped to rest several times on the way to our seats midway up on the west side, south area of the stadium. We had ascended half way up to our seats when we sat down to take another rest.
Not long after sitting down, Dad slumped over and passed out, his head resting on my arm and shoulder. I cradled his head on my lap and glanced around to see if anyone saw my plight. A lady nearby asked if I needed help and in response to my affirmation she summoned emergency personnel. The emergency personnel arrived quickly and administered first aid.
It was feared that Dad had suffered a heart attack, so he was put on a stretcher much to his dismay, as he stated several times that he would be fine and that he wanted to remain at the game. Despite his protests, he was taken out of the stadium, placed in an ambulance and transported to the hospital.
My thoughts of remaining at the game were dashed. As I followed Dad out of the stadium, I contemplated trying to sell my tickets thinking that I would not be back to the game and would be with Dad at the hospital. I kept the tickets and followed the ambulance to the hospital. Once at the hospital and assured that Dad was being cared for, I searched for a TV thinking that would be the manner in which I would view the game. After Dad was examined it was determined that he had suffered from exhaustion and with proper hydration he was released to go back to the game.
Someone wrote a book about Ty Detmer and it had a quote in the book about a man suffering a heart attack at the game, in reference to Dad, but it was not a heart attack, just exhaustion.
I asked the ambulance personnel if it would be possible that they transport him back to the game. They granted that request, so I followed them back to the stadium. They wheeled him up to the entrance to the stadium and I explained the situation to the ticket takers and that there was no way Dad could make it back to our regular seating location. They provided a wheel chair and found a place for him to watch the game from a seating area low on the northwest end of the stadium — while I went to our regular seats. We arrived at our seats right as the game was kicking off.
I checked up on Dad during the game.
I remember BYU moving the ball efficiently through the air with the short passing game. Ty Detmer was outstanding! Matt Bellini made several outstanding catches as did Andy Boyce, Mike Salido, and Chris Smith. The crowd was electric with many standing during the contest. I remember Detmer getting tackled hard and sustaining a gash on his chin, and getting a big bandage to cover the wound.
Craig Erickson, the preseason Heisman trophy candidate, was constantly overthrowing his receivers. Detmer, also on preseason Heisman watch, continually scrambled out of trouble and made plays. If not for five turnovers, the contest would have been won easily.
Who can forget the play where Ty scrambled in the pocket and at the last moment stepped out of the grasp of two Miami players going the opposite direction who slammed into each other, and the subsequent pass to Mike Salido for the eventual winning touchdown? The defensive heroics of Ervin Lee on a pass deflection and interception, and the key stop on fourth down and inches at midfield by Rich Kaufusi? To witness the crowd flooding the playing field after the game was awesome.
by Noel M. Johnson
Blackfoot, Idaho
(16) BYU 28, (1) Miami 21
September 8, 1990
Provo, UT | Attendance: 66,235
Miami would finish 1990 ranked #3
The Loyal Cougars "Best Game Ever" Series is about shared stories — the time you left a game you attended in person and thought "that was the best game ever!" If you have a story to tell of such a game, submit it to bestgame@loyalcougars.com and share it with the fan base.
Read the timeline of published stories at the Best Game Ever page.