News & Notes: Receivers (and kickers!) buzz on day 2 of fall camp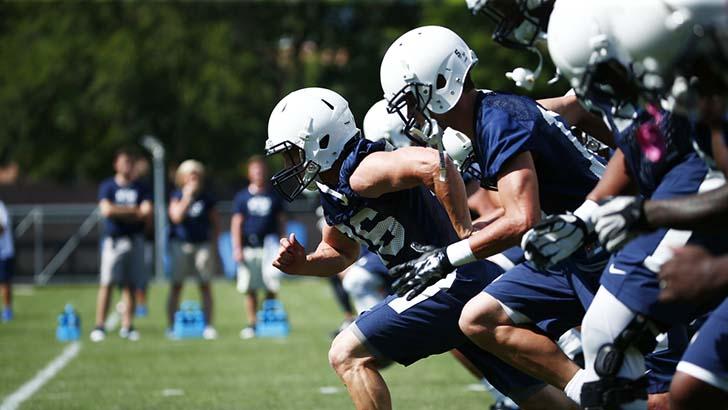 After the slew of roster revelations on Friday, day two of fall camp was completed in Provo on Saturday allowing more analysis on how players and units look.
A prevailing theme focused on the wide receiver unit, which looks prepared to drive a powerful offensive change from the 2013 season. The so-called vertical game, promised to be featured with continuity by offensive coordinator Robert Anae, was on display again. Taysom Hill and Christian Stewart continued to throw bombs in workouts to an array of receivers.
What seems to be the most clear about the receiving unit is that Jordan Leslie is ready and capable of being a workhorse for BYU. With a deep unit and a fast pace, he'll be rotated in and out, but nobody seems more prepared to be a go-to guy for a variety of routes all around the field. He may also return kickoffs.
The excitement comes when there's still plenty of receivers about which to talk. Devon Blackmon's speed is not over-hyped and I still expect him to be used in some kind of sweep run game as well as a big-play threat down field. He's also excited about his colleagues:
The whole Wr Core is balling..

— Devon Blackmon (@D_BLACK19) August 2, 2014
Nick Kurtz has proven to have reliable hands and seems to catch everything thrown his way — in that regard living up to hopes that he would be a kind of replacement for Cody Hoffman, who did the same. Keanu Nelson has even earned some props as an extremely-sharp route-runner and is also getting looks in the return game. Mitch Mathews is being his usual baller self, while Michael Davis has also displayed his speed. Things are looking good for Taysom Hill's targets.
* * *
Did you hear there is news for the kicking game? Yes, the kicking game, something that used to be a non-story at BYU because it was so good and so reliable (Pochman x2, Payne x2). The three kicker candidates had attempts from 34, 44, and 49 yards in a kicking session. Moose Bingham and Andrew Mikkelsen were 3-for-3 in the session, while Trevor Samson was 2-for-3, missing his 44-yarder.
Mikkelsen is a new name on the radar. He's a walk-on who was rostered at Oregon State before serving a mission. One of my favorite campaigns recruits wage online for attention are those from kickers and deep snappers. They're the best. Mikkelsen appears in the following video of a workout in which he is seen draining 50-yarders, recorded on Nov. 11, 2013 according to the description.
You're welcome.
* * *
Players who have been expected starters have been practicing with the second or even third units through two days of fall camp. Jamaal Williams has of course been practicing with the two's, and his one-game suspension is known. Defensive backs Jordan Johnson and Rob Daniel, and nose tackle Marques Johnson have not practiced with the one's. They may be facing something similar to Williams, or, it is possible that they are under discipline but won't also receive suspensions. Time will tell.
* * *
Fred Warner made his presence felt on defense today with a couple of interceptions, including one when on a well-thrown ball with man coverage on Trey Dye. If Warner can cover Dye one-on-one, that's a really good sign for him and for the future of BYU Linebacking Services, Inc.