Editorial: On Jake Heaps, Matt Carlino schadenfreude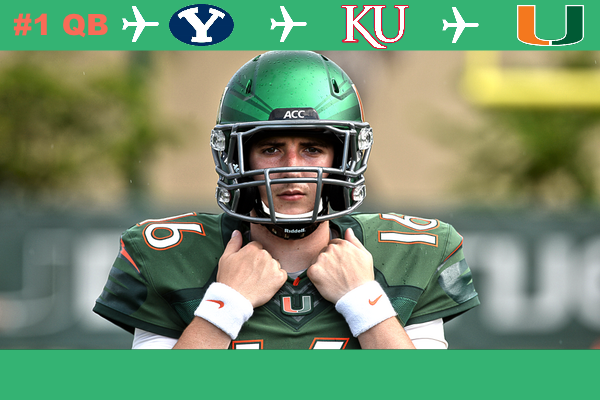 What can a man gain from hoping another to fail?
This question hits at the heart of many sports fans' innermost sports-related desires. Most fans have, aside from a primary team rooting interest, a secondary desire to see other specific teams or athletes fail.
Johnny Manziel has such a big mouth and is so arrogant, I can't wait to see him get lit up by grown men in the NFL. $Cam Newton is a cheater, I hope he has his Heisman taken away. LeBron James is a ring chaser and a disloyal traitor, I hope he never wins another title. (Except a person who believes that probably calls him a "trader.")
This particular flavor of schadenfreude — the German combo word for damage/harm and joy that describes a person finding joy in the failures or misfortunes of others — continues to baffle me. Instead of enjoying sports and the world-class athletes who play them on your TV, scores of fans expend tons of energy rooting against teams and players that produce high-quality plays, which should be fun to watch.
That's theirs and your prerogative, for sure. You don't have to be a fan like me. I just wonder why we do it, especially in the case of a pair of former Cougars. A couple of departed BYU transfers, Jake Heaps and Matt Carlino, are targets of a different kind of schadenfreude among the BYU fanbase.
Heaps left Provo after two mediocre seasons, sat out a year due to transfer rules, then spent his junior season at Kansas. He was displaced as a starter by a freshman, graduated, and will now play at Miami. BYU fans have noticed his movements.
Heaps said publicly he didn't transfer to Miami to be a backup. "HAHAHAHA" and "Oh boy, I'm still seeing some entitlement here" were a couple of many, many responses from BYU fans. (A fifth-year senior transferring to a new team and not wanting to sit the bench is not an entitlement issue, by the way. Would you transfer to a new school if you planned on not starting?)
Now, the main competition to Heaps has been suspended for week one of the season due to failing a drug test. "This might be our last time to see him fail!"
(A note: I wish not to call out individuals making the statements. I link to them only to show I'm not setting up a phantom bogeyman, and surely also know that not every fan reacts that way. Perhaps most don't.)
Matt Carlino has also departed after wow-ing and frustrating BYU fans simultaneously twice per week for 2.5 seasons. He has graduated, and will play basketball at Marquette for his final year of eligibility. Carlino has been vilified more often than links to Twitter could display.
The schadenfreude we seem to have with Heaps and Carlino is not derived from failure to play the game "the right way" or a secret jealousy that he is so good but not playing for my team. Instead, we seem to wish failure upon these players because they did not live up to expectations, and then left to pursue a path they deemed better for their lives.
The irony with wishing failure for not meeting expectations: the expectations were created by us.
Sure, sure, Heaps held his infamous Iggy's press conference to commit to BYU. And he was rated the #1 quarterback in the nation by some recruiting services. And national guys got in on the hype. Still, we can share the blame. To claim at least half of us weren't clamoring for Heaps to be the guy full-time the day he set foot and campus, and lead us to the conference title and beyond — despite the fact that only one QB, and only for one game, had ever started for BYU under center as a non-returned-missionary true freshman — is revisionist history. We did it.
Carlino is more perplexing. He was a talent, for sure, and expected to play well after transferring from a historically-good program like UCLA. Coming off our collective Jimmer high, we needed our next fix and Carlino was our target. We got a quick fix as he nearly delivered an all-time moment against #6 Baylor in his very first game as a Cougar — scoring 18, going 4-for-8 from three, and rimming out a would-be game winner.
What proceeded after every Carlino shortcoming since was rabid fans, in a rage like a junkie deprived of his goods, pronouncing personal attacks upon him and acting like he punched our first-born children. (All of them.)
The ill-wishes for Carlino stem almost entirely from our expectations and his lack of living up to them. If we wanted him to be Jimmer, that's on us. Was he great? No. Was he good? He was above average; how much so can be debated, and I'd say just a little bit above average. He did a lot of good things, though, and was by no means a bad player.
Jake Heaps left quite a while ago. Maybe we blame him for having to suffer through the Riley Nelson Show, but now we have enjoyed plenty of good play from Taysom Hill.
Matt Carlino is an enigma, and it seems clear it is best for both he and the team to part ways. The Cougars have lots of talent remaining and a ton of exciting freshman on the roster.
Now that both players are gone from BYU, what does it benefit to hold on to these expectations and simultaneously wish and/or actively root for their failure?
It's time to move on.