Cougar Brain Trust: BYU v. UConn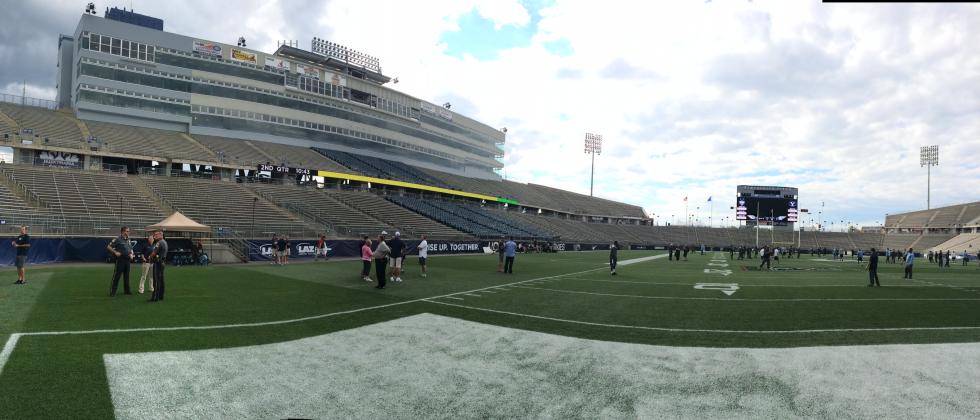 Today, the Cougar Brain Trust weighs in on BYU's 2014 season opener against the University of Connecticut. We surveyed 60 dedicated Cougar fans for their predictions on what to expect when the Cougars face the Huskies tonight. This group of fans has been hand-picked from among the most respected voices across Cougar Nation. Special thanks to @tayshum for his help in selecting the questions and gathering the data.
Game Capsule
BYU Cougars (0-0) at Connecticut Huskies (0-0)
Rentschler Field, East Hartford, CT
Kickoff Time: Friday, August 29, 2014, 7:02pm EDT
TV: ESPN (Dave Flemming/Danny Kanell/Allison Williams), WatchESPN, and the Armed Forces Network, BYUtv Countdown to Kickoff (Dave McCann/Blaine Fowler) 6pm EDT
Radio: Cougar IMG Sports Network (Greg Wrubell/Marc Lyons): Sirius XM 143, KSL 1160 AM and 102.7 FM, and online at BYUcougars.com)
BYU Game Notes, UConn Game Notes
We asked 60 Cougar fans for their thoughts on how they see BYU's 2014 season opener unfolding. Remember: we asked them not to vote with their heart (what they want to happen), but with their head (what they expect to happen). These predictions represent the expected results across a variety of statistical categories-some meaningful and some quite pointless. The most popular answer is underlined. Here are the Brain Trust's responses:
Who will win against the spread (BYU -16.5)? 58% said UConn would cover the spread. 42% said BYU would cover the spread.
Will the teams combine to score over/under 50.5 points? 77% replied Under and 23% took the Over.
Who will have the most carries for BYU? 55% of the voters said Taysom Hill, 40% said Adam Hine, and 5% said Anyone Else.
What will be BYU's first score? 52% said a Rushing TD, 26% said a Field Goal or Defensive/Special Teams score, and 22% said a Passing TD.
How many "3 and outs" will BYU's offense have? 60% predicted 4 or more, 37% said 2-3, and only 3% said 0-1.
Which position group will record BYU's first sack? 80% replied that a LB would get the first sack, 15% said it would be a DL, and 5% said it would be a DB or BYU would not record a sack.
Higher total: False Start/Holding Penalties on BYU's OL or BYU offensive plays over 20 yards? 75% said there would be more False Start & Holding Penalties on the O-Line, 25% said BYU would tally more offensive plays over 20 yards.
What will be UConn's longest 3rd Down conversion? 68% said it would be 9 yards or longer, 30% predicted it would be between 5-8 yards, 2% said it would be 0-4 yards.
Will BYU down a punt inside the 5-yard line? 82% said No and 18% said Yes.
What will be BYU's first offensive play? 52% predict an Adam Hine rush, 30% predict a completed pass, 10% predict a non-Hine or Hill rush, 5% predict an incomplete pass, and 3% predict a Taysom Hill rush.
Higher total: Leslie receiving yards or UConn penalty yards? 57% said that Leslie will have more receiving yards. 43% predicted that UConn will rack up more penalty yards.
In which quarter will BYU have the best comparative score (Points scored minus points allowed)? 67% said the 2nd Quarter, 20% said the 3rd Quarter, 10% said the 1st Quarter, and 3% said the 4th Quarter.
Who will be BYU's leading receiver (yardage)? 58% answered Jordan Leslie, 33% said Mitch Mathews, and 9% said someone else.
Who will be BYU's leading tackler? 52% said Pikula, Langi, or Stout. 27% said Bills or Daniel. 18% said Fua or Kaufusi. 3% said Peck, Rowley, or Tuiloma.
How many combined touches for the following players: Trey Dye, Keanu Nelson, Kurt Henderson, Devin Mahina, Terenn Houk, and Ross Apo? 58% predicted between 4 and 6 total touches, 33% predicted 7-9, 7% predicted 10 or more, and 2% predicted 0-3.
What will be BYU's longest play from scrimmage? The average prediction was 49 yards. 33% predicted somewhere between 40-49 yards. 23% guessed in the 30-39 range. 20% said somewhere between 50-59 yards. 18% predicted a play 60 yards or longer. 5% said that BYU's longest play would go for less than 30 yards.
What are you expecting tonight? Do you think the Cougar Brain Trust is missing the boat on any specific area? Add your thoughts to the discussion on Cougarboard.