Cougar Brain Trust: BYU v. Texas
Updated: September 5, 2014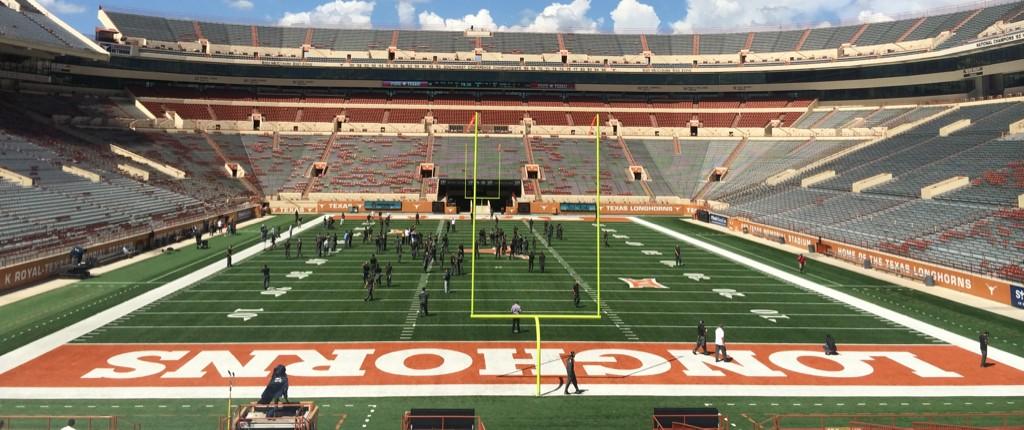 Today, the Cougar Brain Trust weighs in on BYU's 2014 season opener against the University of Connecticut. We surveyed 60 dedicated Cougar fans for their predictions on what to expect when the Cougars face the Longhorns this weekend. Special thanks to @tayshum for selecting the questions and gathering the data.
Week 1 Results: 8-7 (not bad considering that two-thirds of the questions were multiple choice with more than two possible answers)
We asked 60 Cougar fans for their thoughts on how they see BYU's biggest game of the season unfolding. Remember: we asked them not to vote with their heart (what they want to happen), but with their head (what they expect to happen). These predictions represent the expected results across a variety of statistical categories-some meaningful and some quite pointless. The most popular answer is underlined. Here are the Brain Trust's responses:
Offensive Predictions
Will Taysom Hill have a rushing touchdown of 15 or more yards? For reference, Taysom ran for three such touchdowns against Texas last year (68, 20, and 26 yards). Hill also ran for a 26-yard TD last week against UConn. 70% said Yes. 30% said No.
Which BYU player will have the longest reception? Terenn Houk had BYU's longest reception in Week 1: a 35-yard touchdown. 34% said Devon Blackmon. 34% said Mitch Mathews. 20% said Jordan Leslie. The remaining 12% said Jamaal Williams.
Defensive Prediction
Which of the following groups will total the most tackles: Peck/Stout/Leavitt/PoVey, Rowley/Fua/JLD/Daniel, or Tuiloma/Bills/Kaufusi/J.Johnson? Last week against Connecticut, Peck, Stout, Leavitt, and PoVey combined for 26 tackles. Rowley, Fua, and JLD combined for 9 tackles. Tuiloma, Bills, and Kaufusi combined for 11 tackles. The question here is whether the addition of Daniel or Johnson to the secondary (and any related decrease in tackles by Leavitt and/or PoVey) is enough to make up the difference to the first group. The majority says no. 53% said Peck, Stout, Leavitt, and PoVey. 33% said Rowley, Fua, Leuta-Douyere, and Daniel. 14% said Tuiloma, Bills, Kaufusi, and Jordan Johnson.
Special Teams Prediction
Will a BYU kickoff or punt reach the endzone? This did not happen against UConn, but most of the Cougar Brain Trust feel that Special Teams will improve in Week 2 with a new kicker handling kickoffs. 63% said Yes. 37% said No.
Random Predictions
How many of the following will happen: BYU offensive plays over 30 yards, BYU made field goals, BYU forced turnovers, BYU 4th Down stops? Against the Huskies, BYU had one play over 30 yards, 0 made field goals, 2 forced turnovers, and three 4th Down stops for a total of 6. Last year against Texas, BYU had a total of 10 (3+4+0+3). Most of the voters believe the total will be much lower this year. 48% said 3-4. 39% said 5 or more. 13% said 2 or fewer.
How many of the following will happen: BYU 3 and outs, BYU fumbles, BYU missed field goals/extra points, BYU personal foul penalties, Texas 3rd Down conversions of 9 yards or more? In Week 1, BYU had one 3 and out, 2 fumbles, a missed field goal, three personal foul penalties, and allowed two 3rd Down conversions or nine or more yards for a total of 9. Against Texas in 2013, the total was 5 (3+1+0+1+0). The Brain Trust predicts that the Cougars will perform similarly in these categories against the Longhorns this year. 67% said 4-6. 27% said 7 or more. Only 6% said 0-3.
How many BYU players will record their first reception, carry, or tackle of the season? The list of players without a reception or carry includes Jamaal Williams, Kurt Henderson, Devon Blackmon, Ross Apo, Keanu Nelson, and Trey Dye. The list of players without a tackle includes Marques Johnson, Kesni Tausinga, Harvey Langi, Jordan Johnson, Harvey Jackson, and Rob Daniel. I can't see this total coming in below five as Williams, Blackmon, Daniel, and the Johnsons will almost certainly contribute in their first game back from suspension. 70% said 3-5. 20% said 6-7. 8% said 0-2. 2% said 8 or more.
Higher total: BYU penalties or Lasike carries? Against UConn, BYU totaled 15 penalties and Lasike had nine carries. However, Lasike carried the ball 15 times against the Longhorns in 2013. Though the number of penalties should decrease this week, Lasike's carries should also decrease with Jamaal Williams' return combined with Texas forcing the Cougars to beat them with the pass. 70% said the number of penalties would be greater or equal. 30% said Lasike's carries would be greater.
Higher total: Sacks by BYU or Field Goal attempts by both teams? In Week 1, BYU recorded four sacks while the teams combined for just two field goal attempts. Against Texas in 2013, BYU had four sacks and both teams combined for 4 field goal attempts. In 2013, BYU averaged 1.8 sacks per game and both teams combined for an average of 3.8 field goal attempts per game. The Brain Trust predicts that the Sack and FGA attempt numbers will trend more toward the 2013 season averages this week. 80% said the number of attempted field goals would be greater or equal. 20% said the number of sacks by BYU would be greater.
Overall Predictions
Who will win against the spread (Texas -4.5)? Now that the betting lines have shifted to the point that BYU is the projected favorite, it's not hard to see why so many were confident in no worse than a 4-point loss for the Cougars. 78% said BYU would cover the spread. 22% said Texas would cover the spread.
Will the teams combine to score over/under 58.5 points? It's hard to imagine Texas' offense scoring more than two touchdowns against the Cougars, while it's almost equally hard to imagine to predict much more than that from BYU's own offense against a Charlie Strong defense. Most sportsbooks have dropped the over/under to 46.0 and the Brain Trust agrees. 88% replied Under and 12% took the Over.
Will the game be within one score at the 5:00 mark of the 4th Quarter? 52% of the voters said No, 48% said Yes.
Which player will finish with the most rushing yards? 58% said Jamaal Williams, 20% said Malcolm Brown, 14% said Taysom Hill, and 8% said Jonathan Gray.
What will be the Pass Efficiency Differential? With Texas trotting out a new starting QB and Taysom coming off his best Pass rating ever, this was a no-brainer for me. But, the voters were a bit more conservative, though not a single voter predicted a lopsided margin in Texas' favor. 52% predicted BYU +0 to +15. 34% predicted BYU +15 or more. 14% predicted Texas +0 to +15. 0% predicted Texas +15 or more.
Which quarter will have the best comparative score for BYU (BYU points minus Texas points)? Despite a better showing for BYU in the 1st Quarter against Connecticut, the majority of the voters followed BYU's 2013 trend once again for their Week 2 prediction. BYU's best quarter against the Longhorns in 2013? The 2nd. 78% replied the 2nd Quarter. 16% replied the 1st Quarter. 3% said the 3rd Quarter. 3% said the 4th Quarter.
What do you expect to see on Saturday? Do you think the Cougar Brain Trust is off on any of these predictions? Add your thoughts to the discussion on Cougarboard.